Vilius Kalvaitis, international alumni ambassador 2011-2012, Lithuania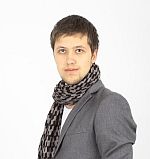 Name: Vilius Kalvaitis
Home country: Lithuania
Programme: European Law, Faculty of Law
Scholarship: -
"I decided to study at the University of Groningen because of its good international reputation. I didn't know much about the university and the city before I came here to be honest, but I am glad I chose this city ."
About stuying in Groningen
"I studied European Law, because of the attractive study structure and the subjects involved. The programme allowed me to study at my own pace, because of the fexibility presented. I was introduced to critical thinking regarding the subjects and learned to look at the 'bigger picture' which was not emphasized as much when I was studying in Lithuania.
Proffesors and lecturers were quite demanding, therefore these courses here helped me to improve my analytical skills and critical thinking. I have become more efficient in organizing my time as well.
Student life here is very vibrant mainly because of the large population of students in the city. A lot of different activities are organized by student organizations throughout the year. There are a lot of pubs and bars in the city as well. So, the life here is not boring at all.
Everybody here speaks English! So, I had no problems with communicating with Dutch people at the supermarket, barber shop or car service.
For those who are considering coming here I would like to say: prepare for full-fledged and interesting study years."
Biography
Vilius Kalvaitis studied law at Mykolas Romeris University in Lithuania and LLM in European Law at University of Groningen. He was a member of Curriculum Committee of Faculty of Law at the University of Groningen. His interests are world politics, philosophical novels and travelling. His main hobby is playing basketball.
| | |
| --- | --- |
| Laatst gewijzigd: | 22 juli 2021 11:43 |