Tendero Mutero, international alumni ambasador 2011-2012, Zimbabwe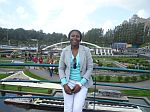 Name: Tendero Mutero
Home country: Zimbabwe
Programme: Law of International Organizations
Scholarship: Nuffic
" I got to meet people from different cultural and social backgrounds at the University of Groningen and it was an enriching experience."
About studying in Groningen
" I chose to study at the University of Groningen, among other things, because it's a melting pot. Further, the university has quite reputable LLM programmes and good lecturers. Above all, it's in the Netherlands ''the world legal headquarter'' so to speak.
My programme taught to me to work and produce good results under pressure. We had quite a demanding seminar, for instance, we had lectures and exams at the same time. It taught me to manage my time well.
The lecturers were just so good and they actually inspired me to an extent that I want to give a shot at lecturing myself!

I got to meet people from different cultural and social backgrounds at the University of Groningen and it was an enriching experience.
When I came to the University of Groningen, I had never ridden a bicycle before. It was necessary for me to learn to bike. I did learn to bike and after a fall in some murky waters, I can now ride a bicycle quite well and am enjoying it. It was actually one of the best experiences I had here in Groningen even though I cannot ride as fast as the Dutch people. Even the elderly people ride fast here!"
Biography
Tendero Mutero studied in Zimbabwe for a Bachelor of Law and for a Master in International Law and the Law of International Organizations at the University of Groningen. She has worked as a law officer at the Ministry of Justice in Zimbabwe and in private practice as an attorney.
| | |
| --- | --- |
| Laatst gewijzigd: | 22 juli 2021 11:42 |