Sylvia Cheruiyot, international alumni ambassador 2011-2012, Kenya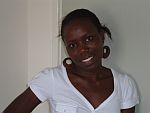 Name: Sylvia Cheruiyot
Home country: Kenya
Programme: Clinical and Psychosocial Epidemiology, Graduate School for Health Research Share
Scholarship: -
"This has been the most rewarding experience ever. I had to get used to the fact that I didn't have to struggle to get information, computers, internet and well equipped libraries."
About stuying in Groningen
"I had been looking around for opportunities to study abroad in vain. On one of those days when I was checking my e-mail at an internet café in Nairobi, one of the e-mails was from my mentor at the University of Copenhagen, asking if I would be interested in doing an MSc in The Netherlands, and the answer was definitely a yes!
I really appreciate the diversity at my current department. A class of 6: 3 internationals and 3 Dutch students, it couldn't be any better. This has been the most rewarding experience ever. I had to get used to the fact that I didn't have to struggle to get information, computers, internet and well equipped libraries.
I have become a more confident, world class researcher.
Groningen is a wonderful city. I call it the city that never sleeps. I cannot stand the fact that I am going back to using buses. I like biking and I wish the whole world would adopt it just as we do it here in Groningen."
Biography
Sylvia Chelimo Cheruiyot studied Food, Nutrition and Dietetics in Kenya and has a Master of Science in Clinical and Psychosocial Epidemiology from the University of Groningen. She is interested in clinical research.
| | |
| --- | --- |
| Laatst gewijzigd: | 22 juli 2021 11:42 |