Nyashadzaishe Mafirakureva, international alumni ambassador 2011-2012, Zimbabwe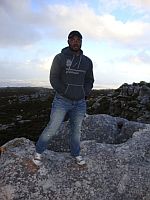 Name: Nyashadzaishe (Nyasha) Mafirakureva
Home country: Zimbabwe
Programme: Medical Pharmaceutical Sciences, Faculty of Mathematics and Natural Sciences
Scholarship: Netherlands Fellowship Programme (NFP)
" Student parties and networking are just fantastic. Groningen is by far the best college town I have ever known."
About studying in Groningen
" The University of Groningen provides an international environment with students coming from different countries across the globe, thus offering me an opportunity to connect with individuals from different cultural backgrounds.
After my research master in Groningen, I can now confidently say I have acquired research skills, including time management. My networking skills with colleagues and lecturers also have significantly improved.
The interaction between students and lecturers here is advanced and nicer here than back home where in most cases lecturers want students to fear (forced respect) them, putting a clear barrier for communication.
The Dutch culture is very different from my own culture (weird at first). The people are very frank and they express themselves freely.
The biking in Groningen is a class of its own and I love it. I always enjoy being on my bike and it has become custom to always be on my bike, no matter how short the distance is.
Go for it, it's an experience worth taking. You will love it!"
Biography
Nyashadzaishe Mafirakureva (Nyasha) studied Pharmacy at the University of Zimbabwe, in Zimbabwe (2003-2007) and Medical Pharmaceutical Sciences with a specialization in Drug Disposition and Toxicology at the University of Groningen (2009-2011). Prior to the research master, Nyasha worked as a regulatory pharmacist at the Medicines Control Authority of Zimbabwe (2007-2009).
| | |
| --- | --- |
| Laatst gewijzigd: | 15 juli 2021 12:05 |