Nassuna Morrine Sharon, international alumni ambassador 2011-2012, Uganda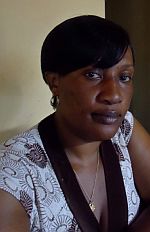 Name: Nassuna Morrine Sharon
Home country: Uganda
Programme: Education Effectiveness and Instrumental Design, Faculty of Behavioral and Social Sciences
Scholarship: Nuffic
"What things do I like the most about Groningen? The city is quiet and conducive to live in. The Dutch culture is unique and the people in Groningen are peaceful. They are willing to help when one seeks their assistance."
About studying in Groningen
"I chose to study at the University of Groningen because of the existence of the programme that I was interested in. Not many universities have this programme and being a research based university, I had hope that it would equip me with the adequate skills for my career growth and development as a professional teacher and administrator.
One of the things I like about my programme is the way that classes were conducted. Much of the work was done individually though under the guidance of our instructors. This enhanced my learning of concepts in breadth and in depth. This system of learning also increased my level of understanding in many concepts.
Besides the theoretical knowledge I gained from my programme, I developed better research skills too. From the class presentations we made, I developed confidence to communicate in public and debate skills.
What things do I like the most about Groningen? The city is quiet and conducive to live in. The Dutch culture is unique and the people in Groningen are peaceful. They are willing to help when one seeks their assistance. The way they treasure their leisure time is also great."
Biography
Nassuna Morrine Sharon studied Education (with Geography and History) at Makerere University in Uganda. She pursued a postgraduate diploma in Public Administration at Busoga University and an International Master of Science in Education (Educational Effectiveness and Instrumental Design) at the University of Groningen. She has worked for Busoga University since 2006 as an Administrative Officer at School of Graduate Studies. She likes dancing, meeting and making friends, watching movies and comedy.
| | |
| --- | --- |
| Laatst gewijzigd: | 15 juli 2021 12:05 |