Lejla Terzimehic, international alumni ambassador 2011-2012, Bosnia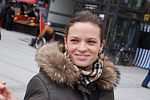 Name: Lejla Terzimehic
Home country: Bosnia
Programme: Criminal Law and Criminology, Faculty of Law
Scholarship: JOINEUSEE, Erasmus Mundus
" Contrary to the Bosnian education system that forces you to literally reproduce materials from the books, here I learned how to critically approach complex legal issues, and create my own opinion."
About studying in Groningen
" Thanks to the Erasmus Mundus scholarship, I got an once-in-a-lifetime opportunity to enter in Criminal Law and Criminology, at one of the oldest and most prestigious universities in Europe. This has been a truly unique opportunity for me. I appreciate the chance I got: to expand my knowledge in the field of law I am most passionate about, in a country which is well-known as a legal capital of the world.
Although LLM in Criminal Law and Criminology is demanding and it requires a strong self-discipline and constant hard work, it has been a real pleasure to be part of it. First of all, it took me a while to grasp the way of studying at the University of Groningen, as it absolutely differs from the education system in my country. Contrary to the Bosnian education system, that forces you to literally reproduce materials from the books, here I learned how to critically approach complex legal issues, and create my own opinion.
Beside the academic experience, I believe that studying abroad indisputably broadens our horizon and helps us to overcome prejudices that we even are not aware of. I strongly believe that this is the most valuable part of every experience abroad. It helps you to become more tolerant and open-minded.
Regarding the International Office of the RUG, I can only say that all those in charge do an amazing job. I have never experienced such a treatment during my previous education. The International Office is the very first contact that a foreign student makes when he/ she applies for a particular university, and it's professionalism is extremely important. I believe that the RUG is unique in that respect."
Biography
Lejla Terzimehic from Bosnia and Herzegovina studied Law at the University of Sarajevo and LLM Criminal Law and Criminology at the University of Groningen. In 2010 she was an intern at The Office of The Prosecutor at the International Criminal Tribunal for The Former Yugoslavia in The Hague.
| | |
| --- | --- |
| Laatst gewijzigd: | 15 juli 2021 12:01 |