Edin Smailhodzic, international alumni ambassador 2011-2012, Bosnia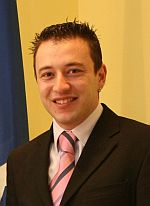 Name: Edin Smailhodzic
Home country: Bosnia
Programme: Business Administration, Faculty of Economics and Business
Scholarship: JOINEUSEE, Erasmus Mundus
"My advice to students that are considering to study at the University of Groningen is: get a room as soon as possible! Use one of the scholarships available to international students."
About studying in Groningen
" At the University of Groningen I learned a lot about scientific research in business and economics. On the practical side, I learned about characteristics of entrepreneurs. In addition, some subjects helped me to get an understanding of personal qualities and pitfalls, communication skills such as presentations, interactions in management situations, negotiations and conflict management.
While my studies back home in Bosnia were more practical oriented and dealt with a huge number of case studies, studying at the University of Groningen has been much more research focused. In terms of learning the theories and preparing for exams, studying at RUG gave me more freedom and helped to improve how to think critically.
Groningen is lively with lots of students around. I liked shopping at Vismarkt and enjoying sunny days at one of many terraces at Grote Markt. The fact that most of the traffic is done by bicycles is wonderful and practical: no need to walk, no problems with parking and protection of environment!
My advice to students that are considering to study at the University of Groningen is: get a room as soon as possible! Use one of the scholarships available to international students."
Biography
Edin Smailhodzic holds a Bachelor Degree in Business Administration from the University of Sarajevo and a Master Degree in Business Administration from the University of Groningen. Before coming to the Netherlands to study, he worked for the International Organization for Migration as a Project Coordinator from 2008 to 2010. Before that, he worked for different internationally funded projects (USAID, European Commission) and also as a volunteer in the Career Center of the School of Business and Economics in Sarajevo. He likes spending the weekends in the nature.
| | |
| --- | --- |
| Laatst gewijzigd: | 15 juli 2021 12:01 |