Dorina Zhupa, international alumni ambassador 2011-2012, Albania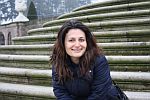 Name: Dorina Zhupa
Home country: Albania
Programme: European Law, Faculty of Law
Scholarship: JOINEUSEE, Erasmus Mundus
"My time at the University of Groningen has been truly enriching, both professional and personal."
About stuying in Groningen
"The University of Groningen is one of the best in The Netherlands and that was the reason why I decided to study here. The Programme I studied (EU Law) has a very rich curricula and the literature used is one of the best. Another very important fact is the library, which is well-equipped and simple to use.
Groningen is a great town, safe and lively at the same time. I learned biking here and that was very useful for me, since you can go everywhere by bike. I lived in a student house and that was such a marvelous experience. I had the possibility to meet many people from different parts of the world and l learned how to live with different characters and cultures.
At the end of this experience I think I have gained useful knowledge in my field of study and have become a more open minded person."
Biography
I am Dorina Zhupa from Albania. I studied European Law LLM at the University of Groningen. Before, I was working in an energy company and I plan to work there again. My studies were made possible thanks to the scholarship I had from the European Commission for which I am really grateful.
| | |
| --- | --- |
| Laatst gewijzigd: | 15 juli 2021 11:59 |