Ana Bosnić, international alumni ambassador 2011-2012, Serbia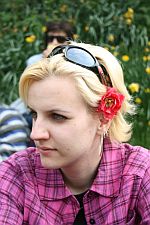 Name: Ana Bosnić
Home country: Serbia
Programme: English Language and Literature, Faculty of Arts
Scholarship: JOINEUSEE, Erasmus Mundus
"I am very grateful for the opportunity to expand my views concerning different ways of teaching and studying"
About stuying in Groningen
"Several of my professors at my home faculty recommended the University of Groningen, as one of the most prestigious universities in Europe. Furthermore, the University is also well‐known and suitable for my field of study, which I think is the most important reason for improving my academic skills and knowledge.
I really liked the opportunity to do several research papers in some of my courses. The library and literature access is exquisite and I enjoyed researching and being able to use different references which were provided by RUG. I broadened my view in other ways to learn, teach and study and I am very grateful for that.
Groningen is suitable for all people, especially students. It offers many cultural and social places and activities for all types of subculture and that is amazing. It is not too big and not too small. The only flaw is that it is a bit isolated from other big cities, but that has its advantages too. People are nice and friendly, it is not a loud and hectic city and it is very pleasant and peaceful. Additionally, the night life is wild and rich and you rarely get bored. All in all, it is a wonderful city and there is always something for everyone.
The University of Groningen is a wonderful way to experience something new and different. The education system considerably differs from the one in Serbia, but manageable. Apart from social advantages, academic opportunities are the most important ones if a student is considering studying in another country. RUG has plenty of degrees, programs and internships so that everyone can find a specific field of study to focus on and gain more experience."
Biography
Ana Bosnić studies English language and literature, a linguistic module at the Faculty of Philosophy in Novi Sad, Serbia. She was an undergraduate exchange student at the University of Groningen for one academic year. This year she will obtain her Bachelor degree in her field of study. After that, she is planning to apply for a Master's degree in the field of English linguistics, possibly in the Netherlands. She still does not have an actual job experience but she worked as a volunteer on several festivals in Novi Sad and as a part of the organization of a local music festival.
| | |
| --- | --- |
| Laatst gewijzigd: | 15 juli 2021 11:59 |