Foto's hebben een professionele uitstraling.

Foto's zijn in kleur. Idealiter is de achtergrond licht. Dit draagt bij aan een frisse, open uitstraling en biedt mogelijkheden om er tekst overheen te zetten.

Foto's zijn bij voorkeur in documentaire-stijl . Geen gelikte, commercieel ogende fotografie. De foto's moeten een verhaal vertellen. Over de studie of de vrije tijd van een student, het werk van een docent, van een onderzoeker of andere medewerker.

Foto's zijn niet overduidelijk geënsceneerd, gemanipuleerd of getruukt. Speciale technieken die bijdragen aan een eerlijk en oprecht beeld mogen natuurlijk wel.


Zorg bij bijvoorbeeld brochures of andere uitingen met meerdere foto's voor afwisseling. Liever niet alleen maar portretten van mensen of alleen maar gebouwen. Een goede mix van beide is mooier.
Minder goede voorbeelden
Foto's zijn in scene gezet, waardoor ze minder spontaan overkomen.

Foto's moeten een verhaal vertellen: Een gebouw zonder publiek vertelt niets over de functie; een persoon met zijn rug naar de camera geeft geen beeld van zijn bezigheden of hoe hij die ervaart.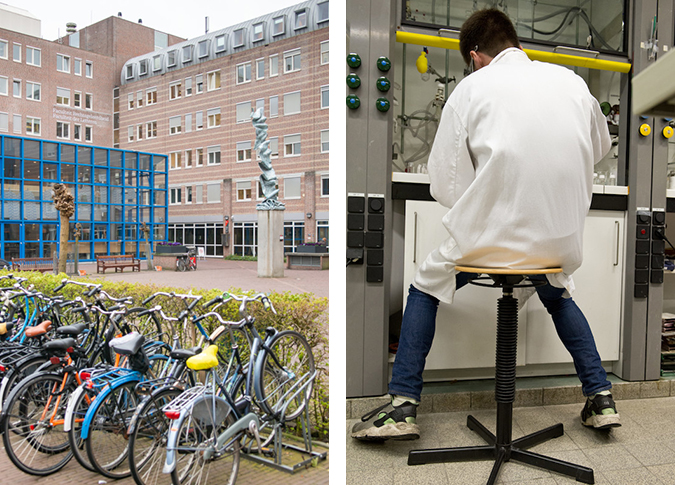 Meer voorbeelden en informatie vind je in het RUG beeldplan
| | |
| --- | --- |
| Laatst gewijzigd: | 13 maart 2020 00:44 |