Autumn 2014
Worldwide Newsletter, University of Groningen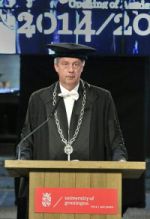 Festive opening of academic year
The University of Groningen opened academic year 2014-2015 in festive fashion. Due to the great interest in the ceremony, it took place in the Martini church. Minister of Foreign Affairs Frans Timmermans was the guest of honour. Read more...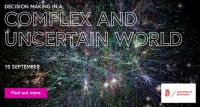 Free interactive online course: Decision-Making in a Complex and Uncertain World | taught by University of Groningen lecturers
Your career, your studies and your personal life: they're all about making decisions. However, the world is complex, circumstances are uncertain and possible consequences are often difficult to anticipate. Learn to enhance your decision-making skills in a free online course at the University of Groningen. Key lecturer: professor Lex Hoogduin, economist. Read more ...
Watch our video.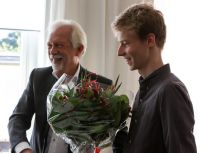 University of Groningen registers 30,000th enrolment
For the first time in its history, the University of Groningen has reached a record number of 30,000 enrolments. The total number of students currently enrolled in the University of Groningen is 30,041, a rise of 3.2% in relation to 2013. Read more ...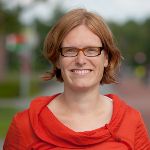 Fanny Janssen: demographer and epidemiologist
On a sunny afternoon, we pay a visit to demographer Fanny Janssen at the Zernike Campus. She is busy with her new PhD student, who has just arrived from Barcelona and will be collaborating on Janssen's five-year European research project, for which she was recently awarded a prestigious VIDI grant of EUR 800,000.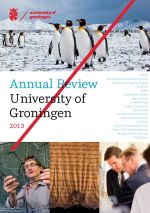 Annual Review 2013
Annual Review is a brochure about the University of Groningen, meant for everyone who is broadly interested. The general as well as the specific texts in this fullcolour publication give an account of the course of events of the University in a given calendar year. Main features are the portrayals of staff and the news summary. For printed copies of the Annual Review 2013 please get into contact with the Communication Office.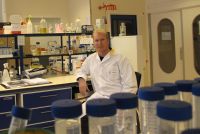 Safer treatment for diabetes
It sounds like a miracle cure. Injecting the hormone FGF1 into mice with type 2 diabetes appears to stabilize the blood glucose level for days on end, without side effects. Last summer, Hans Jonker, Associate Professor in the Faculty of Medicine/UMCG, published a second article in Nature about this discovery. In the latest edition of alumni magazine Broerstraat 5, Hans Jonker tells about his research. Read more ...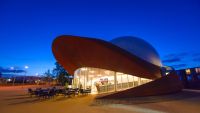 University of Groningen student Andries de Vries wins Dutch Falling Walls preliminary round
On Monday 15 September, the first Dutch version of Falling Walls Lab took place in the Infoversum. At a breathtaking rate, seventeen young researchers vied for the highest honour: a place in the Falling Walls Lab world finals in Berlin, on 8 November. Read more ...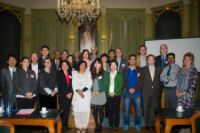 University of Groningen receives guests from twenty foreign universities
On Sunday 21 and Monday 22 September, the University of Groningen received representatives from twenty universities and research institutes from fourteen different countries. President of the Board of the University Sibrand Poppema welcomed guests from the Indian Institute of Technology Delhi (Delhi, India), the National Law School of India University (Bangalore, India), Michigan State University (US), the University of Washington (US), Nankai University (China) and Pusan National University (Korea), to name but a few visiting institutions. Read more ...

Students design a smart bandage
This year in early November, another team of University students will be participating in the international iGEM competition, where students attempt to build the best biological 'machine' using synthetic biology. Cells are modified so they can serve other useful purposes. Two years ago, the University of Groningen team became world champions. This year's team has designed a bandage that helps heal burn wounds and prevents infection. Watch the video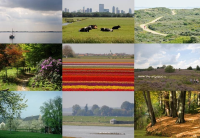 Unifocus, our online video magazine
In the latest edition:
Bailiff 2.0: helpful motivator - A new way of collecting debts where bailiffs take debtors' motives into account could lead to much better results than old-fashioned threatening based on legal texts.
Learning to choose a degree programme - In September, the Orientatietraject Noord (Orientation Programme North) began, intended for prospective students experiencing difficulties in choosing a degree programme.
The Hotspot monitor - The University of Groningen works closely with the PBL Netherlands Environmental Assessment Agency (Planbureau voor de Leefomgeving). One of the fruits of this collaboration is the Hotspot Monitor, an online tool for measuring how people experience natural locations.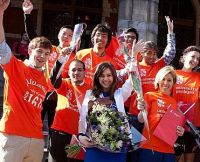 Meet the International Alumni Ambassadors of your country
Each year international 'alumni-to-be' are selected and trained to become ambassadors for the University in their home countries. They are our International Alumni Ambassadors. These young internationals volunteer to share their experiences actively with prospective students, possible partner universities and companies and/or facilitate and encourage our alumni networks and meetings in their countries. Read more ...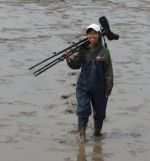 Alumni Chapter Hong Kong adopts research project about endangered waders in Bohai Bay
Through the Alumni Chapter Hong Kong, the University of Groningen reaches out to more than 120 alumni that live in Hong Kong. The chapter organizes annual meetings hosted by Consul General and alumnus Wilfred Mohr. The meetings provide an opportunity for former students to foster the ties with each other and with the university, far away from home. The alumni chapters are an initiative of the Ubbo Emmius Fund. Read more ...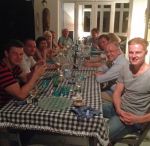 Alumni in Singapore organize internships for students
Seven motivated students traded Groningen for Singapore last summer to gain international work experience. The Work Experience Program (WEP) was organized by the RUG Alumni Chapter in Singapore. Businesses Shell, Heineken, Compass Energy, Vopak, Lemnis Lighting and KatalystM each put a RUG student to work for two months. Read more ...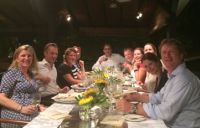 International Alumni Chapter
Upcoming events
Beijing: The University of Groningen invites her Beijing alumni to a dinner organized by Neso China on 24 October. We have a limited number of seats available, so register quickly if you would like to attend:

internationalalumni rug.nl

.
Yogyakarta: Informal alumni dinner meeting
On 30 October, RUG representatives Tienke Koning (director Ubbo Emmius Fund) and Ronald Holzhacker

(

Senior Lecturer, Comparative Political Science and International Relations)

will be in Yogyakarta to meet RUG alumni over dinner. Please email:

internationalalumni rug.nl

if you would like more details.
Singapore: Alumni Meeting 31 October


On Friday evening 31 October, RUG alumni in Singapore will meet with each other and two RUG representatives Ronald Holzhacker and Tienke Koning. Holzhacker will touch upon the EU-ASEAN relations. More information:

internationalalumni rug.nl

Jakarta: Alumni Dinner with the RUG President


Are you an alumnus residing in Indonesia? You are cordially invited for an alumni dinner with the RUG President in Jakarta on 7 November.

New York: Tuesday November 18 RUG alumni in New York are invited to attend an evening at the headquarters of Heineken USA. Host is RUG alumnus Dolf van den Brink (1991), President & CEO Heineken USA. The lecture is organized by the Alumni Chapter of the University of Groningen in the Greater New York area and is open to alumni of the University of Groningen. Admission is free. More information:

internationalalumni rug.nl
Dubai: Alumni meeting 18 December

(tentative)
Are you a RUG alumnus currently residing in the United Arab Emirates? Then save the date –18 December- for an alumni meeting in Dubai. More information will follow.
Recent past events
Alumni in Singapore meet Wim Pijbes


On Thursday 25 September our Singapore alumni had the honor of having an informal dinner with our Alumnus of the Year 2013 Wim Pijbes, Director of the Rijksmuseum.

RUG Swiss alumni Chapter


Alumni in Switzerland got together in Zurich on 23 September. They met Prof. Gerard Koppelman and his Asthma research. Many of the attendees decided to support this important research through the Ubbo Emmius Fund.
| | |
| --- | --- |
| Last modified: | 19 March 2020 09.45 a.m. |