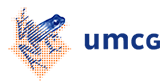 dr. W.F.A. den Dunnen
associate professor in neuropathology
Wilfred den Dunnen (1971) studied medicine at the Rijksuniversiteit Groningen. During his studies he started with his PhD thesis on biodegradable nerve guides for the reconstruction of peripheral nerves. He obtained his MD in February 1996 and his PhD shortly thereafter in the same year. After a few years as an assistant in surgery (amongst others 1 year of neurosurgery) he started his training in 1999 as a surgical pathologist and combined this with neuropathology from 2000. In September 2004 he became a staff member at the Dept of Pathology and Medical Biology at the UMCG.
Research is mainly focussed on 2 lines: neuro-oncology and neurodegenerative diseases / brain aging, which are embedded in the graduate school for Behavioural and Cognitive Neurosciences (BCN). For the former both basic and translational research is performed financed by KWF, SKOG and local fundings. The main focus here is angiogenesis and phospho-protreomics. This research is conducted together with several local and national partners.
For the latter the research is conducted together with local, national and international partners. These studies focus firstly on the correlation between neurodegeneration and the clinical picture and secondly on the interaction between the protein quality control system and the formation of inclusion bodies.
Furthermore, since 2008 Wilfred den Dunnen is coordinator of the N-track (clinical and molecular neurosciences) of a successful international research master from the graduate school BCN.
| | |
| --- | --- |
| Last modified: | 17 December 2015 11.10 a.m. |