T.C.A. (Tymon) de Haas, PhD
Assistant Professor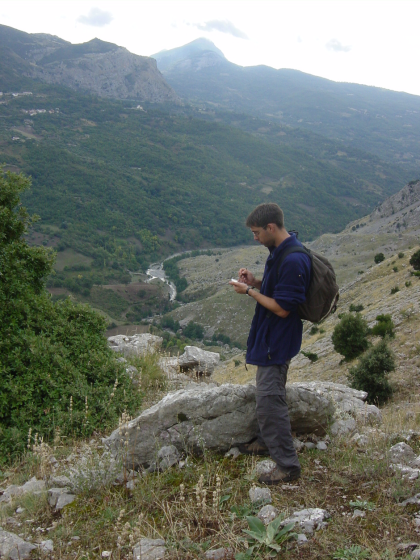 ---
After studying Classical and Mediterranean Archaeology at the University of Groningen, I obtained my PhD in 2011 on a study that combined an evaluation of the analytical potential of intensive field survey data with an assessment of the impact of early Roman colonization on settlement and land use in the Pontine Region (Lazio, central Italy).
Between 2012 and 2016 I continued working in this area as a postdoc within the so-called Minor Centres Project that aimed to evaluate the role of non-urban nucleated settlements in local and regional economies of the Roman period through both top-down approaches (e.g., application of Central Place Theory and Network Analysis) and bottom-up case studies on three minor centres and their rural hinterlands. Non-invasive field work (artefact surveys, geophysical prospections, geo-archaeological investigations) were a major component in the project, as were typological and petrographic studies on survey ceramics.
In 2017 and 2018, I worked as post-doctoral researcher at the Universität zu Köln within the Graduiertenkolleg 1878 'Archäologie vormoderner Wirtschaftsräume'. Besides tutoring an interdisciplinary group of PhDs within the research Line economic networks, I continued research on the economic geography of Roman Italy, especially investigating demographic developments and patterns of economic integration through the proxy-analysis of settlement and ceramic data from field surveys.
Subsequently I worked as an Assistant Professor in Classical and Mediterranean Archaeology at Leiden University. I taught a range of courses in the BA and MA programs in Archaeology and developed a researh program on the geoarchaeological study of Roman landscape managament systems.
2022- Assistant Professor in Classical and Mediterranean Archaeology, University of Groningen
2018-2021 Assistant Professor in Classical and Mediterranean Archaeology, Leiden University
2017-2018 Post-doctoral fellow, Universität zu Köln, Research Training Group 'Archaeology of Pre-Modern Economies' (Research Line 'Economic Networks')
2011-2016 Post-doctoral fellow / lecturer, University of Groningen. Co-director of the project 'Fora, stationes and sanctuaries. The role of minor centres in the economy of Roman central Italy'
2005 – 2011 PhD student / lecturer / researcher, University of Groningen. Field director within the Pontine Region Project, Staff member of the Dzarylgac Survey Project. Doctoral research: "Fields, farms and colonists: intensive field survey and early Roman colonization in the Pontine region, central Italy" (title awarded on 01/12/2011)
2003 – 2005 Researcher and Lecturer, Rijksuniversiteit Groningen. Staff member of the Raganello Archaeological Project and the Pontine Region Project.
1997 – 2003 MA in Archaeology and Prehistory - Classical and Mediterranean Archaeology, Rijksuniversiteit Groningen (cum laude)
| | |
| --- | --- |
| Last modified: | 25 June 2022 09.49 a.m. |