S. (Sarah) Tol, MSc
PhD Candidate in Clinical Neuropsychology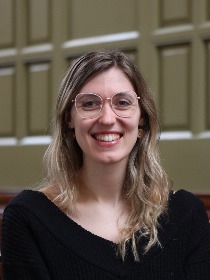 ---
Compensatory Reading Training for People with Homonymous Visual Field Defects - A Randomized Controlled Trial

A common consequence of stroke in the posterior region of the brain is a visual field defect. People with blindness for half of their visual field due to brain damage (homonymous hemianopia) frequently experience difficulties with reading, such as decreased reading speed, making more errors, being less able to read for a prolonged time and a decreased understanding of the text.
This project aims to determine the effectiveness of two reading interventions: Vistra and text rotation. The goal of Vistra is to learn compensating eye movements during reading, to decrease the negative effects of the visual field defect. Text rotation aims to reduce the effects of the visual field defect by learning people to read in a different direction, such as vertically or diagonally. The optimal angle is determined with the help of visual field assessment and people learn to apply the technique themselves.
The design of the study allows for comparison of both interventions with a control group and with each other. Furthermore the study will provide insight in the reading behaviour of people with hemianopia. Follow-up measurements are used to determine whether the interventions may have lasting effects.
The project will eventually result in well-founded knowledge on the effectiveness of two reading trainings for people with hemianopia. The final goal is to ensure people with hemianopia to read with more ease, by making use of a training that suits them best.
Funding: ZonMw-InZicht 94313005
The DiaNAH Test Battery of Visual Perception: A Norming and Validation Study
| | |
| --- | --- |
| Last modified: | 24 May 2023 5.12 p.m. |