S.A. (Scott) Eldridge II, Dr
Assistant Professor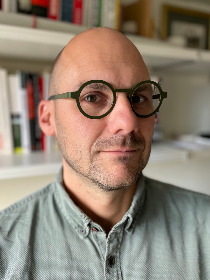 ---
Scott Eldridge is an assistant professor in the department of Media Studies and Journalism, joining in August 2016. Before this, he worked at the University of Sheffield from 2014-2016. He earned his PhD in 2014 from the University of Sheffield, where his thesis explored the emergence of WikiLeaks as a journalistic organization, titled: Interloper Media: Journalism's Reactions to the Rise of WikiLeaks. He is Reviews Editor for the journal Digital Journalism, and on the editorial boards of Digital Journalism and the Journal of Applied Journalism & Media Studies and is co-editor with Bob Franklin of the Routledge Companion to Digital Journalism Studies.
Currently he is researching and writing on the boundaries of journalism and challenges to these boundaries posed by 'problematic' digital actors. His research interests are in the fields of Digital Journalism Studies and Journalism Studies (more broadly), and more specifically on understanding new types of journalism emerging online, exploring journalistic identity constructs, and conceptual approaches to the journalistic field. He has also published on photojournalism and poverty, normative theories of journalism, British media history and the internet, and discursive constructions of journalism and newswork. Prior to his academic work, he worked as a journalist in the United States, and as a freelance researcher in South Africa.
Education
PhD, Sheffield (Sept. 2011 – February 2014; viva voce April 2014; awarded August 2014)
Doctoral thesis title: "Interloper Media: Journalism's reactions to the rise of WikiLeaks"
Supervisor: Dr Jairo Lugo-Ocando
Carried out in Department of Journalism Studies, University of Sheffield
MA (Erasmus Mundus Masters) Journalism and Media Studies (2007-2009)
Universities of Århus, Amsterdam, and Hamburg
European Consortium MA with studies at Århus (Autumn 2007), Amsterdam (Spring 2008), and Hamburg (Autumn 2008, Spring 2009).
Awarded upon completion of thesis: 'Blogs and Traditional Media: How political news media refer to one another' (Hamburg, 2009)
Completed with overall mark of: 1,5, German 'Sehr Gut' [Very Good] (UK: Distinction, ECTS: A) 

Awarded competitive European Commission Full Scholarship and Stipend
BA, cum laude Journalism (History minor) (2000-2004)
University of Massachusetts, Amherst
Graduated with 3.5 (cum laude) GPA
Conducted in the Journalism Department, with a minor study in History
Autumn 2003 semester at the University of Alaska, Anchorage
Previous Research Activities
With British Library – (2012 – 2015)
Participant in research focus group, interview, and consultation for British Library project on news archives, including broadcast news archives, and development of speech-to-text opportunities for the library (2012-2013).
Provided 'Researcher Case Study' for news and moving image curator Luke McKernan towards improving the library's broadcast archives (2013).
Participated in focused conference with British Library and BL Labs on accessing news data (September 2015) and on-going engagement with this news archive work (2015).
With The University of Sheffield's Digital Humanities Research Institute (2012-2014)
Research participant with University of Sheffield Digital Human Research Institute project: 'Participating in Search Design: a study of George Thomason's English Newsbooks, 1649-1653', exploring research design and interfaces. Final project output available at: http://www.hrionline.ac.uk/openbook/book/understanding-design-for-the-digital-humanities
Professional and External Standing
Editorial Board Digital Journalism, Journal of Applied Journalism & Media Studies
Reviews editor for the journal Digital Journalism (since 2012)
Invited lecture: Research School for Media Studies (RMeS), Netherlands; University of Amsterdam (17 March, 2017) "On politics and journalism, and the new code", http://www.rmes.nl/7840-2/
Invited Research seminar: Bournemouth University, Journalism Research Group (18 November 2015). Titled: Iconoclasts and Irritants: WikiLeaks and journalism's troublesome actors
Invited Guest Lecture: Århus Universitet, Århus, Denmark (15 November 2013) Titled: 'Rapid Change and Rampant Reactions: Journalism and its identity crises'. Delivered to students in the Danish MA in Media Studies and students from the Erasmus Mundus MA in Journalism and Media Studies.
Peer reviewer for the journals: Journalism Studies, Journalism Practice, The Journal of Applied Journalism and Media Studies, African Journalism Studies, Celebrity Studies, Digital Journalism, Discourse, Context and Media, SAGE Open Access, Convergence and The Canadian Review of American Studies.
Additional activities:
Book proposal reader and reviewer for: Routledge, Taylor & Francis and Palgrave Macmillan.
Member of: European Communication Research and Education Association (ECREA), International Association for Media and Communications Research (IAMCR), Media Communication and Cultural Studies Association (MeCCSA)
Member the Centre for the Study of Journalism and History, The University of Sheffield
Nominated for Excellence in Teaching, University of Sheffield Student Union Awards (2013/2014)
Relevant Previous Employment
The University of Sheffield (2014-2016)
Lecturer (Full-time, research & teaching contract)
Department of Journalism Studies, Faculty of Social Sciences
September 2010 to March 2011 Media Monitoring Africa, Johannesburg, South Africa
Freelance Media Researcher
Develop journalist's guide to reporting on children in Southern Africa.
Develop social media network for journalists, advocates, and non-profits on issues of reporting on children in South Africa
July 2006 to August 2007 Berkshire Publishing Group, Great Barrington, MA, USA
Assistant Editor, Project Coordinator, Author, Graphic Designer
Author and editor, responsible for coordinating publications, editing, and blogging on U.S.-China business, economic, and cultural issues
February 2005 to February 2006 Inside Washington Publishers: Inside US-China Trade, Washington, DC
Assistant Editor, Reporter
Journalist for weekly and online news outlet covering U.S.-China trade policy and relations, legislation, international politics in Washington, DC
May 2004 to February 2005 The Daily Hampshire Gazette, Northampton, MA, USA
Journalist, Correspondent, Court Reporter, Obituaries Reporter
May 2002 to February 2005 The Pittsfield Gazette, Pittsfield, MA, USA
Assistant Editor, Reporter, Photojournalist
September 2000 to May 2004 The Massachusetts Daily Collegian, Amherst, MA, USA
Managing Editor, Photo Editor, Photojournalist, Journalist, Columnist
Previous Professional Memberships
U.S. Congressional Press Corps (2005)
New England Newspaper and Press Association (2002-2004)
| | |
| --- | --- |
| Last modified: | 25 June 2022 11.39 a.m. |