dr. R.F. Regtuit
Assistant professor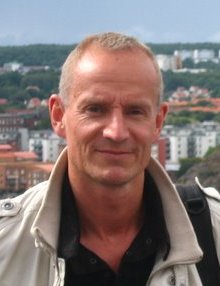 ---
After his graduation from the Vrije Universiteit in Amsterdam, Department of Greek and Latin, Remco Regtuit (1962) began his PhD on Severian of Gabala's Homily on the Incarnation of Christ (CPG 4204), a critical edition of the Greek text with extensive introduction and selective commentary. Part of this work has been carried out during stays at the University of Notre Dame (Indiana, USA) and the Catholic University of Leuven (Belgium). He succesfully defended this thesis in 1992.
During his work on Severian, he already started lecturing at the University of Groningen, where he has been teaching various courses in the department's curriculum (both on bachelor-level and on master-level). From 1994 onwards, he has been combining this academic position with that of teacher of Greek and Latin, first in Leeuwarden (Chr. Gymnasium Beyers Naudé), then in Groningen (Praedinius Gymnasium).
Having been trained as textual critic, Remco Regtuit concentrated on the edition of the scholia on Aristophanes' Thesmophoriazusae and Ecclesiazusae. This edition, the last volume in the series Scholia in Aristophanem (started by Koster and Holwerda in 1960), appeared in 2007 (published by Egbert Forsten, Groningen).
Remco Regtuit has contributed to various textbooks, which were used throughout the country to prepare students for their final examination in Greek. He is also co-author of an elementary course in Ancient Greek (Kosmos, published by Hermaion, Lunteren).
In his academic work he now concentrates on the comedies of Aristophanes, esp. the Plutus.
Remco Regtuit is co-editor of the series Hellenistica Groningana (published by Peeters, Leuven).
In the second half of the academic year 2011-2012 Remco Regtuit has been visiting professor at the University of Ghent (Belgium).
>>>>> Extensive CV
| | |
| --- | --- |
| Last modified: | 22 January 2013 10.24 a.m. |