N.A. Arellano Véliz, MA
PhD student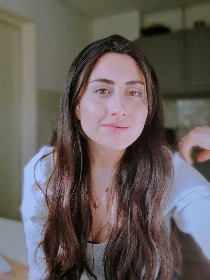 E-mail:
n.a.arellano.veliz rug.nl
---
Expertise
I am working on my Ph.D. at the University of Groningen as a scholarship student (by ANID, Chile). My research interests are related to the domains of Embodied Cognition, Interpersonal Synchronization, and Individual Differences through social interactions. I am particularly focused on the study of the embodied correlates of psychological constructs such as Personality and their expression at intra- and interpersonal levels. For the research within my project, I embrace the Complex Systems framework.

I pursued my bachelor's in Psychology with clinical specialization at the University of Talca, Chile, where I graduated with honors being positioned in the first place of my promotion. I worked as a clinician doing psychotherapy and I trained as an EMDR (Eye Movement Desensitization and Reprocessing) therapist. Later, I did my Research Master's (MSc) in Behavior and Cognition at the University of Barcelona, Spain. For this study, I obtained a full scholarship from the National Agency for Research and Development (ANID, Agencia Nacional para la Investigación y Desarrollo, Chile).

Currently, I am also part of the Mindwise editorial board.
| | |
| --- | --- |
| Last modified: | 17 March 2023 9.33 p.m. |