prof. dr. M.T.C. Walvoort
Associate Professor (Rosalind Franklin fellow) - Chemical Glycobiology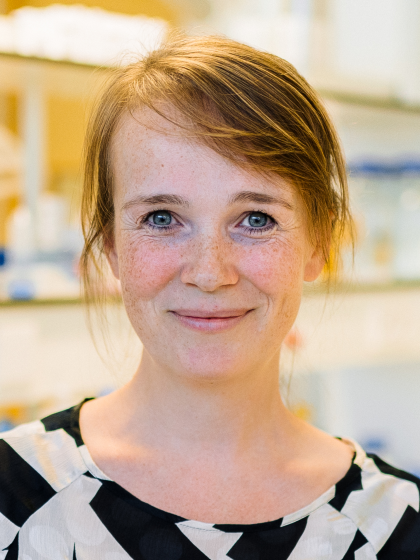 ---
PhD position in Glycochemistry
A fully funded 4-year PhD position is available in the group of Dr. Marthe Walvoort, in the division of Chemical Biology at the Stratingh Institute for Chemistry.
Websites : www.rug.nl/staff/m.t.c.walvoort
www.chemicalbiologygroningen.nl/walvoort
Research project: Probiotic bacteria exert beneficial effects in the gut, but little is known about the actual mechanisms of action. In this PhD project, in collaboration with immunologists at the University Medical Center Groningen, the impact of bacterial polysaccharides on the immune system and recovery from antibiotic treatment are investigated. Using synthetic organic chemistry and biochemistry, we will generate novel oligosaccharides that will be tested for their beneficial effects in human and porcine systems. The goal is to generate novel structures that contribute to a healthy microbiome to relieve the antibiotic burden.
This project is funded by a grant from NWO-CCC:
http://www.cccresearch.nl/pages/posts/carbobiotics-new-projects-on-reducing-the-use-of-antibiotics-by-humans-and-farm-animals-212.php
Qualifications: We are looking for an ambitious, motivated and practically skilful student with an MSc degree in Chemistry / Molecular Sciences. A strong background in organic synthesis is a prerequisite. An interest in biochemistry and multidisciplinary research is desired. Strong verbal and written communication skills (in English) are required.
Offer: The PhD candidate will be a member of the division Chemical Biology, which is located at the Linnaeusborg building on the Zernike Campus, and appointed with the Graduate School of Science. The gross salary in the first year starts at €2,222 per month, with a maximum of €2,840 gross per month in the final year (salary scale Dutch universities). Preferred start date is June 2018.
How to apply: Please send your application by February 1st 2018 to Dr. Marthe Walvoort (m.t.c.walvoort@rug.nl). Applications should include a motivation, curriculum vitae (including details of bachelor and master degree), description of research experience (1-2 pages), and contact details of two professional referees.
Contact: Additional information about the vacancy can be obtained from Dr. Marthe Walvoort (m.t.c.walvoort@rug.nl).
| | |
| --- | --- |
| Last modified: | 10 January 2018 12.31 p.m. |