dr. L. (Lucia H.M.) van der Voort
Policy Officer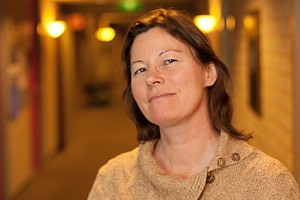 ---
CURRICULUM VITAE: Dr. Lucia H.M. van der Voort
PROFESSIONAL CAREER
May 2007-present: RUG/FMNS/Kapteyn Astronomical Institute
Policy Advisor
To ensure the continuity of management (personnel, finance and administration, facilities, research output and evaluation, grant applications) within the Kapteyn Astronomical Institute (≥ 100 co-workers). To advise the Director of the institute on matters of strategy, finance, personnel and improvement of operations.
September 2011 - September 2015 Head of Faculty Council FMNS (0,2 FTE)
Head of the official representative advisory body in which staff and students of the Faculty of Mathematics and Natural Science (FMNS) participate. The council gives advice to the Faculty Board and the personnel faction has the right of approval on matters that are decided upon by the Board.
November 2005 – May 2007: SRON
Administrator
To ensure the continuity of management (personnel, finance and administration) within The Netherlands Institute for Space Research (SRON), section Groningen. To advice the head of the Groningen department (≥ 60 co-workers) on matters of finance and personnel, and on in improvement of the quality of operations.
October 2003- July 2005: Pharma Bio-Research (now PRA)
2005: Senior Quality Officer
Responsibilities:
To analyse, evaluate, monitor and judge the performance of project teams in relation to the protocol, the law and guidelines, and the quality system.
2003-2004: Project manager
Responsibilities:
Initiation, coordination and surveillance of clinical research (phase 1) project within a contract research company according to the specifications and restrictions of the sponsors and the law.
May 1988- August 2003: Gist-brocades, DSM-Gist
1998-2003: Manager Information Services Delft; Head of the Scientific Information department (14 co-workers).
1996-1998: Manager Patent Information and Administration Gist-brocades; Coordinating patent searches and patent administration (10-co-workers).
1992-1996: Project Manager Food Science (new business development); Initiation and management of feasibility studies and projects in the field of agricultural industry (silage and plant biotechnology) and food industry (taste and texture, savoury).
1988-1991: Scientist; Initiation and coordination of research, in particular in the field of penicillin biosynthesis and food, in collaboration with universities and research institutes.
1985-1988: PhD student RUG/Medical Sciences/Clinical Immunology
EDUCATION AND TRAINING
1990: PhD: Cytomegalovirus membrane antigens; characterization of humoral immune responses.
1985: Chemistry (Drs.) Rijksuniversiteit Groningen: research subjects: biochemistry and microbiology, teaching qualification
1988-present
General and R&D Management
Performance Management
Competency based Performance Appraisal and Development
Project management (Twijnstra & Gudde and Krauthammer)
Negotiation (Routs, Laeven & partners)
Finance for non-financial managers (Laevaert)
Perfect Presentation (David Bloch)
GLP and GCP (in-company PBR)
| | |
| --- | --- |
| Last modified: | 25 June 2022 12.41 p.m. |