L.R.O. (Linde) Ex, MA
PhD student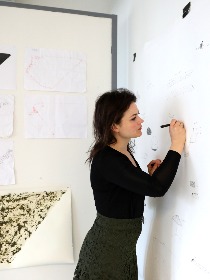 ---
Approaching subtle otherness.
Artistic attempts to relate to new ecological realities.
The artistic PhD research focuses on three ecological phenomena that are affected by immense ecological catastrophes; flying insects affected by insect death, salt marshes affected by climate change and industrial exploitation, and soil affected by pollution. The artistic PhD connects the phenomena to the elements of air (insects), water (salt marshes) and earth (soil) providing different angles and layers to approach ecological urgency.
All three ecological phenomena share that they are in their presentation and aesthetics, underwhelming, delicate and easily overlooked. Therefore, the three topics studied are easily ignored in their importance both aesthetically and ecologically and are likely to be suppressed and/or exploited.
The phenomena are considered to be entities. For instance, an insect is not only seen as an entity because it is an individual living being but the group of insects or the environment that the insects are part of are also considered to be entities in the research. The insect is not isolated but part of an ecosystem of human and more than human others, that exist in constant relation. In the research, the term otherness is used to describe the relationship between humans and more than humans as a constantly changing scale of entanglement and connection.
Overall the research aims to evoke deeper and closer relationships, connections and understandings between human and more than human perspectives and approaches through artistic practice.
The process of artistic approaches is reflected upon through artistic writing, auto-ethnographic analysis and co-written articles with the input of experts from different backgrounds and specialisms.
This leads to the formulation of the following research goal: Through the process of artistic research in my practice, I develop distinct methods and experiences. The developed methods and experiences create new ways of seeing and approaching ecological challenges and our relations with otherness.
| | |
| --- | --- |
| Last modified: | 14 October 2022 3.50 p.m. |