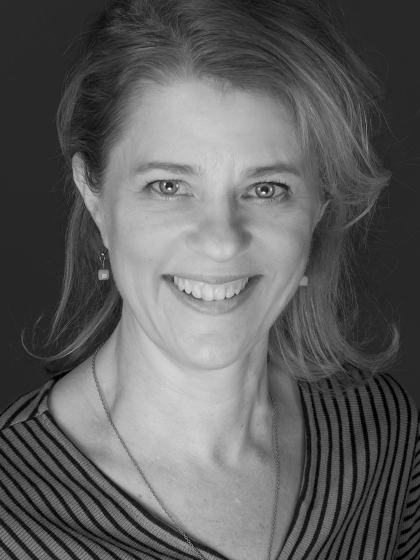 ---
ACADEMIC AND PROFESSIONAL BACKGROUND
Kristin McGee initiatied the popular music program in the Arts, Culture and Media Department in 2004 to provide students grounding in popular music theory and practice in a rigorous academic environment. The program ranges from the study of local musical cultures to historical and aesthetic developments related to popular music genres in mediated and transnational contexts.
She has also worked as a professional musician, composer, and saxophonist in a number of groups in Chicago and Groningen including Los Toallitas, Funkadesi, The Blue Turtle Tea Party, Redmoon Puppet Theatre, the University of Chicago X-Tet, The Northwestern Big Band, the Hericane Saxophone Quartet, the Tinsel Trio and the multi-arts collective Hora Est.
From 2013 to 2019 she was president of the Benelux chapter of the International Association for the Study of Popular Music (IASPM Benelux) and has served on the boards of KVNM (The Royal Society for Music History of the Netherlands). She currently chairs the Center for Gender Studies and helped initiated the first gender and sexuality minor at the Univeristy of Groningen. She was co-editor for a special issue on Beyoncé in Popular Music and Society and media editor of Jazz Perspectives. She is also active with the Arts in Society Research Center and the Society for Ethnomusicology.
After finishing her Masters in Saxophone Performance at Northwestern University under Fred Hemke and her PhD in ethnomusicology at the University of Chicago with a Franke dissertation writing Fellowship under the supervision of Phil Bohlman, (with Martin Stokes, Ron Radano, and Jacqueline Stewart), she continued research on jazz women, audio visual media, and the film and music industries for her book Some Liked it Hot: Jazz Women in Film and Television, 1928-1959 (Wesleyan University Press 2009), which was nominated for a TLA Richard Wall Memorial Award recognizing scholarly writing on cinema and recorded performance and the American Musicological Society's Lewis Lockwood Award. Her monograph Remixing European Jazz Culture was published by Routledge in 2020.
In 2013, she organized the first ever University of Groningen Big Band for students to perform big band arrangements from a variety of periods. In 2013, she also initiated the Music Matters series, a lunch-time concert and lecture series aimed at bridging the larger community of Groningen to the academic community of the University of Groningen.
| | |
| --- | --- |
| Laatst gewijzigd: | 12 mei 2021 12:46 |