drs. J.P. (John) de Groot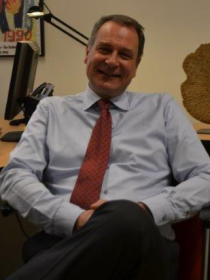 ---
Opleiding
Algemeen
1980: VWO (Atheneum), Emmen
1987: Bedrijfseconomie (cum laude), Rijksuniversiteit Groningen
1986: Student assistent bij Prof. dr. S.K. Kuipers (macro economie)
Management Programma's
1993: KPN General Management Programma, een 2 jarig management development programma, met als centrale onderwerpen: organisational choise and change, personal leadership en building the winning organisation
1998: Accelerated Development Program (ADP), London Business School, een leadership programma met als centrale onderwerpen: technical competences, management competences en conceptual competences
2003: Finance for Executives, INSEAD Parijs, een executive programma gericht op het financieel sturen van organisaties
2008: Building Clientoriented Organisations, London Business School, een executive programma gericht op vraagstukken rond de strategische positionering en inrichting van organisaties, in een snel veranderende wereld
2012: Marketing van Diensten, Vrije Universiteit Amsterdam, een maatwerk-leergang voor topmanagement Ernst & Young
2018: U4 Leadership Programme, Gent / Uppsala / Groningen / Göttingen, universitair Leiderschap Programma met als centrale onderwerpen: developing academic talent, creating transparency and accountability, leading top quality universities en managing change and preparing for the future.
Werkervaring
Samenvatting
1987: KPN Telecom

Manager Logistiek, Leidschendam (1987 – 1991)
Accountmanager, Den Haag (1991 – 1994)
Regiomanager Bedrijven, Groningen (1994 – 1998)

1998: Ernst & Young

Senior manager Executive Tempary Management, Groningen (1998 – 2003)
Senior manager Marketing & Sales, Zwolle (2003 – 2008)
Directeur Business Development, Rotterdam (2008 – 2013)

2014: Rijksuniversiteit Groningen

Managing director / Portefeuillehouder Middelen (vanaf 2014)
Koninklijke KPN Nederland NV (1987 – 1998)
1987 - 1988 Medewerker projectgroep Goederen Stroom Besturing te Leidschendam
Na mijn afstuderen aan de Rijksuniversiteit Groningen ben ik op 1 april 1987 gestart bij KPN Telecom. Hier liep een groot verbeterproject gericht op het professionaliseren van de inkoop, opslag en distributie. Het projectteam werd aangevuld met een aantal 'jonge honden' met verschillende academische opleidingen.
1988 - 1991 Manager Logistiek te Leidschendam
Bovenstaand project mondde uit in mijn benoeming als logistiek product manager. Dit was meteen een uitdagende functie met een stevige management-verantwoordelijkheid over een team van inkopers en planners. In deze tijd voltrok zich de zeer snelle uitbreiding van Amsterdam Zuid-Oost, met allerlei technische problemen, waarbij ik verantwoordelijk werd voor de tijdige levering van transmissie apparatuur.
1991 – 1994 Accountmanager te Den Haag
Na de verzelfstandiging van KPN Telecom in 1989 werd de nadruk sterk gelegd op een versterking van de 'voorkant' van het bedrijf en volgde mijn benoeming als national account manager voor een aantal grote accounts, waaronder de Tweede Kamer. Hier liep toen het grote nieuwbouwproject en het goed managen van alle contacten en contracten was een echt prestige project, waarvoor ik verantwoordelijk werd.
1994 – 1998 Regiomanager Bedrijven te Groningen
In 1993 ben ik gestart in het KPN General Management Programma, bestaande uit een reeks opleidingen en gericht op een functiewisseling naar een zware managementpositie. Voor mij volgde de benoeming als regiomanager Bedrijven, waarbij ik de leiding kreeg over een team van afdelingsmanagers die op hun beurt verantwoordelijk waren voor de diverse operationele teams. Als eindverantwoordelijk manager werd ik verantwoordelijk voor alle activiteiten richting de zakelijke markt en voor de hele unit Bedrijven.
Ernst & Young (1998 – 2013)
1998 – 2003 Senior manager Executive Temporary Management te Groningen
In 1998 ben ik gestart bij Ernst & Young in het werkveld executive temporary management. Ernst & Young ETM was toen vooral gericht op interim-opdrachten in het financiële werkveld en ik kreeg als opdracht dit te verbreden naar andere functionele gebieden, zoals marketing, logistiek en ICT. Tevens werd ik verant- woordelijk voor de zogenaamde herstructurerings/recovery-praktijk in Noord Nederland.
2003 – 2007 Senior manager Marketing & Sales te Zwolle
Na de verkoop van Ernst & Young ETM in 2003 volgde mijn benoeming als manager marketing & sales voor EY Noord-Oost Nederland, met als opdracht om de positionering en marketing van de 11 kantoren van Ernst & Young in deze regio te vergroten.
2007 – 2013 Director Business Development te Rotterdam
In 2007 werd ik verantwoordelijk voor het opzetten, inrichten en aansturen van de nieuwe landelijke afdeling business development. In deze rol gaf ik leiding aan een team van professionals verdeeld over vier vestigingen in Nederland, met als taak het opzetten en uitvoeren van accountmanagement richting geselecteerde top-accounts in Nederland.
Rijksuniversiteit Groningen (2014 – heden)
Managing director / directeur bedrijfsvoering Faculteit Economie & Bedrijfskunde
Na bijna 30 jaar werkzaam te zijn geweest in het bedrijfsleven, heb ik de switch gemaakt naar non-for-profit en sinds 1 januari 2014 ben ik werkzaam als managing director / portefeuillehouder middelen van de faculteit Economie & Bedrijfskunde van de Rijksuniversiteit Groningen.
De faculteit Economie & Bedrijfskunde is een grote faculteit met bijna 7.000 studenten, bijna 700 medewerkers en meer dan € 50 miljoen omzet. Het bestuur van de faculteit wordt gevormd door de decaan, de vice decaan en de portefeuillehouder middelen, waarbij er sprake is van een collegiaal bestuur met per bestuurslid een primair aandachtsgebied. Voor de portefeuillehouder middelen betreft dit de 'organisatie kant' van de faculteit.
De faculteit kent duurzaam goede prestaties op het gebied van onderwijs en onderzoek, als ook op het gebied van organisatie. Zo is er sinds 2016 sprake van een dubbele internationale accreditatie (EQUIS en AACSB), waarmee de faculteit behoort tot een groep van 1% van alle business schools wereldwijd. De omvang van de wetenschap-pelijke staf is in de laatste vijf jaar gestegen van 325 fte in 2014 naar ruim 400 fte in 2019 en in deze periode zijn tevens een aantal nieuwe organisatie-onderdelen neergezet, zoals de Careers Company (2014), de University Groningen Business School (2017) en de Aletta Jacobs School of Public Health (2018).
| | |
| --- | --- |
| Laatst gewijzigd: | 25 juni 2022 12:16 |