dr. G. (Gerrit) Breeuwsma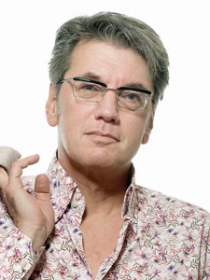 ---
Gerrit Breeuwsma (1958) studeerde aan de Rijksuniversiteit Groningen en is sindsdien als ontwikkelingspsycholoog verbonden aan dezelfde universiteit. Hij doceerde daarnaast enige jaren psychologie aan kunstvakdocenten en schreef voor de Open Universiteit een driedelig cursusboek over De menselijke levensloop. In perspectief van een persoonlijk wereldbeeld (1990). In de periode 1997/1998 verbleef hij een jaar aan het Netherlands Institute for Advanced Studies in the Humanities and Social Sciences (NIAS) te Wassenaar.
In 1993 promoveerde hij op een proefschrift over de grondslagen van de ontwikkelingspsychologie, dat verscheen in een handelseditie Alles over ontwikkeling. Over de grondslagen van de ontwikkelingspsychologie. Andere boekpublicaties zijn Psychologen over kindermishandeling (1987), De constructie van de levensloop (1994), Psychologie voor de linkerhand. Over kunst, verbeelding en andere afwijkingen (1998), Psychologische zaken. Wegwijs in de werking van de geest (2004), Het vreemde kind. De kindertijd als sleutel tot onszelf (2009). Zijn meest recente boek is Allemaal autistisch. Tussen hulp, hoop en hype (2019).

Hij publiceert artikelen, essays, recensies en columns over uiteenlopende onderwerpen in de (ontwikkelings)psychologie, vaak met het accent op de geschiedenis en theorie van het vak, maar ook met aandacht voor de maatschappelijke relevantie van de psychologie.

Hij was lange tijd (eind)redacteur van het inmiddels ter ziele gegane Psychologie en Maatschappij en van 1998 tot 2014 was hij redacteur van het tijdschrift De Psycholoog. Hij schrijft sinds 2005 columns voor de Universiteitskrant.
| | |
| --- | --- |
| Laatst gewijzigd: | 25 juni 2022 15:40 |