E. Mucciarelli, PhD
Assistant Professor for Hinduism in the Sanskrit Tradition - Gonda Lecturer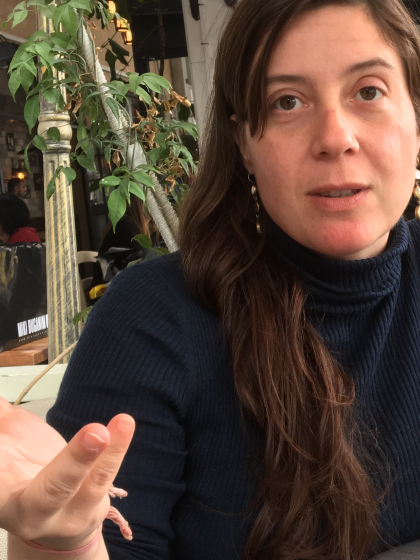 ---
Elena Mucciarelli was born in Castelnuovo di Garfagnana, in the province of Lucca and graduated (cum laude) in 2007 in Classical Literature at the Università degli Studi di Milano.
In 2007-2008 she was awarded with a two-years grant for studying abroad by the same University to develop her research on ritual language in Brāhmaṇas at Eberhard-Karls Universität Tübingen, under the supervision of Dr. Mirella Lingorska.
In 2011 she completed her PhD in Indological and Tibetan Studies at the University of Turin-Milan and in Cultural Studies at the Eberhard-Karls Universität Tübingen, within the program "Bi-nationally Supervised Doctoral thesis" ("co-tutelle de thesis") . Her research deals with the change in the language and semantics along the development of the Vedic ritual: " Changes in the semantics between the Ṛgveda Saṃhitā and the Brāhamaṇas ".
In 2013 she worked as fellow researcher at the Università degli Studi di Cagliari in the international project "Traces of an Heterodox Concept of Kingship in Ancient, Medieval and Modern India" (UE / RAS Research Project), coordinated by Dr. Tiziana Pontillo.
In 2014 and 2015 she has been a fellow researcher within the Project "Kudiyattam: Living Sanskrit Theater in the Kerala Tradition" at the Institute of Indology and Comparative Religion, Eberhard-Karls Universität Tübingen and at the Hebrew University of Jerusalem.
Between 2015 and 2016 she was principal investigator in the Project: " Kings of the Wild: the re-use of local and Vedic elements in the legitimation process of Medieval Karnataka " supported by the Institutional Strategy of the University of Tübingen (DFG, ZUK 63 ).
From 2017 until 2020 she was a research fellow at the Martin Buber Society for Humanities and Social Science (Hebrew University of Jerusalem).
She is a member of the ERC-funded project The New Ecology of Expressive Modes in Early-Modern South India coordinated by David Shulman.
| | |
| --- | --- |
| Last modified: | 05 September 2020 7.26 p.m. |