prof. dr. C.E. Koning
Honorary Professor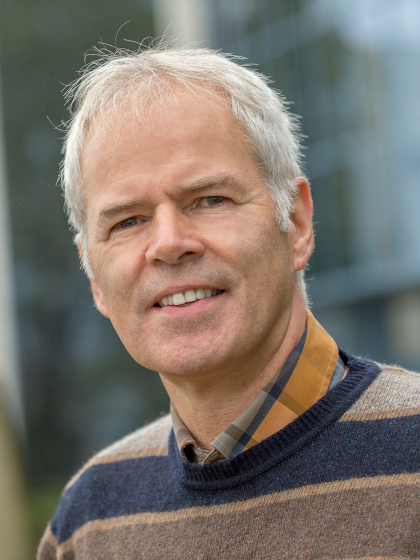 ---
Short CV Cor Koning (Prof. dr.)
Cor Koning studied polymer chemistry at the University of Groningen in the Netherlands and obtained his PhD degree at the same university in 1987.
In April 1987 he started working for DSM Research in Geleen, the Netherlands. He worked on the compatibilization of polymer blends and on the development of new polyamides, later resulting in the commercialization of DSM's largely bio-based polyamide EcoPAxx®.
In 2000 Cor Koning was appointed as full professor at the Eindhoven University of Technology and he left DSM. In Eindhoven his focus was on the synthesis and evaluation of renewable step-growth polymers like polyamides, polycarbonates, polyesters and polyurethanes. He also initiated a program on carbon dioxide-based polycarbonates.
In September 2011 he returned to industry and joined DSM Coating Resins as Science Manager Polycondensates and is currently also Senior Science Fellow Polycondensation Technology.
Currently Cor Koning has a part-time appointment at the University of Groningen. He is first promotor of 46 PhD students, is co-author of 240 scientific papers in peer-reviewed journals and is co-inventor of over 80 patents.
---
List of publications Cor Koning
P.F. van Hutten, C.E. Koning, J. Smook en A.J. Pennings, Polymer Commun., 24, (1983) 237. Shish‑kebabs as an intermediate morphology in gel‑spinning/hot‑drawing of polyethylene.
P.F. van Hutten, C.E. Koning and A.J. Pennings, Makromol. Chem., Rapid Commun., 4, (1983) 605. Drawing of polyethylene shish‑kebabs studied by scanning electron microscopy.
P.F. van Hutten, C.E. Koning and A.J. Pennings, Colloid & Polym. Sci., 262, (1984) 521. The deformation behaviour of polyethylene shish‑kebabs produced by stirring‑induced crystallization.
P.F. van Hutten, C.E. Koning and A.J. Pennings, J. Mater. Sci., 20, (1985) 1556. The plastic deformation of ultra‑high molecular weight polyethylene.
J.P.J. Verlaan, J.P.C. Bootsma, C.E. Koning and G. Challa, J. Mol. Catal., 18, (1983) 159. Anchored macromolecular copper catalysts for oxidative coupling.
J.P.J. Verlaan, C.E. Koning and G. Challa, J. Mol. Catal., 20, (1983) 203. The influence of chain and surface polarity on the activity of anchored macromolecular copper catalysts for the oxidative coupling of 2,6‑di‑t‑butylphenol.
C.E. Koning, B.L. Hiemstra, G. Challa, M. van de Velde and E.J. Goethals, J. Mol. Catal., 32, (1985) 309. Investigation and immobilization of the copper complex of poly[N‑(2‑ethoxycarbonylethyl)iminotrimethylene] as a catalyst for the oxidative coupling of 2,6‑dimethylphenol.
C.E. Koning, G. Challa, F.B. Hulsbergen and J. Reedijk, J. Mol. Catal., 34, (1986) 355. Structure of copper 4‑(N,N‑dimethylamino)pyridine complexes and their catalytic activity in the oxidative coupling of 2,6‑dimethylphenol.
C.E. Koning, J.J.W. Eshuis, F.J. Viersen and G. Challa, Reactive Polym., 4, (1986) 293. Copper(II) complexes of "Polystyrene‑bound DMAP": Synthesis, structure and catalytic activity in the oxidative coupling of 2,6‑dimethylphenol.
C.E. Koning, T. Jongsma, R. Brinkhuis and G. Challa, Reactive Polym., 8, (1988) 255. Copper(II) complexes of "Polystyrene‑bound DMAP": Effect of chain loading on the catalytic activity in the oxidative coupling of 2,6‑dimethylphenol.
C.E. Koning, F.J. Viersen, G. Challa and J. Reedijk, J. Mol. Catal., 44, (1988) 245. A mechanistic study on the oxidation of 2,6‑dimethylphenol by DMAP‑ and "Polystyrene‑bound DMAP"‑based copper catalysts.
C.E. Koning, R. Brinkhuis, R. Wevers and G. Challa, Polymer, 28, (1987) 2310. Catalytic activity of copper(II) complexes of immobilized "Polystyrene‑bound DMAP" for the oxidative coupling of 2,6‑disubstituted phenols.
C.E. Koning and L. van de Vondervoort, In: Proceedings of "Compalloy Europe '90", 3rd international congress on compatibilizers and reactive polymer alloying, Ed. D.J. Williams, October 1990, Brussels, p. 405. Morphology and properties of compatibilized blends of Nylon 4.6 with Poly(2,6‑dimethyl‑1,4‑phenylene oxide).
C.E. Koning, A. Ikker, R.J.M. Borggreve, L.E. Leemans and M. Möller, Polymer, 34 (1993) 4410. Reactive blending of poly(styrene‑co‑maleic anhydride) with poly(phenylene oxide) by addition of w‑amino‑polystyrene.
C. Koning and L. van de Vondervoort, In: Proceedings of the SPE 50th Annual Technical Conference & Exhibits, Vol.1, 1992 (ANTEC '92), 'Plastics Shaping the Future', (1992) 1435‑1438.Morphology and properties of compatibilized blends of Nylon 4.6 with poly(2,6‑dimethyl‑1,4‑phenylene oxide).
C.E. Koning, R. Fayt, W. Bruls, L. v.d. Vondervoort, T. Rauch and Ph. Teyssié, Makromol. Chem., Macromol. Symp., 75 (1993) 159. From incompatible poly(aryl ether sulfone)/polyamide 4.6 blends to new impact resistant alloys by a synergistic combination of a block copolymer emulsifier and an impact modifier.
C. Koning, L. Teuwen, E.W. Meijer and J. Moonen, Polymer, 35 (1994) 4889. Synthesis and Properties of a,w‑Diaminoalkane based Polyimides.
A.P. Doherty, M.A. Stanley, G. Arana, C.E. Koning, R.H.G. Brinkhuis and J.G. Vos, Electroanalysis, 7 (1995) 333. The effect of the nature of the polymer backbone on the stability and the analytical response of polymer-modified electrodes.
C.E. Koning, L.M.J. Teuwen, and M. Bulters, Polym. Eng. Sci., 36 (1996) 1347. Synthesis, characterization, and mechanical properties of an injection moldable polyimide based on 1,4‑diaminobutane.
C. Koning, W. Bruls, F. Op Den Buijsch and L. van de Vondervoort, Macromol. Symp., 112 (1996) 167. Reactive compatibilization of poly(styrene-co-maleic anhydride)/poly(phenylene oxide) blends.
C.E. Koning, L. Teuwen, A. De Plaen and J.P. Mercier, Polymer, 37 (1996) 5619. Enhancement of the crystallinity of a thermoplastic polyimide.
B. Schmidt, C.E. Koning, G.H. Werumeus Buning and H.R. Kricheldorf, J. Macromol. Sci., Pure Appl. Chem., A34 (1997) 759. Thermoplastic copoly(ester imide)s derived from PBT, trimellitic anhydride and 1,4‑diaminobutane.
C. Koning, W. Bruls, F. Op den Buijsch and L. v.d. Vondervoort, Annu. Tech. Conf. – Soc. Plast. Eng., 55th (Conference Proceedings Vol. 2), (1997) 2572. Reactive compatibilization of impact modified poly(styrene-co-maleic anhydride)/poly (phenylene oxide) blends by primary amine terminated polystyrene.
C. Koning, M. van Duin, C. Pagnoulle and R. Jerome, Prog. Polym. Sci., 23 (1998) 707. Strategies for compatibilization of polymer blends.
C. Koning, A. Delmotte, P. Larno and B. Van Mele, Polymer, 39 (1998) 3697. Influence of polymerization conditions on melt crystallization of partially aliphatic polyimides.
C. Pagnoulle, C.E. Koning, L. Leemans and R. Jerome, Polym. Mater. Sci. Eng., 79 (1998) 104. Reactive compatibilization of SAN/EPR blends: morphology development and interfacial grafting kinetics.
C. Koning and G. Werumeus Buning, Recent Res. Devel. Macromol. Res., Research Signpost 4, (1999) 1-26. Step polymers based on 1,4-diaminobutane.
J. Jiao, E.J. Kramer, S. de Vos, M. Möller and C. Koning, Polymer Commun., 40 (1999) 3585. Polymer interface instability caused by a grafting reaction.
J.M. de Gooijer, A. de Haan, M. Scheltus, L. v.d. Vondervoort and C. Koning, Polymer, 40 (1999) 6493. Modification of maleic anhydride grafted polyethylene with 1,4-diaminobutane in near critical propane.
J. Jiao, E.J. Kramer, S. de Vos, M. Möller and C. Koning, Macromolecules, 32 (1999) 6261. Morphological changes of a molten polymer/polymer interface.
C. Koning, L. Teuwen, R. de Jong, G. Janssen and B. Coussens, High Perform. Polym., 11 (1999) 387. Polyamide 4.10 and 4.12 and their isomers.
B. Vanhaecht, M. Teerenstra, D. Suwier and C. Koning, J. Macromol. Sci., Pure and Appl. Chem., A37 (6) (2000) 633-643. Dicyclohexylcarbodiimide assisted synthesis of aliphatic polyesters at room temperature.
M.N. Teerenstra, D.R. Suwier, B. Van Mele, L. Teuwen, M. Maassen, H.J. van den Berg and C.E. Koning, J. Polym. Sci., A: Polym. Chem., 38 (2000) 3550-3557. Flexibilized Styrene-N-Substituted Maleimide Copolymers. 1. Multiblock Copolymers Prepared from SMI Telechelics and PTHF.
D.R. Suwier, M.N. Teerenstra, B. Vanhaecht and C.E. Koning, J. Polym. Sci., A:. Polym. Chem., 38 (2000) 3558-3568. Flexibilized Styrene-N-Substituted Maleimide Copolymers. 2. Multiblock Copolymers Prepared from PTHF Based Iniferters.
C. Pagnoulle, C. Koning, L. Leemans and R. Jérôme, Macromolecules, 33 (2000) 6275. Reactive Compatibilisation of SAN/EPR Blends. 1. Dependence of the Phase Morphology Development on the Reaction Kinetics.
J.M. de Gooijer, C.E. Koning and M. Scheltus, Proceedings of the 7th meeting on Supercritical Fluids, Particle Design Materials and Natural Products Processing, Volume 1 (2000), 261-266. Endgroup modification of polyamide-6 in supercritical and subcritical fluids.
C. Koning and L. Teuwen, Proceedings SPE-ANTEC 2000, 58th Technical Conference (2000) 1562. Polyamides 4.10 and 4.12: Potentially new engineering plastics.
J.M. de Gooijer, M. Scheltus and C.E. Koning, Polym. Eng. Sci., 41/1 (2001) 86-94. Amine Modified Polyethylenes, Prepared in Near Critical Propane, as Adhesion Promoting Agents in Multilayered HDPE/PET Films.
C. Koning, J. Wildeson, R. Parton, B. Plum, P. Steeman and D.J. Darensbourg, Polymer, 42 (2001) 3995-4004. Synthesis and Physical Characterization of Poly(cyclohexane carbonate), Synthesized from CO2 and Cyclohexene Oxide
C. Koning, L. Teuwen, B. Lacave-Goffin, J.P. Mercier, Polymer, 42 (2001) 7247-7256. Synthesis and properties of a,w-diaminoalkane based poly(amide-imide)s
B. Vanhaecht, M.N. Teerenstra, D.R. Suwier, R. Willem, M. Biesmans, C.E. Koning, J. Polym. Sci., Part A., Polym. Chem., 39 (2001) 833-840. Controlled stereochemistry of polyamides derived from cis/trans-1,4-cyclohexanedicarboxylic acid.
Hans R. Kricheldorf, Thomas Wollheim, Cor E. Koning, H. Gerard Werumeus Buning, Polymer, 42 (2001) 6699-6708, Thermoplastic elastomers. 1. Poly(ether-ester-imide)s based on 1,4-diaminobutane, trimellitic anhydride, 1,4-dihydroxybutane and poly(tetramethylene oxide) diols.

Hans R. Kricheldorf, Thomas Wollheim, Volker Altstadt, Cor E. Koning and Gerard M. Werumeus Buning, Macromol. Sci., Pure Appl. Chem., A38 (5&6) (2001) 451-466. Thermoplastic elastomers. II. Poly(ether-ester-imide)s based on 1,4-diaminobutane, trimellitic anhydride, 1,4-dihydroxybutane, and poly(ethylene oxide)s.

Thomas Wollheim, Hans R. Kricheldorf, Volker Altstadt, Cor E. Koning and Gerard H. Werumeus Buning, High Perform. Polym., 13 (2001) 119-132. Thermoplastic elastomers. 3. Poly(ether-ester-imide)s based on 1,6 diaminohexane, trimellitic anhydride, 1,4-dihydroxybutane and poly(tetramethylene oxide).
H.R. Kricheldorf, T. Wollheim, M. Soliman, G.H. Werumeus Buning, C.E. Koning and V. Altstadt, Intern. J. Polymeric. Mater., 50 (2001) 359-372. Thermoplastic elastomers. 4. Poly(ether-ester-imide)s derived from trimellitic anhydride, 1,6-diaminohexane, 1,4-dihydroxybutane and poly(ethylene oxide).
D.R. Suwier, P.A.M. Steeman, M.N. Teerenstra, M.A.J. Schellekens, B. Vanhaecht, M.J. Monteiro and C.E. Koning, Macromolecules, 35 (2002) 6210-6216. Flexibilized styrene-N-substituted maleimide copolymers with enhanced entanglement density.
Davy R. Suwier, Michael J. Monteiro, Alexander Vandervelden and Cor E. Koning, e-Polymers, 25 (2002) 1-10. The iniferter technique under UV and under thermal conditions: a comparative study.
Bert Vanhaecht, Bart Rimez, Rudolph Willem, Monique Biesemans and Cor E. Koning, J. Polym. Sci., Part A. Polym. Chem., 40 (2002) 1962-1971. The influence of stereochemistry on the thermal properties of partially cycloaliphatic polyamides.
J.M. de Gooijer, M. Scheltus, M.A.G. Jansen, C.E. Koning, Polymer, 44 (2003) 2201-2211. Carboxylic acid end group modification of poly(butylene terephalate) in supercritical fluids.
Cor Koning, Bert Vanhaecht, Rudy Willem, Monique Biesemans, Bart Goderis, Bart Rimez, Polymer Preprints, 44 (1) (2003) 1063-1064. Influence of stereochemistry on cocrystallization in partially cycloaliphatic copolyamides.
Bert Vanhaecht, Jan Devroede, Rudolph Willem, Monique Biesemans, Wyjayanthi Goonewardena, Sanjay Rastogi, Sven Hoffmann, Philip G. Klein, Cor E. Koning, J. Polym. Sci., Polym. Chem., 41 (2003) 2082-2094. Cocrystallization phenomena in piperazine-based copolyamides as examined by differential scanning calorimetry, wide-angle X-ray diffraction, and solid-state NMR.
Marcel N. Teerenstra, Paul A.M. Steeman, Werner Iwens, Alexander Vandervelden, Davy R. Suwier, Bruno van Mele, Cor E. Koning, e-Polymers, 45 (2003) 1-12. On the entanglement density of differently N-substituted alternating styrene-maleimide copolymers.
Matthijs de Geus, Anja R.A. Palmans, Cor E. Koning and Andreas Heise, Polymer Preprints, 44 (2) (2003) 613-614. Enzymatic catalysis in the synthesis of poly(lactones-co-methacrylate) block copolymers.
Andreas Heise, Anja R.A. Palmans and Cor E. Koning, Polymer Preprints, 44 (2) (2003) 589-590. Combined catalytic reactions – an integrated biocatalytic approach in polymer chemistry.
Cor Koning, Bert Vanhaecht, Rudolph Willem, Monique Biesemans, Bart Goderis, Bart Rimez. Macromol. Symp., 199 (2003) 431-442. Stereochemistry Driven Cocrystallisation Phenomena in Partially Cycloaliphatic Polyamides.
Delphine L. Tillier, Jan Meuldijk, Cor E. Koning, Polymer 44 (2003) 7883-7890. Production of colloidally stable latices from low molecular weight ethylene-propylene-diene copolymers.
Wouter J. van Meerendonk, Robbert Duchateau, Cor E. Koning, Gert-Jan M. Gruter, Macromol. Rapid Commun., 25 (2004) 382-386. High-throughput automated parallel evaluation of zinc-based catalysts for the copolymerization of CHO and CO2 to polycarbonates.

Bert Vanhaecht, Rudolph Willem, Monique Biesemans, Bart Goderis, Monika Basiura, Pieter C.M.M. Magusin, Igor Dolbnya and Cor E. Koning, Macromolecules, 37 (2004) 421-428. A WAXD and solid-state NMR study on cocrystallization in partially cycloaliphatic polyamide 12.6-based copolymers'.

Oren Regev, Paul N.B. El kati, Joachim Loos, Cor E. Koning, Adv. Mater., 16, no. 3 (2004) 248-251. Preparation of conductive nanotube-polymer composites using latex technology.

J.M. de Gooijer, M. Scheltus, H.W. Lösch, R. Staudt, J. Meuldijk, C.E. Koning, J. of Supercritical Fluids, 29 (2004) 129-152. End group modification of polyamide-6 in supercritical and subcritical fluids. Part 1: Amine end group modification with succinic anhydride.

J.M. de Gooijer, M. Scheltus, C.E. Koning, J. of Supercritical Fluids, 29 (2004) 153-164. End group modification of polyamide-6 in supercritical and subcritical fluids. Part 2: Amine and carboxylic acid end group modification with 1,2-epoxybutane.

J.M. de Gooijer, J. Ellmann, M. Möller, C.E. Koning, J. of Supercritical Fluids, 31 (2004) 75-87. End group modification of polyamide-6 in supercritical and subcritical fluids. Part 3: Amine end group modification with diketene and diketene acetone adduct.

R. Venkatesh, L. Yajjou, C.E. Koning, B. Klumperman, Macromol. Chem. Phys., 205 (2004) 2161-2168. Novel brush copolymers via controlled radical polymerization.

R. Bussels, C. Bergman-Göttgens, J. Meuldijk, C. Koning, Macromolecules, 37, 25 (2004) , 9299-9301. Multiblock copolymers synthesized by miniemulsion polymerization using multifunctional RAFT agents

R. Bussels, C.E. Koning , Tetrahedron, 61 (2005) 1167-1174. Multiblock copolymer synthesis via controlled radical polymerization in aqueous dispersions. Part 1. Synthesis of S-tert-alkyl-N,N-alkoxycarbonylalkyldithiocarbamates.

M.A.G. Jansen, J.G.P. Goossens, G. de Wit, C. Bailly, C.E. Koning, Macromolecules, 38 (2005) 2659-2664. Reaction kinetics of the incorporation of a diol in poly(butylene terephthalate) via solid state polymerization.

Hoffmann, B. Vanhaecht, J. Devroede, W. Bras, S. Rastogi, C.E. Koning, Macromolecules, 38 (2005) 1797-1803. Cocrystallization in piperazine-based polyamide copolymers: small- and wide angle X-ray diffraction studies at 30ºC.

Grossiord, O. Regev, J. Loos, B. Voogt, H.E. Miltner, B. Van Mele, C.E. Koning, Polymer Preprints, 46 (1) (2005) 207-208. Modeling of the conductivity of a composite nanotube-polystyrene made with a latex-based process.

Andreas Heise, Joris W. Peeters, E.W. Meijer, Anja R.A. Palmans and Cor E. Koning, Polymer Preprints 46 (1) (2005) 603-604. Branched polymers by chemoenzymatic self condensing vinyl polymerisation.

Nadia Grossiord, Joachim Loos and Cor E. Koning, J. Mater. Chem., 15 (2005) 2349-2352. Strategies for dispersing carbon nanotubes in highly viscous polymers.
B. Goderis, P.G. Klein, S.P. Hill, C.E. Koning, Progr. Colloid Polym. Sci., 130 (2005) 1-11. A comparative DSC, X-ray and NMR study on the crystallinity of isomeric aliphatic polyamides.
Matthijs de Geus, Joris Peeters, Martin Wolffs, Thomas Hermans, Anja R.A. Palmans, Cor E. Koning and Andreas Heise, Macromolecules, 38 (2005) 4220-4225. Investigation of factors influencing the chemoenzymatic synthesis of block copolymers.
Joris W. Peeters, Anja R.A. Palmans, E.W. Meijer, Cor E. Koning, Andreas Heise, Macromol. Rapid Commun., 26 (2005) 684-689. Chemoenzymatic synthesis of branched polymers.
Madri Smit, Xuejing Zheng, Joachim Loos, John C. Chadwick, Cor E. Koning, J. Polym. Sci., Part A: Polym. Chem., 43 (2005) 2734-2748. Effects of methylaluminoxane immobilization on silica on the performance of zirconocene catalysts in propylene polymerisation.
Joachim Loos, Alexander Alexeev, Nadia Grossiord, Cor E. Koning, Oren Regev, Ultramicroscopy, 104 (2005) 160-167. Visualization of single-wall carbon nanotube (SWNT) networks in conductive polystyrene nanocomposites by charge contrast imaging.
Delphine Tillier, Jan Meuldijk, Pieter C.M.M. Magusin, Alex M. van Herk, Cor E. Koning, J. Polym. Sci., Part A: Polym. Chem., 43 (2005) 3600-3615. About crosslinking of low molecular weight ethylene-propylene(-diene) copolymer-based artificial latices.
Bert Vanhaecht, Bart Goderis, Pieter C.M.M. Magusin, Brahim Mezari, Igor Dolbnya and Cor E. Koning, Macromolecules, 38 (2005) 6048-6055. Stereochemistry driven distribution of 1,4-diaminocyclohexane residues over the crystalline and amorphous phase in copolyamides 4.14/1,4-DACH.14. A solid-state NMR and temperature-dependent WAXD study.
Nadia Grossiord, Oren Regev, Joachim Loos, Jan Meuldijk, Cor E.Koning, Anal. Chem. 77 (2005) 5135-5139. Time-Dependent Study of the Exfoliation Process of Carbon Nanotubes in Aqueous Dispersions by Using UV-Visible Spectroscopy.
Delphine L. Tillier, Jan Meuldijk, Günther W.H. Höhne, Peter M. Frederik, Oren Regev, Cor E. Koning, Polymer, 46 (2005) 7094-7108. About morphology in ethylene-propylene(-diene) copolymers-based latexes.
Raf Bussels, Christianne Bergman-Göttgens, Jan Meuldijk, Cor Koning, Polymer, 46 (2005) 8546-8554. Multiblock copolymers synthesized in aqueous dispersions using multifunctional RAFT agents.
Wouter J. Van Meerendonk, Robbert Duchateau, Cor E. Koning and Gert-Jan M. Gruter, Macromolecules, 38 (2005) 7306-7313. Unexpected side reactions and chain transfer for zinc-catalyzed copolymerization of cyclohexene oxide and carbon oxide.
Jesse M. de Gooijer, Cor E. Koning, Chemical Modification of Polymers in Supercritical Carbon Dioxide, in: Supercritical Carbon Dioxide in Polymer Reaction Engineering, Ed. By Maartje F. Kemmere and Thierry Meyer, WILEY-VCH, Weinheim (2005) 273-301.
M.A.G. Jansen, J.G.P. Goossens, G. de Wit, C. Bailly, C. Schick, C.E. Koning, Macromolecules, 38(26) (2005) 10658-10666. Poly(butylene terephthalate) Copolymers Obtained via Solid- State Polymerization and Melt Polymerization. A Study on the Microstructure via 13C NMR Sequence Distribution.
Simone Steig, Frauke Cornelius, Peter Witte, Bastiaan B.P. Staal, Cor E. Koning, Andreas heise and Henning Menzel. Chem. Commun., 43 (2005) 5420-5422. Synthesis of polypeptide based rod-coil block copolymers.
Soazig G.M. Perin, John R. Severn, Cor E. Koning, John C. Chadwick, Macromol. Chem. Phys., 207 (2006) 50-56. Unusual effect of diethyl zinc and triisobutylaluminium in ethylene/1-hexene copolymerization using a MgCl2-supported Ziegler-Natta catalyst.
M.A.G. Jansen, J.G.P. Goossens, G. de Wit, C. Bailly, C.E. Koning, Analytica Chimica Acta, 557 (2006) 19-30. The microstructure of poly(butylene terephthalate) copolymers via 13C NMR sequence distribution analysis: solid-state copolymerization versus melt copolymerization.
N. Grossiord, J. Loos, O. Regev and C.E. Koning, Chem. Mater., 18 (2006) 1089-1099. Toolbox for dispersing carbon nanotubes into polymers to get conductive nanocomposites.
Esther Vinken, Ann E. Terry, Sven Hoffmann, Bert Vanhaecht, Cor E. Koning and Sanjay Rastogi, Macromolecules, 39 (2006), 2546-2552. Influence of hydrogen bonding on the conformational changes, the brill transition, and lamellae thickening in (co)polyamides.
Madri Smit, Xuejing Zheng, Robert Bruell, Joachim Loos, John C. Chadwick, Cor E. Koning, J. Pol. Sci., Part A: Polym. Chem., 44 (2006) 2883-2890. Effect of 1-hexene comonomer on polyethylene particle growth and copolymer chemical composition distribution.
Rebeca Marcilla, Matthijs de Geus, David Mecerreyes, Christopher J. Duxbury, Cor E. Koning, Andreas Heise, Eur. Polym. J., 42 (2006) 1215-1221. Enzymatic polyester synthesis in ionic liquids.
Matthijs de Geus, Linda Schormans, Anja R.A. Palmans, Cor E. Koning, Andreas Heise, J. Polym. Sci., Part A: Polym. Chem., 44 (2006) 4290-4297. Block copolymers by chemoenzymatic cascade polymerization: A comparison of consecutive and simultaneous reactions.
Saskia Huijser, Bastiaan B.P. Staal, Juan Huang, Robbert Duchateau and Cor E. Koning. Angew. Chem. Int. Ed., 45 (2006) 4104-4108. Chemical composition and topology of poly(lactide-co-glycolide) revealed by pushing MALDI-ToF MS to its limit.
Saskia Huijser, Bastiaan B.P. Staal, Juan Huang, Robbert Duchateau and Cor E. Koning, BioMacromolecules 7, nr. 9 (2006) 2465-2469. Topology characterization by MALDI-ToF-MS of enzymatically synthesized poly(lactide-co-glycolide).
Jelena Bozovic, Stephanie Hoeppener, Dmitry A. Kozodaev, Srdjan Kisin, Bert Klumperman, Ulrich S. Schubert, Gijsbertus de With and Cor E. Koning. Chem. Phys. Chem., 7 (2006) 1912-1916. Adhesion on the nano- and macroscale: Interaction between copper and SAN/SMAh copolymers.
Rubin Huang, Nileshkumar Kukalyekar, Cor E. Koning, John C. Chadwick, J. Mol. Catal. A: Chemical 260 (2006) 135-143. Immobilization and activation of 2,6-bis(imino)pyridyl Fe, Cr and V precatalysts using a MgCl2/A1Rn(OEt)3-n support: Effects on polyethylene molecular weight and molecular weight distribution.
Raf Bussels, Christianne Bergman-Gottgens, Bert Klumperman, Jan Meuldijk and Cor Koning, J. Pol. Sci., Part A: Polym. Chem., 44 (2006) 6419-6434. Triblock copolymer synthesis via controlled radical polymerization in solution using S-tert-Alkyl-N,N-alkoxycarbonylalkyldithiocarbamate RAFT agents.
Madri Smit, Xuejing Zheng, Joachim Loos, John C. Chadwick, Cor E. Koning. J. Pol. Sci., Part A: Polym. Chem., 44 (2006) 6652-6657. Effects of propylene prepolymerization on ethylene/1-hexene and ethylene/1-octene copolymerization with an immobilized metallocene catalyst.
Robbert Duchateau, Wouter J. van Meerendonk, Latifa Yajjou, Bastiaan B.P. Staal, Cor E. Koning and Gert-Jan M. Gruter, Macromolecules 39 (2006) 7900-7908. Ester-functionalized polycarbonates obtained by copolymerization of ester-substituted oxiranes and carbon dioxide: A MALDI-ToF-MS analysis study.
Willem-Jan Soer, Weihua Ming, Bert Klumperman, Cor Koning, Rolf van Benthem. Polymer 47 (2006) 7621-7627. Surfactant-free artificial latexes from modified styrene-maleic anhydride (SMA) copolymers.
Bart A.J. Noordover, Viola G. van Staalduinen, Robbert Duchateau, Cor E. Koning, Rolf A.T.M. van Benthem, Manon Mak, Andreas Heise, August E. Frissen and Jacco van Haveren. Biomacromolecules, 7 (2006) 3406-3416. Co- and terpolyesters base don isosorbide and succinic acid for coating applications: Synthesis and characterization.
N. Grossiord, J. Loos, J. Meuldijk, O. Regev, H.E. Miltner, B. van Mele, C.E. Koning, Composites Science & Technology, 67 (2007) 778-782. Conductive carbon-nanotube/polymer composites: spectroscopic monitoring of the exfoliation process in water.
J. Loos, N. Grossiord, C.E. Koning, O. Regev, Composites Science & Technology, 67 (2007) 783-788. On the fate of carbon nanotubes: Morphological characterizations.
M.A.G. Jansen, L.H. Wu, J.G.P. Goossens, G. de Wit, C. Bailly, C.E. Koning, J. Polym. Sci., Part A: Polym. Chem., 45 (2007) 882-899. Preparation and characterization of poly(butylene terephthalate)/poly(ethylene terephthalate) copolymers via solid-state and melt polymerization.
J. Yu, N. Grossiord, C.E. Koning, J. Loos, Carbon, 45 (2007) 618-623. Controlling the dispersion of multi-wall carbon nanotubes in aqueous surfactant solution.
S. Kisin, J. Bozovic Vukic, P.G.Th. van der Varst, G. de With, C.E. Koning, Chem. Mater 19 (2007) 903-907. Estimating the polymer-metal work of adhesion from molecular dynamics simulations.
S. Steig, F. Cornelius, A. Heise, R.J.I. Knoop, G.J.M. Habraken, C.E. Koning, H. Menzel, Macromol. Symp., 248 (2007) 199-206. Synthesis of rod-coil block copolymers using two controlled polymerization techniques.
N. Grossiord, P. van der Schoot, J. Meuldijk, C.E. Koning, Langmuir, 23 (2007) 3646-3653. Determination of the surface coverage of exfoliated carbon nanotubes by surfactant molecules in aqueous solution.
R. Huang, C.E. Koning, J.C. Chadwick, Macromolecules, 40 (2007) 3021-3029.
Synergetic effect of a nickel diimine in ethylene polymerization with immobilized Fe-, Cr- and Ti-based catalysts on MgCl2 supports.
R. Duchateau, W.J. van Meerendonk, S. Huijser, B.B.P. Staal, M.A. van Schilt, G. Gerritsen, A. Meetsma, C.E. Koning, M.F. Kemmere, J.T.F. Keurentjes, Organometallics, 26 (2007) 4204-4211. Silica-grafted diethylzinc and a silsequioxane-based zinc alkyl complex as catalysts for the alternating oxirane-carbon dioxide copolymerization.
N. Grossiord, H.E. Miltner, J. Loos, J. Meuldijk, B. van Mele, C.E. Koning, Chem. Mater. 19 (2007) 3787-3792. On the crucial role of wetting in the preparation of conductive polystyrene-carbon nanotube composites.
R. Huang, C.E. Koning, J.C. Chadwick, J. Polym. Sci., Part A: Polym. Chem., 45 (2007) 4054-4061. Effects of hydrogen in ethylene polymerization and oligomerization with magnesium chloride-supported bis(imino)pyridyl iron catalysts.
A.J.M. van Dijk, T. Heyligen, R. Duchateau, J. Meuldijk, C.E. Koning, Chem. Eur. J., 13 (2007) 7664-7672. Polyamide synthesis from 6-aminocapronitrile, Part 1: N-Alkyl amide formation by amine amidation of a hydrolyzed nitrile.
A.J.M. van Dijk, R. Duchateau, E.J.M. hensen, J. Meuldijk, C.E. Koning, Chem. Eur. J., 13 (2007) 7673-7681. Polyamide synthesis from 6-aminocapronitrile, Part 2: Heterogeneously catalyzed nitrile hydrolysis with consecutive amine amidation.
J. Bozovic-Vukic, H. Tello Manon, J. Meuldijk, C. Koning and B. Klumperman, Macromolecules, 40 (2007) 7132-7139. SAN-b-P4VP block copolymer synthesis by chain extension from RAFT-functional poly(4-vinylpyridine) in solution and in emulsion.
D. Cummins, P. Wyman, C.J. Duxbury, J. Thies, C. Koning, A. Heise, Chem. Mater., 19 (2007) 5285-5292. Synthesis of functional photopolymerized macroporous polyHIPEs by atom transfer radical polymerization surface grafting.
B.A.J. Noordover, R. Duchateau, R.A.T.M. van Benthem, W. Ming, C.E. Koning, Biomacromolecules, 8 (2007) 3860-3870. Enhancing the functionality of biobased polyester coating resins through modification with citric acid.
J. Meuldijk, A.J.M. van Dijk, R. Duchateau, C.E. Koning, Macromol. Symp., 259 (2007) 164-173. A novel production route for Nylon-6: Aspects of catalysis and process development.
J. Yu, K. Lu, E. Sourty, N. Grossiord, C.E. Koning, J. Loos, Carbon, 45 (2007) 2897-2903. Characterization of conductive multiwall carbon nanotube/polystyrene composites prepared by latex technology.
M.A.G. Jansen, L.H. Wu, J.G.P. Goossens, G. de Wit, C. Bailly, C.E. Koning, G. Portale, J. Polym. Sci., Part A: Polym. Chem., 46 (2008) 1203-1217. The incorporation of rigid diol monomers into poly(butylene terephthalate) via solid-state copolymerization and melt copolymerization.
R.J.I. Knoop, G.J.M. Habraken, N. Gogibus, S. Steig, H. Menzel, C.E. Koning, A. Heise, J. Polym. Sci., Part A: Polym. Chem., 46 (2008) 3068-3077. Synthesis of poly(benzyl glutamate-b-styrene) rod-coil block copolymers by dual initiation in one pot.
M. de Geus, R. Peters, C.E. Koning, A. Heise, Biomacromolecules, 9 (2008) 752-757. Insights into the initiation process of enzymatic ring-opening polymerization from monofunctional alcohols using liquid chromatography under critical conditions.
R. Huang, R. Duchateau, C.E. Koning, J.C. Chadwick, Macromolecules, 41 (2008) 579-590. Zirconocene immobilization and activation on MgCl2-based supports: factors affecting ethylene polymerization activity.
M. Takwa, Y. Xiao, N. Simpson, E. Malmstrom, K. Hult, C.E. Koning, A. Heise, M. Martinelle, Biomacromolecules, 9 (2008) 704-710. Lipase catalyzed HEMA initiated ring-opening polymerization: in situ formation of mixed polyester methacrylates by transesterification.
W.J. Soer, W. Ming, C.E. Koning, R.A.T.M. van Benthem, Progress in Org. Coatings, 61 (2008) 224-232. Towards anti-corrosion coatings from surfactant-free latexes base don maleic anhydride containing polymers.
G.R.P. Henry, A. Heise, D. Bottai, A. Formenti, A. Gorio, A.M. Di Giulio, C.E. Koning, Biomacromolecules, 9 (2008) 867-878. Acrylate end-capped poly(ester-carbonate) and poly(ether-ester)s for polymer-on-multielectrode array devices: Synthesis, photocuring and biocompatibility.
N. Grossiord, P.J.J. Kivit, J. Loos, J. Meuldijk, A.V. Kyrylyuk, P. van der Schoot, C.E. Koning, Polymer, 49 (2008) 2866-2872. On the influence of the processing conditions on the performance of electrically conductive carbon nanotube/polymer nanocomposites.
Y. Xiao, D. Cummins, A.R.A. Palmans, C.E. Koning, A. Heise, Soft Matter., 4 (2008) 593-599. Synthesis of biodegradable chiral polyesters by asymmetric enzymatic polymerization and their formulation into microspheres.
J. van Haveren, E.A. Oostveen, F. Micciche, B.A.J. Noordover, C.E. Koning, R.A.T.M. van Benthem, A.E. Frissen, J. Coat. Technol. Res., 4 (2) (2007) 177-186. Resins and additives for powder coatings and alkyd paints, based on renewable resources.
M. de Geus, A.R.A. Palmans, C.J. Duxbury, S. Villarroya, S.M. Howdle, A. Heise, ACS Symposium Series 999, (2008) 216-229. Chapter 14: Chemoenzymatic synthesis of Block Copolymers, Book Polymer biocatalysis and Biomaterials II, ed. H.N. Cheng, R.A. Gross.
H.E. Miltner, N. Grossiord, K. Lu, J. Loos, C.E. Koning, B. van Mele, Macromolecules, 41 (2008) 5753-5762. Isotactic polypropylene/carbon nanotube composites prepared by latex technology. Thermal analysis of carbon nanotube-induced nucleation.
W.J. Soer, W. Ming, C.E. Koning, R.A.T.M. van Benthem, Polymer 49 (2008) 3399-3412. Crosslinking systems and film properties for surfactant-free latexes based on anhydride-containing polymers.
R. Huang, F. Malizia, G. Pennini, C.E. Koning, J.C. Chadwick, Macromol. Rapid. Commun., 29 (2008) 1732-1738. Effects of MgCl2 crystallographic structure on active centre formation in immobilized single-centre and Ziegler-Natta catalysts for ethylene polymerization.
N. Grossiord, J. Loos, L. van Laake, M. Maugey, C. Zakri, C.E. Koning, A.J. Hart, Adv. Funct. Mater., 18 (2008) 3226-3234. High-conductivity polymer nanocomposites obtained by tailoring the characteristics of carbon nanotube fillers.
R. Sablong, R. Duchateau, C.E. Koning, G. de Wit, D. van Es, R. Koelewijn, J. van Haveren, Biomacromolecules, 9 (2008) 3090-3097. Incorporation of isosorbide into poly(butylene terephthalate) via solid-state polymerization.
K. Lu, N. Grossiord, C.E. Koning, H.E. Miltner, B. van Mele, J. Loos, Macromolecules, 41 (2008) 8081-8085. Carbon nanotube/isotactic polypropylene composites prepared by latex technology: morphology analysis of CNT-induced nucleation.
I. van der Meulen, M. de Geus, H. Antheunis, R. Deumens, E.A.J. Joosten, C.E. Koning, A. Heise, Biomacromolecules, 9 (2008) 3404-3410. Polymers from functional macrolactones as potential biomaterials: Enzymatic ring opening polymerization, biodegradation and biocompatibility.
M.C. Hermant, B. Klumperman, A.V. Kyrylyuk, P. van der Schoot, C.E. Koning, Soft Matter 5 (2009) 878-885. Lowering the percolation threshold of single-walled carbon nanotubes using polystyrene/poly(3,4-ethylenedioxythiophene): poly(styrene sulfonate) blends.
M.C. Hermant, M. Verhulst, A.V. Kyrylyuk, B. Klumperman, C.E. Koning, Comp. Sci. Techn., 69 (2009) 656-662. The incorporation of single-walled carbon nanotubes into polymerized high internal phase emulsions to create conductive foams with a low percolation threshold.
D. Cummins, C.J. Duxbury, P.J.L.M. Quaedflieg, P.C.M.M. Magusin, C.E. Koning, A. Heise, Soft Matter 5 (2009) 804-811. Click chemistry as a means to functionalize macroporous polyHIPE.
M.C. Hermant, N.M.B. Smeets, R.C.F. van Hal, J. Meuldijk, H.P.A. Heuts, B. Klumperman, A.M. van Herk, C.E. Koning, e-Polymers 22 (2009) 1-13. Influence of the molecular weight distribution on the percolation threshold of carbon nanotube – polystyrene composites.
M.C. Hermant, B. Klumperman, C.E. Koning, Chem. Commun. (2009) 2738-2740.
Conductive pickering-poly(high internal phase emulsion) composite foams prepared with low loadings of single-walled carbon nanotubes.
Y. Xiao, O. Coulembier, C.E. Koning, A. Heise, P. Dubois, Chem. Commun. (2009) 2472-2474. Cumulated advantages of enzymatic and carbine chemistry for the non-organomettalic synthesis of (co)polyesters.
W.J. Soer, W. Ming, C.E. Koning, R.A.T.M. van Benthem, J.M.C. Mol, H. Terryn, Progress Org. Coatings 65 (2009) 94-103. Barrier and adhesion properties of anti-corrosion coatings base don surfactant-free latexes from anhydride-containing polymers.
E. Vinken, A.E. Terry, A.B. Spoelstra, C.E. Koning, S. Rastogi, Langmuir, 25 (9) (2009) 5294-5303. Influence of superheated water on the hydrogen bonding and crystallography of piperazine-based (co)polyamides.
H. Antheunis, J.C. van der Meer, M. de Geus, W. Kingma, C.E. Koning, Macromolecules, 42 (2009) 2462-2471. Improved mathematical model for the hydrolytic degradation of aliphatic polyesters.
B.A.J. Noordover, A. Heise, P. Malanowski, D. Senatore, M. Mak, L. Molhoek, R. Duchateau, C.E. Koning, R.A.T.M. van Benthem, Progress Org. Coatings 65 (2009) 187-196. Biobased step-growth polymers in powder coating applications.
Y. Xiao, M. Takwa, K. Hult, C.E. Koning, A. Heise, M. Martinelle, Macromol. Biosci., 9 (2009) 713-720. Systematic comparison of HEA and HEMA as initiators in enzymatic ring-opening polymerizations.
J. Devroede, R. Duchateau, C.E. Koning, J. Meuldijk, J. Appl. Polym. Sci., 114 (2009) 2435-2444. The synthesis of poly(butylenes terephthalate) from terephthalic acid, Part I: The influence of terephthalic acid on the tetrahydrofuran formation.
J. Devroede, R. Duchateau, C.E. Koning, J. Appl. Polym. Sci., 114 (2009) 2427-2434. The synthesis of poly(butylenes terephthalate) from terephthalic acid, Part II: Assessment of the first stage of the polymerization process.
G. van Lier, G. Van Assche, H.E. Miltner, N. Grossiord, C.E. Koning, P. Geerlings, B. van Mele, Phys. Chem. Chem. Phys., 11 (2009) 11121-11126. Theoretical analysis of carbon nanotube wetting in polystyrene nanocomposites.
G.J.M. Habraken, C.E. Koning, A. Heise, J. Polym. Sci., Part A: Polym. Chem., 47 (2009) 6883-6893. Peptide block copolymers by N-carboxyanhydride ring-opening polymerization and atom transfer radical polymerization: The effect of amide macroinitiators.
G.J.M. Habraken, C.E. Koning, J.P.A. Heuts, A. Heise, Chem. Commun., (2009) 3612-3614. Thiol chemistry on well-defined synthetic polypeptides.
H. Antheunis, J.C. van der Meer, M. de Geus, A. Heise, C.E. Koning, Biomacromolecules 11 (2010) 1118-1124. Autocatalytic equation describing the change in molecular weight during hydrolytic degradation of aliphatic polyesters.
R.J.I. Knoop, M. de Geus, G.J.M. Habraken, C.E. Koning, H. Menzel, A. Heise, Macromolecules, 43 (2010) 4126-4132. Stimuli responsive peptide conjugated polymer nanoparticles.
G.J.M. Habraken, M. Peeters, C.H.J.T. Dietz, C.E. Koning, A. Heise, Polymer Chemistry, 1 (2010) 514-524. How controlled and versatile is N-carboxy anhydride (NCA) polymerization at 0°C? Effect of temperature on homo-, block- and graft (co)polymerization.
M. de Geus, I. van der Meulen, B. Goderis, K. van Hecke, M. Dorschu, H. van der Werff, C.E. Koning, A. Heise, Polymer Chemistry, 1 (2010) 525-533. Performance polymers from renewable monomers: high molecular weight poly(pentadecalactone) for fiber applications.
M.C. Hermant, P. van der Schoot, B. Klumperman, C.E. Koning, ACS Nano, 4 (4) (2010) 2242-2248. Probing the cooperative nature of the conductive components in polystyrene/poly (3,4-ethylenedioxythiophene): Poly(styrene sulfonate) – single-walled carbon nanotube composites.
E. Tkalya, M. Ghislandi, A. Alekseev, C. Koning, J. Loos, J. Mater. Chem., 20 (2010) 3035-3039. Latex-based concept for the preparation of grapheme-based polymer nanocomposites.
N. Grossiord, M.E.L. Wouters, H.E. Miltner, K. Lu, J. Loos, B. van Mele, C.E. Koning,
Eur. Polym. J., 46 (2010) 1833-1843. Isotactic polypropylene/carbon nanotube composites prepared by latex technology: Electrical conductivity study.
L. Jasinska, C.E. Koning, J. Pol. Sci., Part A: Polym. Chem., 48 (2010) 5907-5915.
Waterborne polyesters partially based on renewable resources.
L. Jasinska, C.E. Koning, J. Pol. Sci., Part A: Polym. Chem., 48 (2010) 2885-2895.
Unsaturated biobased polyesters and their cross-linking via radical copolymerization.
R. Sablong, R. Duchateau, C.E. Koning, D. Pospiech, A. Korwitz, H. Komber, S. Starke, L. Haussler, D. Jehnichen, M. Auf der Landwehr, Polym. Degr. Stab., 96 (2011) 334-341. Incorporation of a flame retardancy enhancing phosphorus-containing diol into poly(butylenes terephthalate) via solid state Polycondensation: A comparative study.
S. Huijser, E. Hosseini Nejad, R. Sablong, C. de Jong, C.E. Koning, R. Duchateau, Macromolecules 44 (2011) 1132-1139. Ring-opening co- and terpolymerization of an alicyclic oxirane with carboxylic acid anhydrides and CO2 in the presence of chromium porphyrinato and salen catalysts.
J. Meuldijk, B.H.P. van de Kruijs, J.A.J.M. van Vekemans, L.A. Hulshof, R. Duchateau, C.E. Koning, Macromol. Symp., 302 (2011) 69-79. A novel production route for Nylon-6: aspects of microwave-enhanced catalysis.
B.A.J. Noordover, D. Haveman, R. Duchateau, R.A.T.M. van Benthem, C.E. Koning,
J. Appl. Polym. Sci, 121 (2011) 1450-1463.Chemistry, functionality, and coating performance of biobased copolycarbonates from 1,4:3,6-dianhydrohexitols.
D. Tang, B.A.J. Noordover, R.J. Sablong, C.E. Koning, J. Polym. Sci., Part A: Polym. Chem., 49 (2011) 2959-2968. Metal-free synthesis of novel biobased dihydroxyl-terminated aliphatic polyesters as building blocks for thermoplastic polyurethanes.
S. Cakir, R. Kierkels, C. Koning, J. Polym. Sci., Part A: Polym. Chem., 49 (2011) 2823-2833. Polyamide 6-polycaprolactone multiblock copolymers: synthesis, characterization and degradation.
I. van der Meulen, E. Gubbels, S. Huijser, R. Sablong, C.E. Koning, A. Heise, R. Duchateau, Macromolecules 44 (2011) 4301-4305. Catalytic ring-opening polymerization of renewable macrolactones to high molecular weight polyethylene-like polymers.
I. van der Meulen, Y. Li, R. Deumens, E.A.J. Joosten, C.E. Koning, A. Heise, Biomacromolecules, 12 (2011) 837-843. Copolymers from unsaturated macrolactones: toward the design of cross-linked biodegradable polyesters.
L. Jasinska, M. Villani, J. Wu, D. van Es, E. Klop, S. Rastogi, C.E. Koning, Macromolecules, 44 (2011) 3458-3466. Novel, fully biobased semicrystalline polyamides.
A.V. Kyrylyuk, M.C. Hermant, T. Schilling, B. Klumperman, C.E. Koning, P. van der Schoot, Nature Nanotechnology, 6 (2011) 364-369. Controlling electrical percolation in multicomponent carbon nanotube dispersions.
D. Tang, D.J. Mulder, B.A.J. Noordover, C.E. Koning, Macromol. Rapid. Comm., 32 (2011) 1379-1385. Well-defined biobased segmented polyureas synthesis via a TBD-catalyzed isocyanate-free route.
G.J.M. Habraken, M. Peeters, P.D. Thornton, C.E. Koning, A. Heise, Biomacromolecules, 12 (2011) 3761-3769. Selective enzymatic degradation of self-assembled particles from amphiphilic block copolymers obtained by the combination of N-carboxyanhydride and nitroxide-mediated polymerization.
G.J.M. Habraken, K.H.R.M. Wilsens, C.E. Koning, A. Heise, Polym. Chem., 2 (2011) 1322-1330. Optimization of N-carboxyanhydride (NCA) polymerization by variation of reaction temperature and pressure.
B. Yeniad, H. Naik, R.J. Amir, C.E. Koning, C.J. Hawker, A. Heise, Chem. Commun., 47 (2011) 9870-9872. Encoded dendrimers with defined chiral composition via 'click' reaction of enantiopure building blocks.
N. van den Brande, C. Koning, P. Geerlings, G. van Lier, G. van Assche, B. van Mele, J. Therm. Anal. Calorim 105 (2011) 775-781. Partially miscible polystyrene/polymethylphenylsiloxane blends for nanocomposites.
I.D. Gunbas, M.E.L. Wouters, M.M.R.M. Hendrix, R.A.T.M. van Benthem, C.E. Koning, B.A.J. Noordover, J. Appl. Polym. Sci., 125 (2012) 1745-1757. Maleic anhydride based copolymer dispersions for surface modification of polar substrates.
E.E. Tkalya, M. Ghislandi, G. de With, C.E. Koning, Current Opinion in Colloid & Interface Science, 17 (2012) 225-232. The use of surfactants for dispersing carbon nanotubes and graphene to make conductive nanocomposites.
B. Marinho, M. Ghislandi, E. Tkalya, C.E. Koning, G. de With, Powder Technology, 221 (2012) 351-358. Electrical conductivity of compacts of graphene, multi-wall carbon nanotubes, carbon black, and graphite powder.
J. Wu, P. Eduard, S. Thiyagarajan, J. van Haveren, D.S. van Es, C.E. Koning, M. Lutz, C. Fonseca Guerra, Chem. Sus. Chem., 4 (2011) 599-603. Isohexide derivatives from renewable resources as chiral building blocks.
E. Hosseini Nejad, C.G.W. van Melis, T.J. Vermeer, C.E. Koning, R. Duchateau, Macromolecules 45 (2012) 1770-1776. Alternating ring-opening polymerization of cyclohexene oxide and anhydrides: effect of catalyst, cocatalyst, and anhydride structure.
L. Jasinska-Walc, M. Villani, D. Dudenko, O. van Asselen, E. Klop, S. Rastogi, M. Ryan Hansen, C.E. Koning, Macromolecules 45 (2012) 2796-2808. Local conformation and cocrystallization phenomena in renewable diaminoisoidide-based polyamides studied by FT-IR, solid state NMR and WAXD.
S. Huijser, G.D. Mooiweer, R. van der Hofstad, B.B.P. Staal, J. Feenstra, A.M. van Herk, C.E. Koning, R. Duchateau, Macromolecules, 45 (2012) 4500-4510. Reactivity ratios of comonomers from a single MALDI-ToF-MS measurement at one feed composition.
L. Jasinska-Walc, D. Dudenko, A. Rozanski, S. Thiyagarajan, P. Sowinski, D. van Es, J. Shu, M.R. Hansen, C.E. Koning, Macromolecules, 45 (2012) 5653-5666. Structure and molecular dynamics in renewable polyamides from dideoxy-diamino isohexide.
J. Wu, P. Eduard, S. Thiyagarajan, L. Jasinska-Walc, A. Rozanski, C. Fonseca Guerra, B.A.J. Noordover, J. van Haveren, D.S. van Es, C.E. Koning, Macromolecules, 45 (2012) 5069-5080. Semicrystalline polyesters based on a novel renewable building block.
B.A.J. Noordover, L. Jasinska-Walc, I. van der Meulen, R. Duchateau, C.E. Koning, Chapter 18 in Biobased Monomers, Polymers and Materials (2012) 281-322.
Novel biomass-based polymers: Synthesis, characterization, and application.
R. Rulkens, C.E. Koning, Chapter 5:18 in Polymer Science A: A comprehensive reference (2012) 431-467. Chemistry and Technology of Polyamides.
D. Tang, B.A.J. Noordover, R.J. Sablong, C.E. Koning, Macromol. Chem. Phys. 213, (2012), 2541-2549. Thermoplastic Poly(urethane urea)s From Novel, Bio-based Amorphous Polyester Diols.
J. Wu, L. Jasinska-Walc, D. Dudenko, A. Rozanski, M.R. Hansen, D. van Es, C.E. Koning, Macromolecules, 45, (2012), 9333-9346. An Investigation of Polyamdes Based on Isoidide-2,5-dimethyleneamine as a Green Rigid Building Block with Enchanced Reactivity.
S. Cakir, M. Nieuwenhuizen, P.G.A. Janssen, R. Rulkens, C.E. Koning, Polymer, 53, (2012), 5242-5250. Incorporation of a semi-aromatic nylon salt into polyamide 6 by solid-state or melt polymerization.

Yeniad, B., Koklukaya, O., Naik, H., Fijten, M.W.M., Koning, C.E. & Heise, A., Polymer Chemistry, 51, (2013), 84-93. Synthesis of enantiopure homo and copolymers by raft polymerization and investigation of their enantioselective lipase-catalyzed esterification.

Gubbels, E., Jasinska-Walc, L. & Koning, C.E., Polymer Chemistry 51, (2013) 890-898. Synthesis and characterization of novel renewable polyesters based on 2,5-furandicarboxylic acid and 2,3-butanediol.

Tang, D., Thiyagarajan, S., Noordover, B.A.J., Koning, C.E., Es, D.S. van & Haveren, J. van, Journal of Renewable Materials 1(3), (2013), 222-229. Fully renewable thermoplastic poly(ester urethane urea)s from bio-based diisocyanates.

C.E. Koning, R.J. Sablong, E. Hosseini Nejad, R. Duchateau, P. Buijsen, Progress in Organic Coatings, 76 (12), (2013) 1704–1711. Novel coating resins based on polycarbonates and poly(ester-co-carbonate)s made by catalytic chain growth polymerization of epoxides with CO2 and with anhydride/CO2.

Wu, J., Eduard, P., Jasinska - Walc, L., Rozanski, A.J., Noordover, B.A.J., Es, D.S. van & Koning, C.E., Macromolecules 46(2), (2013), 384-394. Fully isohexide-based polyesters : synthesis, characterization and structure-properties relations.

Gubbels, E., Jasinska - Walc, L., Noordover, B.A.J. & Koning, C.E., European Polymer Journal, 49 (10), (2013) 3188-3198. Linear and branched polyester resins based on dimethyl-2,5-furandicarboxylate for coating applications.

Gubbels, E., Jasinska - Walc, L., Hermida Merino, D., Goossens, J.G.P. & Koning, C.E., Macromolecules, 46 (10), (2013) 3975-3984. Solid-state modification of poly(butylene terephthalate) with a bio-based fatty acid dimer diol furnishing copolyesters with unique morphologies.

Gomes Ghislandi, M., Tkalya, E., Marinho, B., Koning, C.E. & With, G. de, Composites, Part A: Applied Science and Manufacturing, 53, (2013) 145-151. Electrical conductivities of carbon powder nanofillers and their latex-based polymer composites.

Gomes Ghislandi, M., Tkalya, E., Schillinger, S., Koning, C.E. & With, G. de, Composites Science and Technology, 80, (2013) 16-22. High performance graphene- and MWCTNs-based PS/PPO composites obtained via organic solvent dispersion.

Günbas, I.D., Wouters, M.E.L., Benthem, R.A.T.M. van, Koning, C.E. & Noordover, B.A.J., Progress in Organic Coatings, 76 (12), (2013), 1720-1725. PDMS-modified poly(styrene-alt-maleic anhydride)s as water-borne coatings based on surfactant-free latexes.

Jeyakumar, A., Goossens, J.G.P., Noordover, B.A.J., Prusty, M., Scheibitz, M. & Koning, C.E., Journal of Polymer Science, Part A: Polymer Chemistry, 51 (23), (2013) 5118-5129. Polyamide-6,6-based blocky copolyamides obtained by solid-state modification.

Lavilla Aguilar, C., Gubbels, E., Martinez de Ilarduya, A., Noordover, B.A.J., Koning, C.E. & Munoz-Guerra,S., Macromolecules, 46 (11), (2013) 4335-4345. Solid-state modification of PBT with cyclic acetalized galactitol and -mannitol: Influence of composition and chemical microstructure on thermal properties.

Tkalya, E., Gomes Ghislandi, M., Thielemans, W., Schoot, P.P.A.M. van der, With, G. de & Koning, C.E., ACS Macro Letters, 2 (2), (2013) 157-163. Cellulose nanowhiskers templating in conductive polymer nanocomposites reduces electrical percolation threshold 5-fold.

Gubbels, E., Jasinska - Walc, L., Noordover, B.A.J., Hermida Merino, D., Spoelstra, A.B., Goossens, J.G.P. & Koning, C.E., Proceedings of the European Polymer Conference (2013), 17-21 June 2013, Pisa, Italy. (Congresbijdrage) http://repository.tue.nl/761059 . Solid-state modification as a tool for manufacturing partially renewable poly(butylene terephthalate)-based materials with unique morphologies and thermal behavior.

Gubbels, E., Jasinska - Walc, L., Noordover, B.A.J., Merino, D. H., Goossens, J.G.P. & Koning, C.E., Proceedings of the 245th ACS National Meeting & Expositio (2013), 7-11 April 2013, New Orleans, USA. (Congresbijdrage) http://repository.tue.nl/761035 . Partially renewable poly(butylene terephthalate)-based co-polyesters prepared by solid state polycondensation with unique morphologies and properties.

Noordover, B.A.J., Günbas, I.D., Wouters, M.E.L., Benthem, R.A.T.M. van & Koning, C.E., European Polymer Congress, EPF (2013), 16-21 June 2013, Pisa. Pisa, Italy. (Congresbijdrage). Hydrophobic, self-replenishing coatings for polar substrates.

Grossiord, N., Noordover, B.A.J., Miltner, H.E., Hoeks, T., Alexandre, V., Loos, J., Mele, B. van, Meuldijk, J. , Koning, C.E., Macromolecular Materials and Engineering Vol. 299/2, (2013 on line, 2014 in book), 228-236. A latex-based route to disperse carbon nanotubes in poly(2,6-dimethyl-1-1,4-phenylene ether)/polystyrene blends.

Yeniad, B., Naik, H., Koning, C.E. Heise, A., Macromolecular Chemistry and Physics 214 (5), (2013), 556-562. Enantioselective Enzymatic Modification of Chiral Block Copolymers.

Hosseini Nejad, E., Pioniasari, A., Melis, van, G.W., Koning, C.E., Duchateau, R. Macromolecules 46 (3), (2013) 631-637. Catalytic Ring-​Opening copolymerization of Limonene Oxide and Phthalic Anhydride: Toward Partially Renewable Polyesters.

Li, Y., Noordover, B.A.J., Benthem, R.A.T.M. van, Koning, C.E. ACS Sustainable Chemistry & Engineering, 2 (4), (2014) 788-797. Reactivity and regio-selectivity of renewable building blocks for the synthesis of water-borne polyurethane prepolymers.

Gubbels, E., Drijfhout, J.P., Posthuma-van Tent, C., Jasinska - Walc, L., Noordover, B.A.J., Koning, C.E. Progress in Organic Coatings, 77 (1), (2014) 277-284. Bio-based semi-aromatic polyesters for coating applications.

Gubbels, E., Lavilla Aguilar, C., Martinez de Ilarduya, A., Noordover, B.A.J., Koning, C.E., Munoz-Guerra, S. Journal of Polymer Science, Part A: Polymer Chemistry, 52 (2) (2014) 164-177. Partially renewable copolyesters prepared from acetalized D-glucitol by solid-state modification of PBT.

Li, Y., Noordover, B.A.J., Benthem, R.A.T.M. van, Koning, C.E. Eur. Polym. J, 52, (2014) 12-22. Chain extension of dimer fatty acid- and sugar-based polyurethanes in aqueous dispersions.

Lavilla Aguilar, C., Gubbels, E., Alla, A., Martinez de Ilarduya, A., Noordover, B.A.J., Koning, C.E., Munoz-Guerra, S. Green Chemistry, 16(4), (2014) 1789-1798. Carbohydrate-based PBT copolyesters from a cyclic diol derived from naturally occurring tartaric acid: a comparative study regarding melt polycondensation and solid-state modification.

Gubbels, E., Jasinska - Walc, L., Hermida Merino, D., Hansen, M.R., Noordover, B.A.J., Spoelstra, A.B., Goossens, J.G.P., Koning, C.E. Polymer, 55(16), (2014) 3801-3810. Phase separation in poly(butylene terephthalate)-based materials prepared by solid-state modification.

Ghislandi, M., Marinho, B., Tkalya, E., Koning, C.E., De With, G., Nanotechnology 2012: Advanced Materials, CNTs, Particles, Films and Composites (Volume 1, ISBN: 978-1-4665-6274-5), (2014), Carbon Nano Structures & Devices, Chapter 3, p. 302-305. Electrical conductivity of carbon nanopowder fillers and their respective polymer composites prepared via latex technology.

Gustini, L., Noordover, B.A.J., Gehrels, C., Dietz, C., Koning, C.E. Eur. Polym J., 67, (2015) 459-475. Enzymatic synthesis and preliminary evaluation as coating of sorbitol-based. Hydroxyl-functional polyesters with controlled molecular weights.

Li, C., Sablong, R.J., Koning, C.E. Eur. Polym J., 67, (2015) 449-458. Synthesis and characterization of fully bio-based α,ω-dihydroxyl poly(limonene carbonate)s and their initial evaluation in coating applications.

Wu, J., Eduard, P., Thiyagarajan, S., Noordover, B.A.J., Es, D.S. van, Koning, C.E. ChemSusChem, 8 (1), (2015) 67-72. Semi-aromatic polyesters based on a carbohydrate-derived rigid diol for engineering plastics.

Li, Y., Noordover, B.A.J., Benthem, R.A.T.M. van, Koning, C,E., Progress in Organic Coatings, 86, (2015) 134-142. Bio-based poly(urethane urea) dispersions with low internal stabilizing agent contents and tunable thermal properties.

Pepels, M.P.F., Hofman, W.P.,Kleijnen, R., Spoelstra, A.B., Koning, C.E., Duchateau, R., Macromolecules, 48 (19), (2015), 6909-6921. Block Copolymers of "PE-Like" Poly (pentadecalactone) and Poly (l-lactide): Synthesis, Properties, and Compatibilization of Polyethylene/Poly (l-lactide) Blends.

Seda Cakir, Lidia Jasinska-Walc, Maurizio Villani, Michael Ryan Hansen, Cor E. Koning, Materials Today Communications 2 (2015) e62-e69. Morphology and local chain structure of polyamide 6 modified in the solid state with a semi-aromatic nylon salt.

Marcos Ghislandi, Evgeniy Tkalya, Alexander Alekseev, Cor Koning, Gijsbertus de With. Applied Materials Today 1, (2015), 88–94. Electrical conductive behavior of polymer composites prepared with aqueousgraphene dispersions.

M. F. Sainz, J. Souto, D. Regentova , M. K. G. Johansson , S. T. Timhagen , D. J. Irvine , P. Buijsen, C.E. Koning, R. A. Stockman, S. M. Howdle, Polym. Chem., 7 (2016), 2882-2887. A facile and green route to terpene derived acrylate and methacrylate monomers and simple free radical polymerisation to yield new renewable polymers and coatings.

Çakir, S., Eriksson, M., Martinelle, M. & Koning, C.E. Eur. Polym. J., 79 (2016) 13-22. Multiblock copolymers of polyamide 6 and diepoxy propylene adipate obtained by solid state polymerization.

Gustini, L., Lavilla, C., Janssen, W.T.J., Martinez de Ilarduya, A., Muñoz-Guerra, S. & Koning, C.E. ChemSusChem, 9(16), (2016), 2250-2260. Green and selective polycondensation methods toward linear sorbitol-based polyesters.

Gustini, L., Finzel, L., Lavilla, C., Noordover, B.A.J., Hendrix, M.M.R.M., Gehrels, Coen & Koning, C.E. ACS Sustainable Chemistry & Engineering, 4(4), (2016) 2259-2268. Understanding the limitations of the solvent-free enzymatic synthesis of sorbitol-containing polyesters.

Gustini, L., Lavilla, C., Finzel, L., Noordover, B.A.J., Hendrix, M.M.R.M. & Koning, C.E. Poly. Chem., 7(43), (2016) 6586-6597. Sustainable coatings from bio-based, enzymatically synthesized polyesters with enhanced functionalities.

Gustini, L., Lavilla, C., Martinez de Ilarduya, A., Muñoz-Guerra, S. & Koning, C.E. Biomacromolecules, 17(10), (2016), 3404-3416. Isohexide and sorbitol-derived, enzymatically synthesized renewable polyesters with enhanced Tg.

Li, C., van Berkel, S., Sablong, R. & Koning, C.E. Eur. Polym. J., 85, (2016) 466-477. Post-functionalization of fully biobased poly(limonene carbonate)s : Synthesis, characterization and coating evaluation.

Li, C., Sablong, R.J. & Koning, C.E. Angew. Chem. - Int. Ed., 128(38), (2016), 11744-11748. Chemoselective alternating copolymerization of limonene dioxide and carbon dioxide.

Ma, S., Liu, C., Sablong, R.J., Noordover, B.A.J., Hensen, E.J.M., van Benthem, R.A.T.M. & Koning, C.E. ACS Catalysis, 6(10), (2016), 6883–6891. Catalysts for isocyanate-free polyurea synthesis: mechanism and application.

C. Koning, A. Lansbergen, F. Koldijk, H. Hendriks, A. Papegaaij, R. Smabers, P. Buijsen, C. Gehrels, B. Reuvers, J. Herrema, J. Coat. Technol. Res., 14(4), (2017), 783-789. Novel renewable alkyd resins based on imide structures.

Chunliang Li, Rafaël J. Sablong, Rolf A. T. M. van Benthem, and Cor E. Koning. ACS Macro Lett., 6, (2017), 684–688. (2017). Unique Base-Initiated Depolymerization of Limonene-Derived Polycarbonates.

B. Tuijtelaars, C. Koning, B. de Vries, B. Hofkamp, R. Swaans, D. de Bruijne, D. Twene, Eur. Coat. J., 5, (2017), 48-55. Resin design for a sustainable future.

Jing Wu, Shanmugam Thiyagarajan, Célia Fonseca Guerra, Pieter Eduard, Martin Lutz, Bart A. J. Noordover, Cor E. Koning, Daan van Es. ChemSusChem, 10, (2017), 1-11. Isohexide Dinitriles: A Versatile Family of Renewable Platform Chemicals.

Tim Stößer, Chunliang Li, Junjuda Unruangsri, Prabhjot K. Saini, Rafaël J. Sablong, Michael A. R. Meier, Charlotte K. Williams, Cor Koning. Polym. Chem., 8, (2017), 6099-6105. Bio-derived polymers for coating applications: comparing poly(limonene carbonate) and poly(cyclohexadiene carbonate). Polym. Chem., 8, (2017), 6099-6105.

Chunliang Li, Mats Johansson, Rafaël J. Sablong, Cor E. Koning. Eur. Polym. J., 96, (2017), 337–349. High performance thiol-ene thermosets based on fully bio-based poly(limonene carbonate)s.

Shuang Ma, Ellen van Heeswijk, Bart Noordover, Rafael Sablong, Rolf van Benthem, Cor Koning. ChemSusChem, 11 (2018), 149-158. Isocyanate-free approach to water-borne polyurea dispersions and coatings.

B. Tuijtelaars, C. Koning, B. de Vries, B. Hofkamp, R. Swaans, D. de Bruijne, D. Twene. Farbe und Lack, 01, (2018), 54-61. Der Geruch geht – das gesunde Raumklima kommt.

Shuang Ma, Cheng Chen, Rafaël J. Sablong, Cor E. Koning, Rolf A. T. M. van Benthem. J. Polym. Sci., Part A: Polym. Chem. 56, (2018), 1078–1090. Non‐isocyanate strategy for anionically stabilized water‐borne polyurea dispersions and coatings.

I. Flores, J. Demarteau, A.J. Müller, A. Etxeberria, L. Irusta, F. Bergman, C. Koning, H. Sardon. Eur. Polym. J., 104, (2018), 170-176. Screening of different organocatalysts for the sustainable synthesis of PET.

Ronald Tennebroek, Ilse van der Hoeven-van Casteren, R. Swaans, Saskia van der Slot, Patrick JM Stals, Bas Tuijtelaars, Cor Koning. Polym. Int., (2018) https://doi.org/10.1002/pi.5627. Water-based polyurethane dispersions.

Shuang Ma, Huiyi Zhang, Rafaël J. Sablong, Cor E. Koning, Rolf A. T. M. van Benthem. Macromol. Rapid Commun., 39, (2018), 1800004. t‐Butyl‐Oxycarbonylated Diamines as Building Blocks for Isocyanate‐Free Polyurethane/Urea Dispersions and Coatings.

In addition: Over 80 patent applications























| | |
| --- | --- |
| Last modified: | 10 May 2019 3.49 p.m. |