prof. dr. B. Los
Professor of the Economics of Technological Progress and Structural Change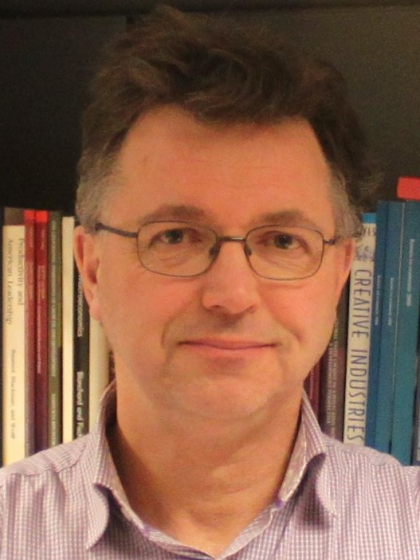 ---
Bart Los (1967) obtained his MSc in Econometrics (1992) from the University of Groningen. He defended his PhD thesis (1999) at the University of Twente. Currently he is working as full professor at the Faculty of Economics and Business of the University of Groningen. He is a fellow of SOM, the research school of the faculty. From 2004 to 2009, he was coordinator of the Honours Bachelor track and the Research Master programme offered by this research school. From 2013 to 2016, he was academic director of the BSc programme International Business.
Bart is a member of the Groningen Growth and Development Centre (GGDC). His research mainly revolves around the following themes: (i) productivity growth; (ii) innovation and technology diffusion; (iii) international trade and (iv) input-output analysis.
He (co-)authored articles that appeared in journals like American Economic Review, Journal of Development Economics, Journal of Economic Perspectives, Economic Policy and Research Policy, among others.
Bart was workpackage leader of the EUKLEMS project and a member of the management team of the World Input-Output Database (WIOD) project that ran from 2009 till 2012. Both projects were funded by the European Commission, as was the SmartSpec-project he contributed to. Currently, he is active for the Economic Statistics Centre of Excellence (ESCoE) and the UK in a Changing Europe (UKICE) initiatives.
Bart was editor of Economic Systems Research , the journal of the International Input-Output Association, in the period 2009-2018. Currently, he is Vice-President of the association. As of June 2011, he is a member of the editorial board of the Journal of Economic Structures. In 2013, he was chairman of the scientific program committee of the 21st International Input-Output Conference in Kitakyushu, Japan. In 2017, he was a member of the local organizing committee of the 57the European Regional Science Association's congress in Groningen.
He supervised five PhD-students who successfully defended their theses: Esteban Fernández (2004, first supervisor: Carmen Ramos), Jojo Jacob (2006, first supervisors: Eddy Szirmai and Bart Verspagen), Jiang Xuemei (2011, first supervisor: Erik Dietzenbacher), Yusof Saari (2015, first supervisor: Erik Dietzenbacher) and Chen Quanrun (2015, first supervisor: Erik Dietzenbacher). Currently, Xu Yan and Duan Yuwan are in the process of writing their theses (jointly supervised with Erik Dietzenbacher). Romina Guri is co-supervised by Pedro de Faria and Florian Noseleit.
| | |
| --- | --- |
| Last modified: | 04 February 2019 3.14 p.m. |