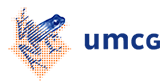 prof. dr. A.J. (Han) Moshage
Professor of Experimental Gastroenterology and Hepatology ---
BioSketch Han Moshage
Professor of Experimental Hepatology and Gastroenterology, University Medical Center Groningen
Han Moshage (1959) studied chemistry at the Radboud University of Nijmegen and graduated in 1983 with specialization Biochemistry. After receiving his PhD degree at the Radboud University of Nijmegen in 1987, he was post-doctoral fellow at the Alcohol Research and Treatment Center of the VA Medical Center/Mount Sinai Medical Center in New York, USA. From 1990-1993 he was staff-scientist at the Dept. of Hepatology, University Hospital Leuven in Belgium. Since 1993 he has been at the Dept. of Gastroenterology and Hepatology of the University of Groningen. In 2005, he was appointed full professor of Experimental Hepatology and Gastroenterology.
Moshage's research focuses on mechanisms and manipulation of cell death, inflammation and fibrogenesis in (chronic) inflammatory liver diseases, with a special emphasis on non-alcoholic fatty liver diseases (NAFLD) and lipotoxicity. His research focusses on the elucidation of signal transduction mechanisms and the role of mitochondria in the pathogenesis of inflammatory liver diseases and interventions in these disorders using natural products obtained from (medicinal) plants.
Moshage also served as secretary of the Dutch Society of Hepatology (1997-2003), member of the Scientific Council of the Dutch Digestive Diseases Foundation (1998-2005), director of the master program Medical and Pharmaceutical Drug Innovation (2005-2013), director of the Research Institute GUIDE (2005-2012), director of the Graduate School of Medical Sciences (2009-2012) and is currently responsible for International Relations within the Graduate School of Medical Sciences.
Research key words: chronic liver diseases, apoptosis, necrosis, lipotoxicity, fatty liver diseases, oxidative stress, signal transduction, fibrosis, inflammation, hepatocytes, Kupffer cells, stellate cells, liver sinusoidal endothelial cells
| | |
| --- | --- |
| Last modified: | 25 June 2022 01.19 a.m. |