prof. dr. A. Flache
Professor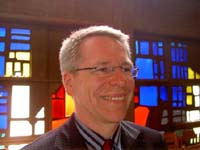 Contact:
+31 50 36 37398
(Secretariat Sociology / Secretariaat Sociologie / G.A. van Wijk)
---
Andreas Flache is professor of sociology, in particular modeling norms and networks, at the sociology department of the Faculty for Behavioral and Social Sciences, at the University of Groningen, The Netherlands. He is also a member of the board of the ICS (Interuniversity Center for Social Science Theory and Methodology), a research and training center accredited by the Royal Academy of Sciences (KNAW). Until September 2016, Flache was director of studies (opleidingsdirecteur) of the Bachelor- and Master program Sociology at the University of Groningen and head of the department. His main research addresses social integration, cooperation problems, social networks and learning theory. From 1999-2001, Flache was research fellow of the Royal Netherlands Academy of Arts and Sciences (KNAW) he was PI of a project financed by an NWO-VIDI grant 2005-2010. In 2017, Flache was one of 17 co-applicants of the research program SCOOP (Sustainable Cooperation) financed by NWO-gravity (18.8ME), PI: Rafael Wittek (RuG).

In his research, Flache applies agent based computational and game theoretical modeling, laboratory experiments, survey research and network research. He has published in social science flagship journals like American Journal of Sociology, Journal of Conflict Resolution, Organization Science, as well as in multidisciplinary journals like the Proceedings of the National Academy of Sciences, PLoS Computational Biology, or Science, and specialized journals like Sociology of Education, Rationality and Society, or Journal of Mathematical Sociology.
For more information see: https://flache.gmw.rug.nl/
CV October 2017 as pdf download
Google scholar profile Andreas Flache: https://scholar.google.nl/citations?user=dt9jPJ0AAAAJ&hl=en
| | |
| --- | --- |
| Last modified: | 02 November 2017 11.50 a.m. |