Sound perception
What can we conclude from this study?
Respondents in higher wind turbine sound power level groups more often report noticing the sound. Whilst approximately half of the surrounding residents notice wind turbine sound at 35 dBA, at 40 dBA the number of residents noticing the sound has risen to 80%. Wind turbines causing 45 dBA or more are noticed by 92% of the surrounding residents.
Not anyone noticing the wind turbines perceives this sound as annoying, even though the number of respondents who are annoyed increases with increasing sound power levels. An exception is the group of surrounding residents receiving the highest sound power levels. While in the 35 – 45 dBA group 18 to 19% of the respondents are rather or very annoyed by wind turbine sound, in the group receiving more than 45 the number decreases (see figure).
At an impact level of 45 dBA or over, it means the wind turbine is situated very close (often less than 300m) to the residence. Mostly the resident is involved in placing or exploiting the turbine(s), which means he has economic benefit.
When the respondents with economic benefit are excluded from the analysis, the number of respondents who report being annoyed by wind turbine sound increase to 29%.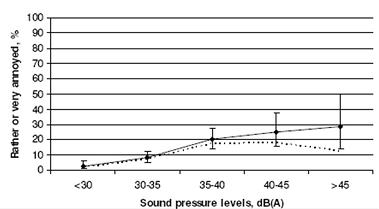 | | |
| --- | --- |
| Last modified: | 05 April 2019 12.09 p.m. |