The Hill We Climb - Esmé van den Boom, MA
Voorlopig zijn er geen beperkingen voor het bezoek van de lezing. U bent dus allen weer van harte welkom in de Offerhauszaal!
Van de lezing wordt een (zaal)opname gemaakt. Deze zal na de lezing op de site van Spraakmakende Boeken worden geplaatst.
| | |
| --- | --- |
| Spreker | Esmé van den Boom, MA. Met een bijdrage van stadsdichter Myron Hamming |
| Datum, tijd en locatie | Donderdag 12 mei 2022, 19.45 uur, Offerhauszaal, Academiegebouw (Broerstraat 5, Groningen) |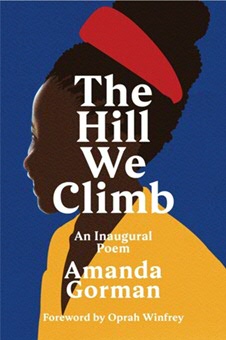 Tijdens de inauguratie van Joe Biden op 20 januari 2021 luisterde de wereld ademloos naar de voordracht van de jongste Amerikaanse poet laureate ooit: de toen 22-jarige Amanda Gorman. Met haar gedicht 'The Hill We Climb', een boodschap van verdraagzaamheid, verbinding en perspectief, werd de jonge dichter en activist in één klap wereldberoemd, en met haar ook het genre Spoken Word. Een genre dat, in de woorden van de Nederlandse spokenwordartiest Babs Gons, 'verder gaat dan traditionele voordrachtspoëzie in die zin dat het vaak een ware show betreft, waar niet alleen tekst, maar ook ritme, tempo, mimiek, bewegingen, intonatie en de interactie met het publiek een rol spelen.'
Spraakmakend in Nederland was het gedicht niet alleen door de krachtige boodschap en indrukwekkende voordracht, maar ook door de controverse die volgde op de keuze van Uitgeverij Meulenhoff voor schrijver en dichter Marieke Lucas Rijneveld als vertaler van het gedicht. Rijneveld gaf de opdracht terug, waarop spokenwordartiest Zaïre Krieger werd gekozen als vertaler van Gormans werk.
In mijn lezing zal ik ingaan op de beelden en de thematiek die Gorman inzet in The Hill We Climb en in haar bundel Call Us What We Carry, die in november 2022 in het Nederlands zal verschijnen. Ook zal ik ingaan op de controverse rond de vertaling en de reacties in de literaire kritiek en wil ik ingaan op de Spoken Word traditie in Nederland en in Amerika. Omdat Spoken Word vooral bedoeld is om te ervaren op het podium in plaats van om in stilte te lezen, komt in Groningen stadsdichter Myron Hamming voordragen uit zijn eigen werk en over het genre vertellen.
| | |
| --- | --- |
| Laatst gewijzigd: | 20 mei 2022 13:35 |