De belofte - Prof.dr. Margriet van der Waal
Van de lezing wordt een opname gemaakt. Deze zal ongeveer een week na de lezing op de site van Spraakmakende Boeken worden geplaatst.
NB: Om roostertechnische redenen vindt deze lezing in de Geertsemazaal (naast de Offerhauszaal) plaats. De overige lezingen vinden zoals gebruikelijk in de Offerhauszaal plaats.
| | |
| --- | --- |
| Spreker | Prof. dr. Margriet van der Waal |
| Datum, tijd en locatie | 23 februari 2023; 19.45 uur; Geertsemazaal, Academiegebouw (Broerstraat 5, Groningen) |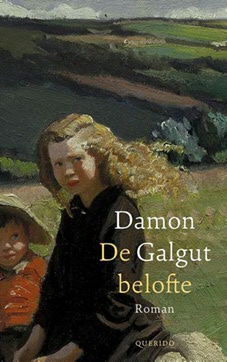 De Belofte (2021) van de Zuid-Afrikaanse auteur Damon Galgut heeft internationaal veel positieve aandacht gekregen, zelfs nog voor het de prestigieuze International Booker Prize won.
Hoewel Galgut beweert dat de meeste Zuid-Afrikaanse verhalen inmiddels wel verteld zijn, heeft hij met deze roman het voor elkaar gekregen om de 'bekende' gegevens van de recente Zuid-Afrikaanse geschiedenis op bijzonder vernuftige wijze tot een boeiend en meeslepend familieverhaal te smeden. Tegelijkertijd biedt de roman ook een kritische bepaling van wat het eind van het apartheidsbewind teweeg heeft gebracht, en onderzoekt het verhaal in welke mate de belofte van een 'nieuw' Zuid-Afrika is waargemaakt.
Met inktzwarte humor, een vleugje magisch realisme en scherpe observaties doet de roman in vier hoofdstukken, losweg gestructureerd in intervallen van tien jaar, verslag van de roemloze ondergang van een Afrikaner gezin, de Swartsen, dat op een boerderij ten noorden van Pretoria woont. Lezers die vertrouwd zijn met Zuid-Afrikaanse literatuur zullen in The Promise zeker Galguts kritische spel herkennen met elementen van de 'plaasroman': het geliefde en typisch Zuid-Afrikaanse genre waarin (witte, dikwijls Afrikaner) identiteit in verhouding tot het boerenbestaan op een zogenaamde 'plaas' of boerenbedrijf onderzocht wordt.
Het thema van ondergang en eindigheid, dat versterkt wordt door de structurering van het verhaal rondom dood en begrafenis, biedt – aan de hand van een zeer eigenzinnige verteller die de lezer af en toe beslist op het verkeerde been zal zetten – ook een blik op de neergang van de Afrikaner dominantie in de afgelopen dertig jaar, en op een aantal heilige koeien van het Afrikanerschap. Niet alleen de plaas, ook de kerk en het calvinisme als basis van deze groepsidentiteit, de herinneringscultuur rond de militaire dienstplicht, het gezinsleven aan de hand van patriarchale vaderfiguren en zorgzame moeders, en de vermeende culturele homogeniteit van culturele en etnische groeperingen in Zuid-Afrika worden door Galgut kritisch onder de loep genomen.
In deze bijeenkomst van Spraakmakende Boeken zal ik mijn analyse en interpretatie van de roman met u delen, en daarnaast ook wat achtergrond geven om de specifieke verhaalgegevens te belichten die wellicht voor de Nederlandse lezer niet meteen helder zijn, en de receptie van de tekst in Zuid-Afrika en daarbuiten bekijken.
| | |
| --- | --- |
| Laatst gewijzigd: | 14 maart 2023 11:45 |