De rustelozen - Sander Brouwer
NB: Vanwege het toenemende corona-verspreidingsgevaar zijn de regels in de universiteitsgebouwen verscherpt. We mogen op dit moment helaas geen publiek meer bij de lezingen toelaten.
Ook nu weer zal van te voren een opname worden gemaakt, die op het aangekondigde tijdstip van de lezing op de website van Spraakmakende Boeken geplaatst zal worden. U kunt de lezing dan op het 'normale' tijdstip volgen of ook later een keer beluisteren.
Als u op donderdagavond de lezing volgt, kunt u tijdens de lezing en ook nog de dag na de lezing per mail vragen stellen: op het mailadres spraakmakende-boeken rug.nl. De vragen worden aan de spreker doorgegeven, die – als er voldoende vragen zijn – ze in de dagen na de lezing in één tekst zal proberen te beantwoorden. Deze tekst wordt dan op de website geplaatst. (Later binnenkomende vragen zullen dus niet worden meegenomen.)
| | |
| --- | --- |
| Spreker | Dr. Sander Brouwer |
| Wanneer | Opname, te bekijken vanaf donderdag 8 april 2021, 19.45 |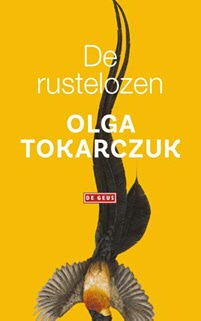 In oktober 2019 kreeg Olga Tokarczuk (1962) de Nobelprijs voor literatuur 2018. Haar roman De Rustelozen is een van de beste voorbeelden van haar proza, dat zich onderscheidt door de vrije manier waarop de vertelster in de belevingswereld van personages kan doordringen – of het nu een hedendaagse door het leven murw gemaakte vrouw uit Moskou is of een eenbenige anatoom uit de Lage Landen in de zeventiende eeuw. Hun belevingswereld is nooit gesloten, het is geen object voor een buitenstaander die er een oordeel over zou kunnen vellen, maar ook geen uniek individueel perspectief waar de vertelster in oplost als ze door zijn of haar ogen kijkt.
Tegelijk zijn de fragmenten en verhalen opgenomen in een fijnvertakt systeem van beelden en motieven, die het denken van de vertelster zelf blootleggen – wat voor haar belangrijk is (zelfs wat haar obsessies zijn), waar ze over nadenkt, hoe ze verandert. Bij een zo onderlegde schrijfster als Tokarczuk resulteert dat in een intellectueel en literair feestje!
| | |
| --- | --- |
| Laatst gewijzigd: | 22 april 2021 12:08 |