Liedteksten. Deel 1 (1962-1973), deel 2 (1974-2001) - Bob Dylan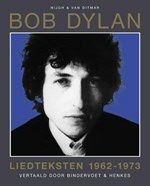 Bob Dylan (winnaar Nobelprijs voor literatuur 2016), dichter of oplichter?
De bewakers van de literatuur waren ontstemd toen in oktober 2016 bekend werd gemaakt dat de Nobelprijs voor literatuur naar Bob Dylan ging. 'Een klap in het gezicht van de literatuur', zei de een, 'daarom is de bekroning belachelijk,' zei de ander. Maar er waren ook enthousiaste geluiden: eindelijk gerechtigheid! Of om de woorden van een groot Russisch dichter te parafraseren: wat waren de literaire smaakmakers boos! Ach, wat weten ze goed wat literatuur is en wat niet! Ik heb het goddank makkelijker. Ik weet namelijk niet wat literatuur is en daardoor ben ik in staat te lezen, schrijven, denken en spreken. Daarom juich ik het besluit van het comité vurig toe!
'Yippee! I'm a poet, and I know it / Hope I don't blow it,' zingt Dylan ergens – in vertaling: 'Jippie! Ik ben een dichter maar wie zwicht er / Voor zo'n oplichter?' Is Dylan een dichter of een oplichter? Wat gebeurt er als we de teksten van Bob Dylan lezen als poëzie? Welke poëtische kenmerken dragen ze? Literatuur, en dus ook poëzie, is, volgens de Dylan- en Joyce-vertalers Bindervoet & Henkes, een stem geven aan nou net datgene waar eigenlijk geen woorden voor zijn, en dat ook nog eens voor de 'weerloze woordenlozen'. Doet het werk van Dylan dat? En zo ja, hoe? Op welke wijze maakt hij van het poëtische arsenaal gebruik? Hoe werken zijn beelden? Welke thema's komen we tegen? Mystiek? Engagement? Maatschappijkritiek? Wat is zijn poëtica? Aan welke traditie(s) acht Dylan zich schatplichtig? Pleegt hij plagiaat of doet hij aan cultureel samplen? Is het niet zo dat hij de grenzen verlegt van wat een dichter is en wat niet? (Zodat het verschil tussen dichter en oplichter wordt uitgewist.)
| | |
| --- | --- |
| Laatst gewijzigd: | 06 juni 2019 14:44 |