David Grossman: Uit de tijd vallen
| | |
| --- | --- |
| Spreker | Prof. dr. Wout van Bekkum / dr. Els Jongeneel |
| Plaats | Academiegebouw (Offerhauszaal) - Broerstraat 5, Groningen |
| Datum | 19 februari 2015, 19.45u - 21.30u |
| Toegang | vrij, aanmelding niet verplicht |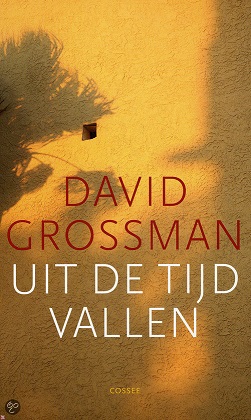 Uit de tijd vallen (2011) van de Israëlische auteur David Grossman is een verhaal over rouwverwerking betreffende het verlies van een kind. Maar, zoals Grossman aangeeft in een interview: 'Het richt zich niet alleen tot ouders die een kind moesten missen, maar tot allen die een dierbare hebben verloren en die rechtstreeks geconfronteerd werden met het mysterie van de dood, met de onmogelijkheid om dit onder woorden te brengen en met de grote vraag hoe verder te leven met dit gemis.'
Uit de tijd vallen is gebaseerd op de persoonlijke levenservaring van Grossman, die in 2006 zijn twintigjarige zoon Uri verloor tijdens het conflict met Hezbollah in Libanon. Deze gebeurtenis betekende een grote breuk in zijn leven en werk.
Meer dan in enig naderhand verschenen boek of geschrift gaat hij in Uit de tijd vallen in op dat verlies. De ondertitel, 'Een verhaal in stemmen', geeft aan dat we hier te doen hebben met een tekst waarin het spreken centraal staat. Grossman heeft hier waarschijnlijk ook gebruik gemaakt van zijn jarenlange ervaring bij de radio. Te denken valt niet zozeer aan een theatrale performance, aangezien de handelingen merendeels worden naverteld door twee beroepsvertellers (de stadschroniqueur en de schrijver bijgenaamd de 'centaur'), maar aan stemmen in een polyfoon muziekstuk of aan recitatief solo's uit een oratorium die op elkaar reageren en elkaar aanvullen, om tenslotte aan het eind samen te komen in een 'spreekkoor'. Opmerkelijk is ook de literaire vorm en stijl waarvoor Grossman heeft gekozen: poëzie, soms afgewisseld met prozagedicht-stijl (de passages waarin de stadschroniqueur spreekt) en proza (waarin de stem van de centaur klinkt).
David Grossman weet al zeker dertig jaar zijn vooraanstaande positie binnen de Israëlische literatuur te behouden, mogelijk alleen voorbijgestreefd door Amos Oz. Hij heeft een groot oeuvre op zijn naam staan, vele prijzen gewonnen, en is vaak zichtbaar op literaire podia in binnen- en buitenland (zoals ook zijn komende lezing in Vlissingen op de Nationale Bevrijdingsdag 5 mei naar aanleiding van 70 jaar bevrijding bewijst).

In deze gecombineerde lezing zal Wout van Bekkum ingaan op de betekenis van Grossman in de moderne Israëlische literatuur en zal Els Jongeneel Uit de tijd vallen analyseren. Ter sprake zullen komen o.a. de betekenis van de poëtische stijl, het verhaal als performance en de allegorisering van het verhaal en de daarmee verbonden symboliek.
| | |
| --- | --- |
| Laatst gewijzigd: | 16 december 2019 11:45 |