| | |
| --- | --- |
| Spreker | dr. Jeanette den Toonder |
| Plaats | Academiegebouw (Offerhauszaal) - Broerstraat 5, Groningen |
| Datum | 23 oktober 2014, 19.45u - 21.30u |
| Toegang | vrij, aanmelding niet verplicht |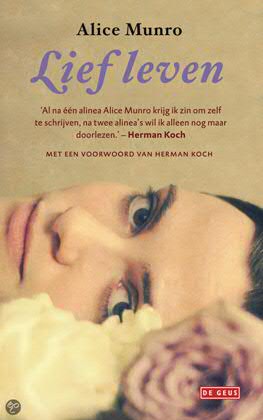 Presentatie Jeanette den Toonder 23 oktober 2014
In Alice Munro's meest recente verhalenbundel, Lief leven, wordt de plot - net als in veel van Munro's voorgaande verhalen - bepaald door onverwachte wendingen, een plotseling vertrek of een vaag voorteken. Ook worden de - meest vrouwelijke - hoofdpersonages gekweld door hun beperkte bewegingsruimte en zoeken ze naar manieren om meer vrijheid te verwerven, bijvoorbeeld via intimiteit buiten het huwelijk of het accepteren van een baantje waar ze eigenlijk niet op zitten te wachten.
Anders is in deze bundel dat de chronologische en biografische ijkpunten hier grotendeels achterwege blijven. Het achtergrondverhaal, aanwijzingen over het verleden van de personages zijn schaars in verhalen als "Trein", "Trots", "Amundsen". De titels zelf lijken meer op verkeerstekens die wat onopvallend langs de weg zijn geplaatst dan dat ze duidelijk inzicht geven in de inhoud van het verhaal. Het resultaat is, dat de verhalen in Lief leven een nog verrassender beeld van de personages geven dan voorheen het geval was. Als lezer denk je ze wel te kennen, of te herkennen, het soort mensen dat in Munro's verhalen de boventoon voert, maar nooit kreeg je zo'n inzicht in hun innerlijke leven.
Bij deze stilistische vernieuwingen hoort ook een grotere aandacht voor het Gothic aspect, dat al lang zichtbaar was in Munro's werk, maar hier heeft het bovennatuurlijke een directe invloed op de wendingen in de levens van de personages. Ten slotte kenmerkt de meer minimalistische stijl in Lief leven zich door de belangrijke rol die herinnering en bewustzijn hier spelen; je dringt als lezer als het ware steeds verder binnen in de zielenroerselen van de personages.
Na een korte inleiding over het leven en werk van Alice Munro, zal in de lezing nader worden ingegaan op deze vernieuwende elementen in Lief leven om de kracht van deze fascinerende verhalen te ontrafelen.
| | |
| --- | --- |
| Laatst gewijzigd: | 16 december 2019 11:45 |