Why?
In order to meet the global energy need in a sustainable way alternative sources of energy need to be developed. This is largely a matter of finding better materials, processes and device structures. Our field, device physics, contributes to this quest by identifying which materials properties need to be improved in order to improve performance (efficiency, stability, cost). A close collaboration between chemistry and physics is required to make progress.
How?
What we do is figuring out how devices work and how their performance is dictated by the properties of the materials that were used. Our work focuses on functional materials that can be easily processed from solution. This means that using the materials to make a functional device requires little energy and is cheap. Our strategy for doing device physics is combining experiments with simulations. Simulations help to better understand the experimental data. Experimental data, on the other hand, is crucial to make sure the simulations are realistic.
What?
We work on perovskite solar cells, organic solar cells, and organic thermoelectrics.
Perovskite solar cells
Perovskite solar cells have attracted significant attention in the last few years due to the unparalleled improvements in efficiency. However, the understanding of the device physics is still limited. We use a combination of experimental and theoretical techniques to shed light on their workings. Recently, it was suggested that this high performance originates from the presence of ferroelectricity in the perovskite, which is hypothesized to lower charge recombination in the device.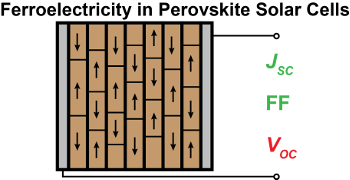 In a recently published paper [1], we investigated and quantified the influence of mesoscale ferroelectric polarization on the device performance of perovskite solar cells. We implemented a 3D drift diffusion model to describe the solar cell operation. Study of microstructures with highly-ordered polarized domains shows that charge transport and recombination in the solar cell depends significantly on the polarization landscape viz. the orientation of domain boundaries and the size of domains. In the case of the microstructure with random correlated polarization, a realistic scenario, we find indication of the existence of channels for efficient charge transport in the device which leads to lowering of charge recombination, as evidenced by the high fill factor. However, the high open-circuit voltage (VOC), which is typical of high performance perovskite solar cells, is unlikely to be explained by the presence of ferroelectric polarization in the perovskite.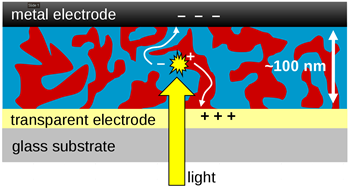 Organic solar cells
The organic materials used in organic solar cells are conjugated. This makes them semiconducting. Organic solar cells potentially have many advantages over their inorganic counterparts―such as cheaper manufacturing, and being flexible and lightweight―but to date their efficiency has still been much less than inorganic solar cells. However, in a recent paper [2], we have shown that there is no fundamental reason why this should be so: organic solar cells can be as efficient as inorganic ones and that a doubling of the efficiency is possible, taking them into the 20%-efficiency realm (comparable to silicon solar cells).
In contrast to inorganic semiconductors, light absorption in organic semiconductors does not directly result in free charge carriers. Instead, it produces excitons, which comprise an electron and a hole (a complimentary positive charge). The electrostatic interaction between the electron and hole that make up an exciton is so strong that the excitons do not split up spontaneously. Therefore, all organic solar cells must consist of two materials: an electron donor and an electron acceptor (see Fig. 2). At the interface between these materials, the exciton can be broken up by transferring the electron to the acceptor as this is energetically favoured. After this necessary dissociation, the electrons and holes reside in two different materials, reducing the probability that they will recombine, i.e. meet and eliminate each other. Clearly, organic solar cells are rather different from their inorganic counterparts in terms of materials, structure, and characteristics.
To get to higher efficiencies we study the influence of morphology, charge transport, recombination processes and the quality of the materials on solar cell efficiency. In a recent paper, we have demonstrated a clear link between one of the key parameters of any solar cell, the fill-factor, and the balance between charge transport and recombination [3], see Fig. 3. This finding is an excellent example of how the interplay between experiments and simulations can be used to significantly improve our understanding.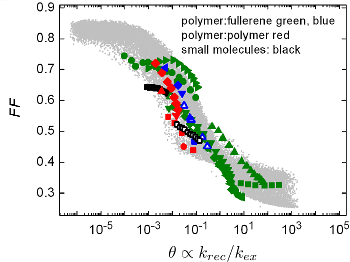 One of the main differences between organic and inorganic semiconductors is their very different dielectric constant. Organic semiconductor typically have a low relative dielectric constant (3-4) which means that Coulomb interactions between charges are significant. As outlined in one of our publications [2], this limits the efficiency of current organic solar cells. We are closely collaborating with several groups at our institute to design, synthesise and characterise organic semiconductors with increased dielectric constants [4].
Organic thermoelectrics
In the quest for renewable energy, the possibility to recover waste heat must not be overlooked. Thermoelectric generators can convert such waste heat to electricity without any moving parts by creating a voltage when there is a different temperature on each side. Efficient thermoelectric generators require materials with high conductivity and Seebeck coefficient while having low thermal conductivity. Organic semiconductors have very low thermal conductivity making them suitable for thermoelectrics. However, in order to compete with traditional inorganic materials more research is needed.
References
[1] T. Sherkar and L.J.A. Koster, Can ferroelectric polarization explain the high performance of hybrid halide perovskite solar cells?, Phys. Chem. Chem. Phys. (2015)
[2] L. J. A. Koster, S. E. Shaheen, and J. C. Hummelen, Pathways to a new efficiency regime for organic solar cells, Adv. Energy Mater. 2, 1246 (2012).
[3] D. Bartesaghi, I. del Carmen Pérez, J. Kniepert, S. Roland, M. Turbiez, D. Neher, and L.J.A. Koster, Competition between recombination and extraction of free carriers determines the fill-factor of organic solar cells, Nature Comm. 6, 7083 (2015).
[4] S. Torabi, F. Jahani, I. Van Severen, C. Kanimozhi, S. Patil, R. W. A. Havenith, R. C. Chiechi, L. Lutsen, D. J. M. Vanderzande, T. J. Cleij, J C. Hummelen and L. J. A. Koster, Strategy for Enhancing the Dielectric Constant of Organic Semiconductors Without Sacrificing Charge Carrier Mobility and Solubility, Adv. Funct. Mater. 25, 150 (2015).
| | |
| --- | --- |
| Last modified: | 20 July 2016 3.12 p.m. |