About
The Zernike Institute for Advanced Materials at the University of Groningen is simultaneously young and old. We got our current name on 16 January 2007, making us quite young, but we grew out of the Materials Science Centre, which started back in 1970. Much has changed since those early days, but there are a few constants. Possibly our greatest asset is the close collaboration between people with different backgrounds. Physicists and chemists, and increasingly biologists, theoreticians and experimentalists work closely together, giving the Institute a breadth rarely found elsewhere. In our efforts we involve the whole chain of knowledge; modelling, design, synthesis, characterization, physical properties, theory and device functionality.

Together with the Stratingh Institute for Chemistry and the Groningen Biomolecular Sciences and Biotechnology Institute we run the Advanced Materials program, which was awarded the status of national research centre (NRC) for materials science by the Dutch government in 1999. This distinction came with considerable additional funding, which has allowed our programm to develop a long-term vision and plan. After thorough evaluation, our status as national research centre has been extended. The Zernike Institute NRC research program includes 40 faculty members, 80 researchers (permanent and temporary), 230 PhD students and 30 support staff.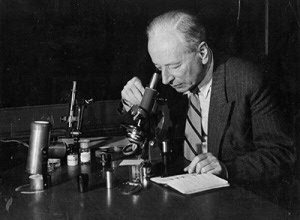 Our Institute proudly uses the name of Frits Zernike (1888-1966), physicist, chemist and mathematician. In 1953, Zernike was awarded the Nobel Prize for Physics for his invention of the phase contrast microscope.
We believe that Zernike symbolizes very well the character of our Institute. Trained primarily in chemistry, Zernike worked in astronomy, became professor of theoretical physics, but insisted on building his own optical devices. His disregard for the traditional boundaries between disciplines, and the excellent command he had of theoretical, computational, and experimental approaches, are guidelines for our way of doing research.
| | |
| --- | --- |
| Last modified: | 06 June 2017 10.28 a.m. |