Saeedeh Farokhipoor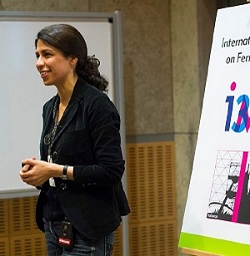 Professional experiences:
Visiting staff, University of Cambridge, Materials Science department, 2017-present.

VENI Research Fellow, University of Groningen, Nanostructure of Functional oxides, 2017-Present

Rubicon Research Fellow, University of Cambridge, Materials Science department, 2014-2016.

Research Associate (PhD), University of Groningen, Solid state for electronics, 2008-2013.
Field of intrest and research contribution:
My interest is to manufacture devices from smart materials (either in thin film form or single crystals) those display remarkable electronic and spintronics for two purposes:

1- lowering the power consumption, 2- integration of sub-nanometric devices in present electronics.
My main focus is on devices based on domain walls, for their charcterization I apply scanning probe microscopy techniques: AFM, c-AFM, PFM, EFM, MFM, KPFM, STM/STS, … .
The combination of the interdependent microscopy techniques, enables continual spatially resolved characterization over a variety of length scales from atomic up to mesoscopic probing distances.
My ultimate goal is to design synchronous nanoscopic measurements along with mesoscopic characterization, in order to improve the device performance.
Honours, Awards and Memberships:
The laureate of "Rubicon" funds with a yearly budget of 60K pounds for a period of two years, 2014 with 12% success rate.

Project title: "spintronic via carbon".
The laureate of "VENI" funds with 250K euros funding for a period of 3 years.

Project title: "beyond Moore's law with nano-capacitors".
SCR Member of Churchill College, University of Cambridge, 2014-2017.
News release:
Research output:
Number of presentations: 46 which among those 6 are invited.
Supervision of 19 student
Number of collaboration: 32
Project lead of 2 nationally awarded grant
12 publications (445 citations), including one chapter of a book.
Selected publications:
Conduction through domain walls in BiFeO3 thin films. Physical Review Letters (2011), recognized as "Highly cited paper" by web of Science.
Artificial chemical and magnetic structure at domain walls of epitaxial oxide. Nature (2014). Featured in Nature Views and News and released in RUG press.
Nanodomain engineering in ferroelectric capacitors with graphene electrodes, Nanoletters (2016)
Tuning the atomic and domain structure of epitaxial films of thin films. Physical Review B (2009)
Local conductivity and the role of vacancies around domain walls of BiFeO3 thin films, Journal of Applied Physics (2012), chosen as the "editorial board pick".
A chapter of a book:

"Conduction effects on domain walls in multiferroics", Title: "Oxide spintronics", Publisher: "Pan Stanford". ISBN: 978-9814774994
| | |
| --- | --- |
| Last modified: | 24 May 2019 6.01 p.m. |