Synthesis of poly(vinyl saccharide)s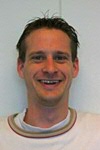 | | |
| --- | --- |
| Email | W.M.J.Kloosterman at rug.nl |
| Phone | +31503636444 |
| Room number | 5118.0350 |
Poly(vinyl saccharide)s are linear polymers that consist of a carbon-carbon backbone and saccharide side-chains. They are water-soluble polymers that can for instance be used in cosmetics. To make this kind of polymers, we have to attache a polymerizable vinyl group to the saccharide as showed in scheme 1. To obtain linear polymers it is important that the saccharide monomers contain only one polymerizable group.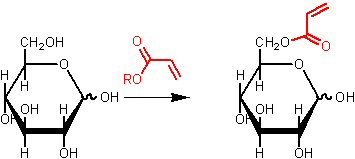 Attaching the vinyl group to the saccharide can be done by either chemical or enzymatic synthesis routes. The general drawback of chemical routes is that all hydroxyl groups except one have to be protected to obtain mono-substituted vinyl saccharides. Therefore we investigate the application of enzyme catalysis in the synthesis of mono-substituted vinyl saccharides.
As soon as we achieve the first objective, we will polymerize the vinyl saccharides by free radical polymerization. We like to investigate both homopolymers of the vinyl saccharides and copolymers with other monomers that are common used in free radical polymerization.
| | |
| --- | --- |
| Last modified: | 01 July 2015 10.53 a.m. |