Social Crisis in Capitalist Chile: The October 2019 Protests and the COVID-19 Health Crisis
In recent years, Chilean society has been experiencing the 'greatest social uprising[s]' since recovering democracy in the 1990s (Garcés, 2020). This crucial observation contradicts the picture of Chile as a 'true oasis with a stable democracy' declared by the Chilean president Sebastián Piñera (Somma et al., 2020). There is a clear connection between the neoliberal socio-economic model inherited from the civic-military dictatorship (1973-1989) that still influences present times, and the current October-19/COVID-19-related social protests. In my presentation, I investigate the ways in which the social protests and the authoritarian repression by the government are represented both in the traditional and in the alternative digital media in Chile. I will particularly focus on a discourse analysis of several influential Chilean digital media regarding the adverse socio-economic effects of the uninterrupted neoliberal model, the government's political agenda of criminalization of social movements in the face of the October-19 protests, and the current socio-economic conflict surrounding COVID-19.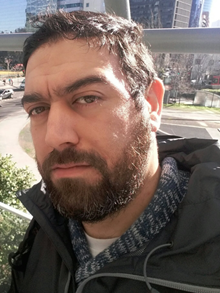 Juan del Valle Rojas, MA
Juan del Valle Rojas is a PhD candidate at the Graduate School for the Humanities, University of Groningen (Netherlands) and Doctoral Fellow ID: 72180108 from the Becas-Chile Scholarship Program (ANID, Chile). Currently, he is PhD Research Fellow of the Groningen Research Institute for the Study of Culture (ICOG); the Netherlands Research School for Literary Studies (OSL); and the Chilean Association of Researchers on Communication (INCOM). His research lines are Cultural Science, Literary Studies, Educational Science, Communication and Technology Studies, and Intercultural Studies.
| | |
| --- | --- |
| Last modified: | 30 June 2020 3.37 p.m. |