Lockdown: Living in Microtopoi
The spatial turn in cultural studies was biased towards a macroscopic perspective. It focused on the concept of a global world, on the distinction between 'the West' and 'the East' or between the global North and South, on the mapping of large spaces, on the social effects of global means of transportation and communication etc. The experience of lockdown measures that were implemented in the course of the COVID-19 crisis forces us to change this perspective. Many people who live in small, shared apartments are prohibited to leave when they want to. They are often confronted with social consequences that range from newly established intimate relations to domestic violence.
In my talk, I will use the concept of microtopoi to describe this situation. I define microtopoi as small spaces that can only be entered and exited at specific times. Examples are studio apartments during a pandemic, but also elevators, coaches, train compartments, bunkers or gazebos during sudden storms. Microtopoi are subject to very specific social laws. The most important one is that we "cannot not communicate" (P. Watzlawick) with the people we are forced to share the microtopos with. I will argue that we need to analyze the laws of these small spaces in order to better understand the challenges of living in lockdown and to obtain a new, microscopic perspective on our culture.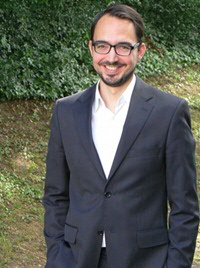 Dr Christian Kirchmeier
Christian Kirchmeier is Assistant Professor of European Culture and Literature at the University of Groningen. He received his Dr. phil. degree from the University of Munich. During the academic year 2017/18, he was a visiting scholar at Yale University. He is currently finishing a book project on the parabasis as a dramaturgical and aesthetical concept in modernity.
| | |
| --- | --- |
| Last modified: | 20 May 2020 10.40 a.m. |