30 Years of German Unity - What's Next?
A conference for and with Citizens of Groningen, the Borderland, and Europe - watch the full recording!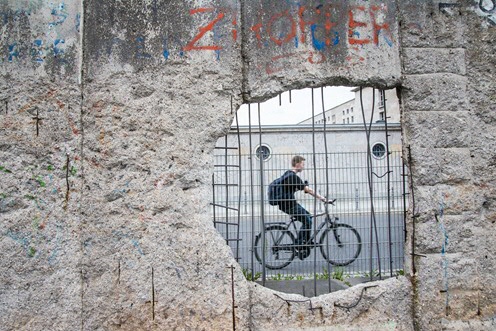 The conference recording is now online! Watch individual lectures, panels, or the full conference here.
The reunification of Germany has been a key event in recent European history: a turning point in the construction of the EU and for the transformation of Central-Eastern Europe. German unity may seem "natural" today, but in 1990, the prospect of a reunification between East and West Germany aroused strong reactions from its neighbours.
Groningen and the Netherlands were no exception. While many Dutch and Groningers shared the German joy and felt sympathy for the East German population, there was also scepticism: Would Germany become too powerful? What would a reunited Germany mean for the Netherlands, for Europe? How would it affect the relations with the immediate German 'neighbours' of the Groningen border region?
At our Citizens' Conference on December 10th 2021, young and old citizens of Groningen and the German borderland presented their memories of and contemporary views on German reunification and discussed them with an international audience and renowned experts from History, Politics and Cultural Studies.
Parts of the Conference (click to play recording)
Dr. Florian Lippert, conference convenor, Associate Professor European Culture and Literature, University of Groningen / project member rEUnify

Prof. Dr. Pablo Valdivia, Chair European Culture and Literature, University of Groningen

Dr. Florian Lippert

Dr. Iwona Reichardt, Deputy Editor-in-Chief New Eastern Europ e / College of Eastern Europe (KEW), Wrocław, project leader rEUnify

and further project members: Adam Balcer (KEW), Jana Juzová and Žiga Faktor(Europeum, Prague), Simone Klee (Institut für europäische Politik, Berlin), Romain le Quiniou (Euro Créative, Strasbourg), Florian Lippert (UG, Groningen)

Prof. Dr. Lars Rensmann, Chair European Politics and Society, University of Groningen

Divided We Stand? Lingering East-West-Cleavages and Germany's Relations to the Netherlands 30 Years After the Fall of the Wall

Followed by a Q&A

Prof. Dr. Jacco Pekelder, Director Zentrum für Niederlande-Studien, Westfälische Wilhelm-Universität Münster

The rise of Germany in the 19th Century and its development after the 1990 unification from a Dutch and European perspective

Followed by a Q&A

Before and after Unity. Memories of Division

Short Statements by Minke Faber, Petra Nieuwenhuizen, Maria Ufkes-Kayatz, Jaap Wijnja

Moderated discussion with the audience

Growing up with Transition. Groningen and a newly united Germany

Short Statements by Vera Alexander, Floor Haanstra, Annette van Dijk

Moderated discussion with the audience

Unity as Normalcy. Groningen and Germany today

Short Statements by Niklas Abel, Heert de Vries, Britt Scholte-Aalbes, Jarnick Vitters

Moderated discussion with the audience

"The Dutch Perspective on German Reunification" by the Course Duitse Literatuur en Cultuur 1, European Culture and Literature

Presenters: Yanniek Moll, Geanne Kroes
Project consortium partners: Jan Nowak-Jeziorański College of Eastern Europe (KEW), Wrocław; Chair group European Culture and Literature (Dr. Florian Lippert), University of Groningen; Institute for European Politics (IEP), Berlin; EUROPEUM Institute for European Policy, Prague; Euro Créative, Strasbourg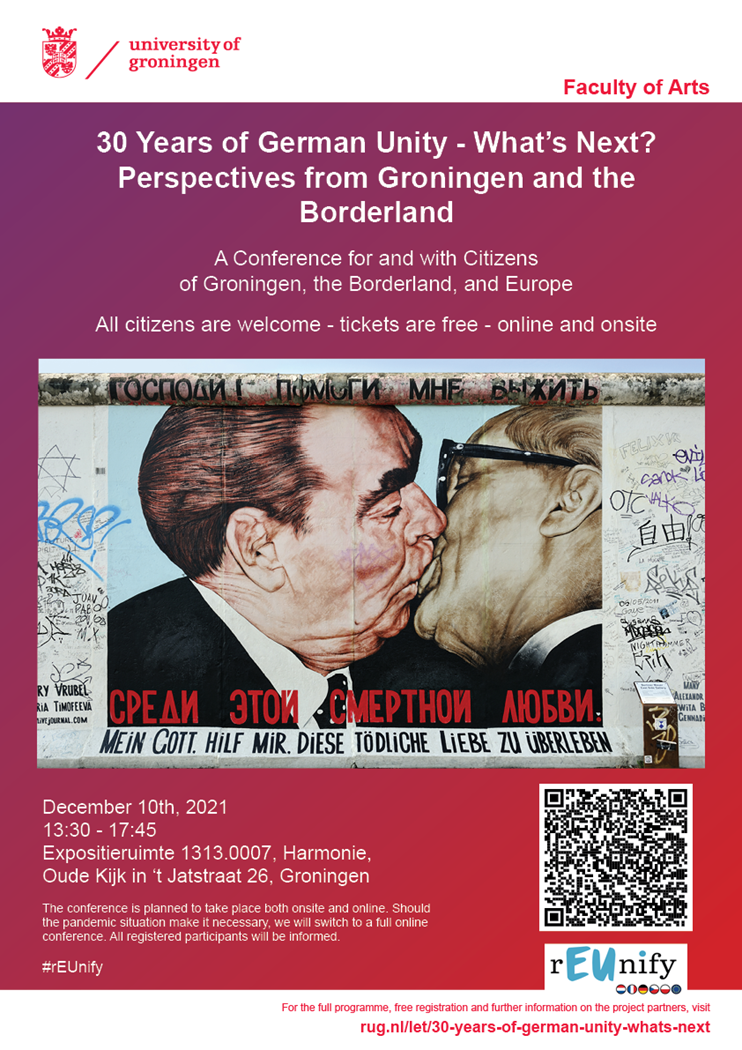 | | |
| --- | --- |
| Last modified: | 14 January 2022 11.55 a.m. |