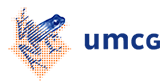 Clinic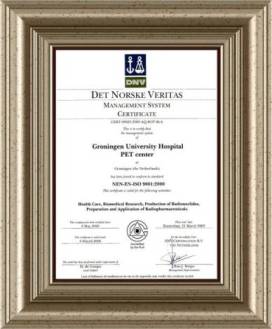 Nuclear Medicine and Molecular Imaging - Clinical Activities
INFORMATION FOR PATIENTS
Information for patients is available via the website of the department NGMB
ISO CERTIFICATION
The Department of Nuclear Medicine & Molecular Imaging (formerly: Nuclear Medicine and PET Center) acquired an ISO (International Standardization Organisation) certificate in the year 2000. The ISO certificate was awarded by the international consulting firm Det Norske Veritas (based in Oslo, Norway) which monitors our activities via regular audits. The quality system of the Department was found to conform to standard NEN-EN-ISO 9001:1994 (in 2000) and now conforms to NEN-EN-ISO 9001:2000. The certificate is valid for: (1) Health Care, (2) Biomedical Research, (3) Production of Radionuclides, (4) Preparation and Application of Radiopharmaceuticals. Nuclear Medicine & Molecular Imaging was the first Department within the University Medical Center of Groningen acquiring ISO certification. We have kept the certificate in subsequent years.
EFQM
Nuclear Medicine & Molecular Imaging has recently (2005) started an excellence journey with the EFQM Network (European Foundation for Quality Management). This initiative is supported by the Board of Directors and the Service on Labour Conditions, Safety and Environment (Dienst AV&M) of the UMCG. The goal of the journey is to become an excellent, EFQM-qualified organisation in 2010.
GLP/GMP CERTIFICATION
The Department aspires to become a GLP/GMP (Good Laboratory Practice/Good Manufacturing Practice)-compliant research organization within the next few years. A detailed project aimed at reaching this goal has been submitted to the Board of Directors of the UMCG.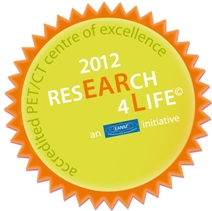 | | |
| --- | --- |
| Last modified: | 23 November 2012 10.21 a.m. |