Between Paris and Antwerp: Multilingual Communities of Interpretation
Dr. Margriet Hoogvliet
The objective of this project is to demonstrate that during the period c.1400-c.1550 the circulation of vernacular religious texts in textual communities in the towns of northern France and the southern Low Countries transgressed the traditionally perceived borders, most notably linguistic, but also cultural, political, social and confessional divides. The transnational perspective will allow for the uncovering of the shared religious reading culture that existed between roughly Paris and Antwerp. The research will investigate places and events where religious information was stored, accessed and exchanged, together with the textual culture that encouraged social connectivity and active readership. The outcome of the research will profoundly change existing knowledge:
It will uncover the multilingualism and the cultural hybridity of the religious reading culture in the area between Paris and Antwerp. These patterns of a transnational religious reading culture have been thus far overlooked due to the narrow national focus of previous research.

It will show how social networks played a crucial role in the mobility of religious texts across linguistic and other divides.

It will document the still largely unknown international textual culture that motivated laypeople to engage in networks and to share religious texts.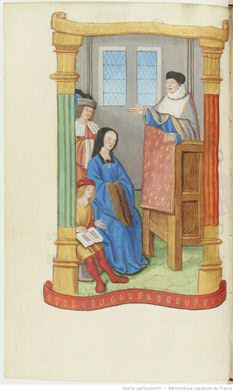 In recent thinking about present and past societies, the centre-periphery model has lost much of its validity. This development has resulted in an important shift in focus from research along the lines of the modern nation state with a single common language towards borderlands and multilingual areas. This is especially relevant for the later Middle Ages when linguistic pluralism was commonplace. Borderlands, liminal "in-between" places and places of cultural hybridity have become the innovative focal points in recent research in cultural history, especially because these places are likely to result in cultural exchange and innovation. Moreover, being places of intense interaction and exchange, the study of borderlands enables the discovery of widely shared attitudes, values and knowledge.
The textual cultures of the towns situated between Paris and Antwerp during the period c. 1400-c.1550 are of particular importance from this perspective, because here patterns of a shared religious reading culture become visible. Political territories and linguistic areas were by no means identical. Vernacular languages played an important role in the identity of the Flemish and French towns, but for individuals in this multilingual area language was not the prime "vector of identity". Identity and culture transgressed linguistic frontiers, while this area was characterized by frequent code switching, multilingualism and linguistic convergence. Many readers could participate in the textual culture of both vernacular languages that were in use here, and books and texts were points of convergence for readers of both languages. Historical sources show that French books were read as far north as Antwerp, books in Middle Dutch were read in Saint-Omer, religious texts from the Low Countries were widely available in French translations and vice versa, Middle Dutch texts were printed in Paris and French texts in Antwerp.
In order to map out the mobility of religious texts through space, social networks and languages, the research will investigate sources that have rarely been studied before:
Bilingual miscellanies, codicological traces of multilingual readership, translated texts and linguistic aids;

Places where religious knowledge in the vernaculars was stored, accessed and exchanged, based on archival data (inventories, civic and legal archives) and contextual sources (chronicles, diaries, travel accounts) in order to uncover supra-regional reading practices. This geographical area still preserves unique archival documentation, much of it unpublished, which permits a detailed assessment of book ownership, places of textual storage and exchange (households, hospitals, schools, confraternities, book shops, parishes, taverns etc.), and the flow of information through networks. The post-mortem inventories from Amiens have already enabled the exact location of books in households, showing that the artisan's workshop was also a place of religious exchange.

Religious texts in the vernacular that call for the sharing of texts and giving religious instruction to others, living up to one's social responsibilities and contributing to the common good. This crucial textual tradition, both in French, Middle Dutch and in translations, has never been mapped out completely from a transnational perspective, or studied for the information these texts contain about the formation of networks and the religious reading cultures of the lower social classes.
Codicological traces in the surviving material books with these texts (handwritten and printed) that testify to processes of storage, consultation and dissemination.
| | |
| --- | --- |
| Last modified: | 28 November 2017 3.18 p.m. |