Admission
Admission to the Graduate School to pursue a PhD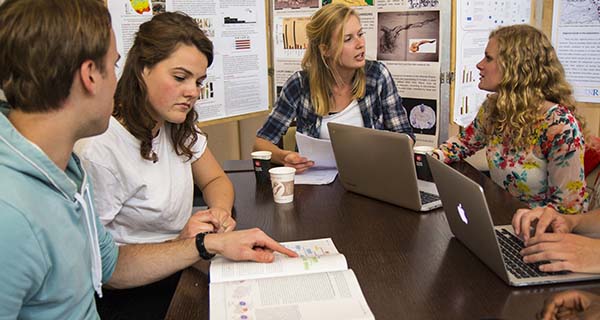 The Faculty of Theology and Religious Studies offers students who want to pursue their own research the possibility to pursue a PhD degree. As a PhD candidate, you develop and work on your own research project for. It is also possible to pursue a PhD-project part-time, the duration of the project will then be adjusted accordingly. Coursework is tailored to your individual needs at the start of your project. We do not charge a tuition fee.
To pursue a PhD degree at our faculty, you will be admitted to the Graduate School of Theology and Religious Studies. Please note that admission to the Graduate School does not automatically entail that you will be granted a scholarship. This is a separate issue.
Admission is selective, which means that we will look at the quality of your CV and the quality of your research proposal. Furthermore, we take into account whether we have the required expertise for supervising your research. Occasionally, we will have positions for PhD candidates to conduct research within a larger research projects. These positions are advertised through the main university website. When you apply for these positions, the selection committee will refer your file to the Graduate School and admission takes place as described in the admission procedure.
Checklist requirements
A research based MA-thesis and completed MA degree, at a university comparable to a Dutch university (see NUFFIC ranking).
A competitive CV, as evidenced by grades, research experience, prizes and awards, etc..
English language competence (proven through submitting samples of one's own writing or TOEFL/IELTS test).
A proposal for research that is supported by at least one potential supervisor at the faculty with ius promovendi.
Two recommendation letters by established scholars.
Admission procedure
In deciding whether our Faculty is the right place to pursue your PhD degree, it is important that you familiarize yourself with the expertise available. Once you have an outline of the research project you want to pursue, you are advised to contact one of our academic staff members to discuss your idea and work to bring it in line with the standards for admission to the Graduate School. This staff member can also advise you who can act as the supervising professor (promotor).
Once you have a good proposal, you can submit your documents online. After submission, your application will be reviewed by the Director of the Graduate School. If it is complete, the Director will refer the application to the Board of the Centre for Religious Studies (comprised of the Dean of the Faculty, department heads and the Director of the Graduate School.). This Board meets once a month. After the meeting, the Director of the Graduate School will inform you of the result.
A complete application for external PhD positions consists of filling in the Application Form in which you will be asked for the following credentials:
1. Curriculum vitae and a sketch of your intellectual history (c. 600 words), indicating the factors that have brought you to your present focus of intellectual and scholarly interests and what you hope to learn from doctoral study at our School.
2. Your Master's thesis and other major academic papers, if any. Please note that at least one sample of writing should be included in the English, German, French, Spanish or Dutch language. Papers should demonstrate your scholarly capacity, be no longer than 30 pages, in your intended field of specialization and representative of your best work.
3. A research project proposal (no more than four pages, c. 2000 words) which should address the following issues:
a description of main research question, aims and motivation of your project;
the position of the project within the (sub-)discipline (what new insights can be expected?);
a brief description of the relevant literature (a maximum of one extra page of bibliography may be added);
a motivated demarcation of the literature (if applicable);
the proposed (methodological) approach;
the proposed timetable for the writing of your thesis
an estimate of expenses that should be expected to exceed the usual costs of travel, conference visits etc. (for example, microfilms, extended stay abroad, etc.); Please note: acceptance of a PhD proposal does not imply that research costs are covered by the UG.
Who you would like to work with as your supervisor(s).
4. Two letters of academic recommendation from professors who can write knowledgeably about your personal and academic qualifications and your suitability for the chosen field of study. We reserve the right to contact your referees for additional information pertinent to your application.
5. Official, that is, certified, transcripts from each college, seminary or Graduate School attended. Applicants enrolled in university at the time of application are asked to provide a list of current and projected courses for the academic year.
6. (If applicable) a statement by the funding institution.
All of the above credentials are required except as stated. Applications with missing credentials will not be taken into consideration.
Note that any copies of the required official documents must be authenticated. Diplomas, certificates, transcripts of records and lists of grades must be submitted in the English, Dutch, German, Spanish or French language. Any translation of originals not in these languages, must be authenticated as well.
| | |
| --- | --- |
| Last modified: | 22 March 2020 8.47 p.m. |