Annual Report 2020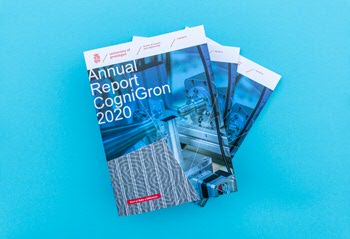 CogniGron has finished the third year of its existence, and what a year!
The pandemic has forced us to stop scientific visits, one of the CogniGron jewels, and the number of discussion meetings and seminars has been reduced due to the saturation of online meetings that we have experienced. Most of us had to dedicate additional time to teaching in a completely new way, as well as to coaching our group members, especially the youngest ones, dealing with the uncertainty about getting their degrees on time and non-optimal personal situations. Particularly difficult it has been for the new staff and students, who had just arrived or were arriving in Groningen when the social distancing began and have had to initiate their contacts virtually and start their labs, but also finding houses or schools, under very challenging circumstances. Especially for those, we cannot wait to get back to normal so that we can have coffee regularly together while talking science face to face.
Despite all the difficulties, in 2020 CogniGron has continued its groundwork. Our PhD students have organized online meetings, inviting the speaker of their wishes and discussed among themselves. They have been able to continue with their projects. Our Program Board meetings have taken place once a month, with the same frequency as in previous years, and we have managed to stay connected. The hiring of new professors has gone on, with online interviews, and in two cases, we have successfully concluded the entire process and appointed new colleagues. We are indeed very close to accomplish the ambitious goal that we set: 12 new professorships on CogniGron-related disciplines. If the pandemic has taught us something, is that life quality and a liveable city are tremendous assets. We are extremely pleased of being able to offer a city like Groningen to our staff.
The scientific and technological interest in cognitive computing is booming all around the world and in this third year, we have put large efforts in connecting with others starting similar initiatives. CogniGron has coordinated an ambitious proposal aimed to lay the mathematical foundations for computing with physical systems, together with the BRAINS centre (University of Twente) and the Universities of Nijmegen, Amsterdam and Eindhoven, organizing more than a dozen joint meetings in 2020. We have also participated in other related national proposals. CogniGron staff and students have joined the European network meetings of the related initiatives MANIC and NEUROTECH.
All in all, one can say that, despite the social distancing, CogniGron has become better connected with a scientific, but also social, environment that shows increasing understanding for the urgent needs of developing energy-efficient ways of computing. A fitting colophon for this year was the Dutch national TV and radio spreading the news of the generous donation that has enabled CogniGron to be a reality.
Steal a look inside on the 2020 CogniGron journey and stay in touch!
Beatriz Noheda, CogniGron Director
Download the full Annual Report 2020
| | |
| --- | --- |
| Last modified: | 30 June 2021 11.07 a.m. |