Who wants to live forever: eating gold in Korea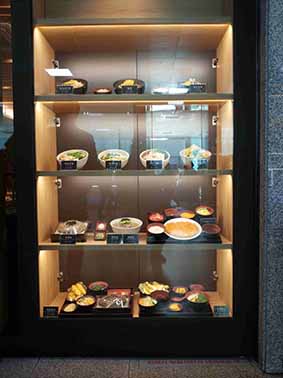 Who wants to live forever: eating gold in Korea
Food displays in Korea can be true works of art. Prospective diners are lured inside by life size dishes displayed at the restaurants shop window: fried noodles, bibimbap with a fried egg on top, fish soups, you name it, its all there. It looks so real that you wonder why the soup in the tilted display does not spill over the side of the dish. The displays are of course made of wax and plastics, but they continue to astonish me for their beauty and mind blowing realistic appearance.
Traveling to Pusan National University for our East Asian Studies programme, I bought a coffee at Seoul station to marvel about yet another food display. This time it was real food. The place was more of a sugar boutique than a coffee stall. Among the very, very fancy cakes on sale, there were chocolate opera cakes decorated with.... gold sheet (pictures below). Not sugar, but "real gold", I was told, "it is good for your health." I doubt that, but the idea of eating gold is an old one in Asia. It is sheer alchemy.
The practice originates in the idea that precious substances such as jade and gold have an immortal quality, and can therefore also make man immortal, if the substances are mastered in the right way. The practice in ancient China of burying emperors in suits made of jade, of gold, draws on these notions: if one can transform a mortal body into jade or gold, immortality is yours. Hence the notion of eating gold or rubbing gold-creams or even gold sheet on your face, as practiced in high-end beauty salons all over East Asia. I must admit that I am fascinated by these ancient notions and practices, but today's eating gold comes at too high a price.
Seeing the destruction caused to the environment by gold mining in northern Mongolia, dramatically changed my understanding and appreciation of gold. Mining in Mongolia comes with disastrous deforestation, polluted riverbeds and sheer misery. In fact I was so depressed about it, that I asked a photographer to document the destruction of gold mining in Mongolia to write about it. To then eat it on a cake and at the end of the day defecate it into a toilet, seems rather decadent. So much for today's healthy ageing alchemists.
As for the gorgeous plastic food displays, I think we should have a set on display at the new Korea Corner at the Main Library, opening 18 December 2014. All welcome!
Tjalling Halbertsma visits the Korean Studies department of Seoul National University, the Korea Foundation, Pusan National University and Songdo Global University Campus, Incheon, Korea 15-22 November, 2014.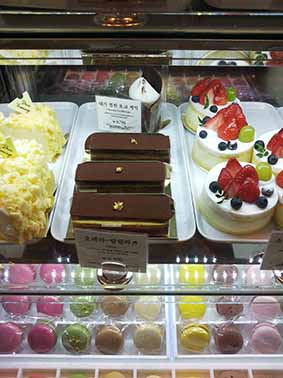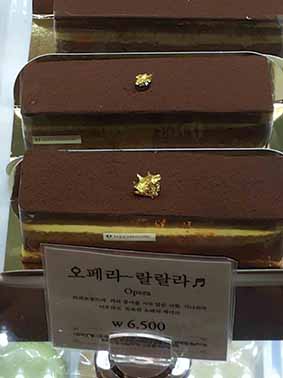 | | |
| --- | --- |
| Last modified: | 14 January 2019 11.18 a.m. |