Mandatory Quarantine in South Korea
Nathalie Maucher, 12-11-2021
The Covid-19 Pandemic has made life difficult in many aspects, from constantly wearing facemasks, quarantining, maintaining social distancing to having online classes instead of meeting real people. Deciding to study abroad in South Korea on an exchange during a global pandemic took all of these measures to another extreme.
Before actually traveling abroad, the travel advice from the Dutch government was important as a reference (green or yellow). After that, we had to organize the visa, flight, PCR tests, and quarantine. Due to the situation, it was difficult for some nationalities to obtain their visa (without it one was not allowed to enter the country), and of course, there were fewer options for flights. Additionally, a PCR Test not older than 72h before entry into the country was necessary before eventually arriving in Korea. Once arrived there, the Covid-Quarantine-Procedure began. Luckily, at the airport, nothing could go wrong. All passengers went through several steps, including measuring the temperature, checking the PCR, Visa, and other travel documents, and eventually checking in with the quarantine facility and installing the governmental Quarantine App. Once this was done and we picked up our luggage, everyone had to go to the closest health center to our quarantine facility to take another PCR test. The location could only be reached by designated Taxi or Bus, since taking other means of transportation was not allowed for people coming in from abroad and was also discontinued in this period. So once arrived at the health center, we just followed what everyone else was doing (signing up through a QR code, waiting in line, take your waiting list number, getting your mouth and nose swabbed for specimen collection, etc.). After this was taken care of, we could finally go to our quarantine facility and relax for the next 15 days. However, the job did not end there. Every day our body temperature needed to be measured and be input into the Quarantine App. At some point, a designated health officer contacted us to check on our health and the results of the PCR test from time to time. For me in particular, I had to tell my health officer the temperature via KakaoTalk (the Korean Messaging Service) twice a day, even though I input it into the government App. During these two weeks, we were not allowed to leave the quarantine facility under any circumstance. Additionally, the Quarantine App was GPS-tracked, which meant the phone had to be moved once in a while to make sure we did not leave the quarantine facility (if the phone was not moved for too long between 8 AM and 9 PM an alarm went off). On the 14th day, so one day before quarantine ended, we had to take a third PCR test at the closest health facility (the same one as the second PCR test right after arriving at the airport) which of course had to be approved by the health officer. Once we received a negative result, we were finally allowed to leave at noon the next day!
All in all, the first two weeks in Korea were a wild ride of "Is this really necessary?"; "OK… that was weird!" to "I guess that's just how it goes". The social distancing rules are still in place, which makes some social gatherings difficult, and wearing a mask is mandatory at all times outside of your house except for eating and drinking. Even though the mandatory quarantine and the measurements in place are strict, it does feel safe in South Korea since people all stick to the rules, and the measurements are adapted to the current epidemic state. With the right mindset, this can be an interesting adventure since experiencing this shows many cultural differences. It is also very fascinating to observe how different policy implementations between Europe and Asia are executed and how the population reacts to them. In sum, I would say having to do the mandatory quarantine was not an obstacle to pursue an exchange semester in South Korea, and in retrospect, it was an enriching experience.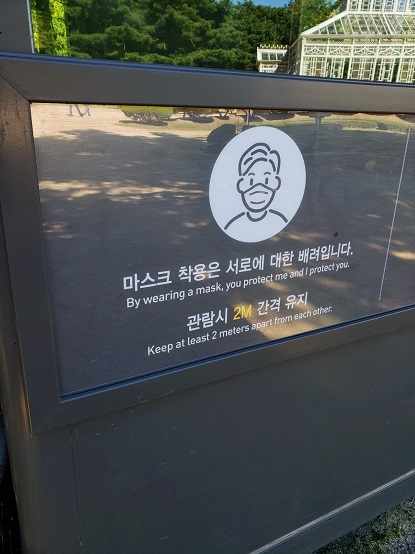 | | |
| --- | --- |
| Last modified: | 16 November 2021 4.08 p.m. |