Experiencing China
Zeger Glas, BA International Relations and International Organization
As part of the Tsinghua University Experiencing China Summer School I departed mid July to get an introduction into the history and culture of this far away land. I was excited and stepped on the plane with high expectations, even though the summer school would only take two weeks they promised to 'open up' the diverse country of China and looking back it is safe to say that they kept this promise.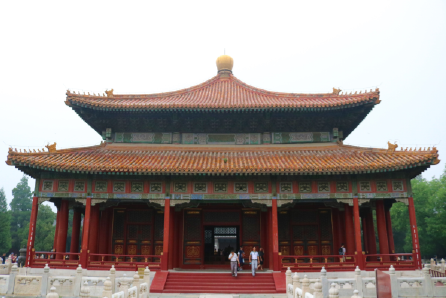 Beforehand we were asked to make a choice between thirteen different tracks which would form the core of our programme. We had the possibility to choose from a wide array of topics ranging from economy, city development and environment to education, Chinese history and a bunch more. All of these track sought to shed light on their respective topic in relation to China and China's position in the international context. This was done by means of keynote speeches, lectures, group discussions but mainly field trips. In order to give us a real insight in Chinese society we were taken to a great variety of sights, companies and projects to see how our respective topics played out in the day-to-day Chinese routine.
As a part of the Chinese history group we visited countless temples, historical sights and museums in an effort to make us understand the long and eventful history of China and the Chinese empire. However, even though gaining understanding of Chinese history in general was important we were tasked with a more specific assignment. Our main objective was to look at the history, interpretation and influence of the three dominant schools of thought throughout Chinese history namely Confucianism, Taoism and Buddhism. These three schools of thought have all had a profound impact on the history of China and hence on the Chinese society and culture we can identify today. By means of the many field trips and visits to historical sights, such as among others the Confucius Temple, the Yonghe Temple and the Forbidden City, we were taught the importance of the different schools of thought during different periods in history. We were explained how these schools came to be, how they impacted Chinese society back in the day, how they still impact present Chinese culture and how they influenced each other over time.
As an IR student I tend to look at countries' political situation and its development over the course of modern history. These two weeks however have given me the insight that Chinese society and Chinese politics today cannot be assessed in this manner. After getting introduced to the three schools of thought it's evident that solely assessing the past two to three centuries doesn't do justice to the rich Chinese historical heritage and showed me that without valuing and understanding the basic principle and impact of Confucianism, Taoism and Buddhism one is unable to fully comprehend current Chinese culture and politics.
Studying at Tsinghua University, even though it was only for a very short while, was a fantastic experience. The entire programme was planned perfectly and besides getting an insight into China we were also able to experience campus life at Tsinghua to the fullest. All 300 participants of the summer school lived together in the international dorm buildings where we all received our own place. Living in a hallway with people from Hong Kong, Uganda, The United States, France, Brazil and Ireland creates an amazing environment which gave us the opportunity to learn from each other in an academic sense but also during the free time in which we could explore the city or just have a beer at the bars in and around campus.
All and all it is safe to say that although two weeks is a short period of time to really experience China the Tsinghua University Summer School is a great start for those who want to understand and work with this massive, exceptional country. I am glad to have had the opportunity to go and participate in this programme which helped me getting a better understanding of China and its actions. For all of you who are interested in China whether it is culturally, politically or economically I would highly recommend you to go to Tsinghua!
| | |
| --- | --- |
| Last modified: | 21 February 2020 3.53 p.m. |