IKEA gets it wrong in Korea
| | |
| --- | --- |
| Date: | 25 November 2014 |
| Author: | Tjalling Halbertsma |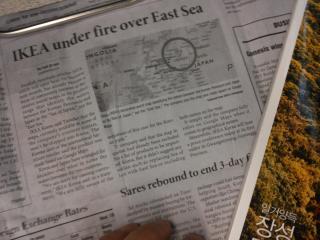 It must be your marketers worst nightmare. The opening of the first IKEA in Korea (the largest in the world, I read) drew already negative attention before the shop opened its doors and after all homework was done. Operating in different countries and regions is enough to cause serious problems for IKEA (interestingly, IKEA is registered in the Netherlands under an international tax treaty).
What went wrong: IKEA sells world maps and items decorated with maps. Certain borders in East Asia -particular regarding China, Japan and Korea- remain of course highly contested and sensitive. In fact CEASG recently hosted a lecture on border disputes related to China. This year's University Peace Days were likewise themed (see the CEASG calendar and news archive).
The maps used by IKEA overseas refer to the international waters known in Korea as the East Sea, as the Japan Sea. It would have been easy to overlook this when opening your doors in Korea, but IKEA reportedly claims it had already removed the items from the sales lists for Korea. The maps, in other words, never made it to Korea, but Korean consumers and media noticed the maps in IKEA's stores overseas (i.e. article in The Korean Times, 19 and 20 November, see image). IKEA states, according to these news-reports in Korea, that it downloads its maps from Google Maps. Makes you wonder how Google Korea lists the East Sea?
Visiting Songdo Global University in Incheon, I downloaded a map of Korea through Google Korea. Turns out, of course, there is no such thing as the World Map. Only worldmaps. Perhaps that's not so surprising but can IKEA afford to sell different maps in different places, or must it take a position, or simply use maps without borders and place names? IKEA Korea will soon tell.
PS: This is why I like the map used on the poster of the minor Non-Western Studies (also excellent preparation for the MA East Asian Studies).
Tjalling Halbertsma visits the Korean Studies department of Seoul National University, the Korea Foundation, Pusan National University and Songdo Global University Campus, Incheon, Korea 15-22 November, 2014.